Beauty, yoga join forces at La Jolla Woman's Club event
The Feb. 6 members luncheon at La Jolla Woman's Club (LJWC) featured a special Valentine's Day presentation by local yoga teacher Jaruska Solyova on the topic "Valentine Inner & Outer Yoga Beauty Secrets."
Solyova spoke about beauty and the benefits that ancient knowledge from India and other parts of Asia can have on the soul and body. She used the letters that make up the word "Beauty" as an acronym to suggest healthy behaviors to LJWC members.
For example, Solyova said the B stands for Breathing. She recommended working on the breath to connect the mind and body and bring awareness to one's anatomy. The "breath of fire," as she calls it, is a deep, fast breath with inhaling and exhaling intervals that last less than a second. This breath, Solyova said, could be a useful tool for glowing skin.
The E, Solyova added, stands for Energy. "The energy relates to beauty, and it's either stored in your head and not too much in the heart; or too much in the heart and not so much in the head," she said.
She recommended the use of "mudras" (a symbolic hand gesture used by Hindus and Buddhists in ceremony or to concentrate) that can help increase or channel the body's energy.
Acceptance was the meaning she gave the A, adding that some health problems related to lack of acceptance could lead to complications in the digestive system or trouble sleeping. To solve those, meditation and inverted postures (when the head is below the heart) can be of help, according to Solyova. Many yoga postures feature inversion, but she chose to show LJWC members one that could be done from the very chair where they were seating, just shifting the upper body forward and letting the head hang between the knees.
"Just close your eyes, imagine that you're looking at a coin, and you turn it upside down," she said. "And then, (the coin) is completely different. That's an inversion, it's the reverse, a look from a complete different point of view. If there's a situation in life when you're not happy, you can do this and then it goes out to the surface and it becomes very beautiful."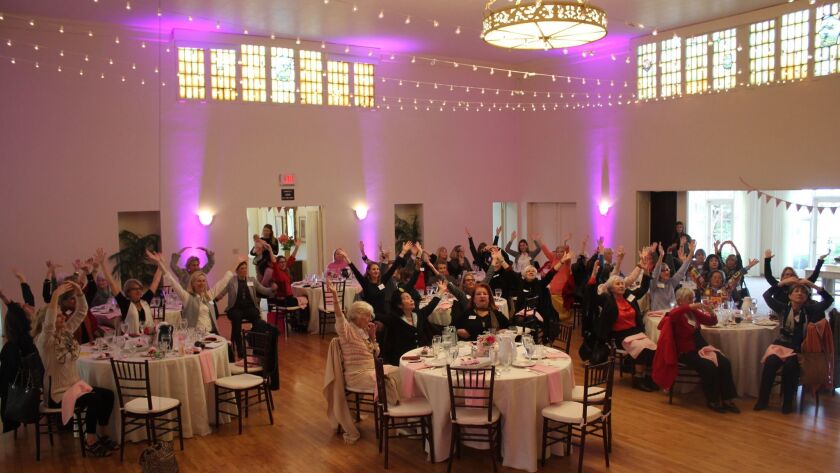 Through their monthly lunches, LJWC provides members with a place to meet and listen to educational and entertainment speakers who touch on issues related to the mission of the club, such as women's health and women in the workplace. LJWC also offers a yoga program at their Irving Gill-designed hall at 7791 Draper Ave.
Want to join La Jolla Woman's Club? The club house grounds are at 7791 Draper Ave. at Silverado Street. Membership is $75 per year. Find more details at lajollawomansclub.org or contact membership chair Debbie Williams at (858) 454-2354.
---
Get the La Jolla Light weekly in your inbox
News, features and sports about La Jolla, every Thursday for free
You may occasionally receive promotional content from the La Jolla Light.