La Jolla surf legend Bill Andrews' long wave goodbye
Editor's Note: This is the last in our 2017 series on interesting surfers in La Jolla. To read past installments (which highlight the water worlds of The Surf Moms, Nick Pizzo, John Maher and Tiare Thompson, among others), visit lajollalight.com and search for "Wave Seekers."
Bill Andrews has less than two years left on this ride, and he'd like to dictate how he wipes out.
The 73-year-old surfer, an icon to local tube-seekers since gracing the cover of Surfing magazine in 1964, is rapidly submitting to ALS. While he can still control his hands — and he barely can anymore — Andrews wants to use them to take his own life.
"There is no getting better for me, and you have to be able to do that yourself," Andrews says, fighting to remain present in a wheelchair in an assisted-living apartment in San Marcos.
Today, as most days, Andrews — clad in a Hawaiian shirt over tracksuit bottoms and bandaged feet and ankles — struggles with daily chores while surrounded by reminders of his glory days.
"You see that poster behind you?" he asks. "That's me — the tall skinny one on the right."
In the '60s, Andrews was a golden god of La Jolla Shores.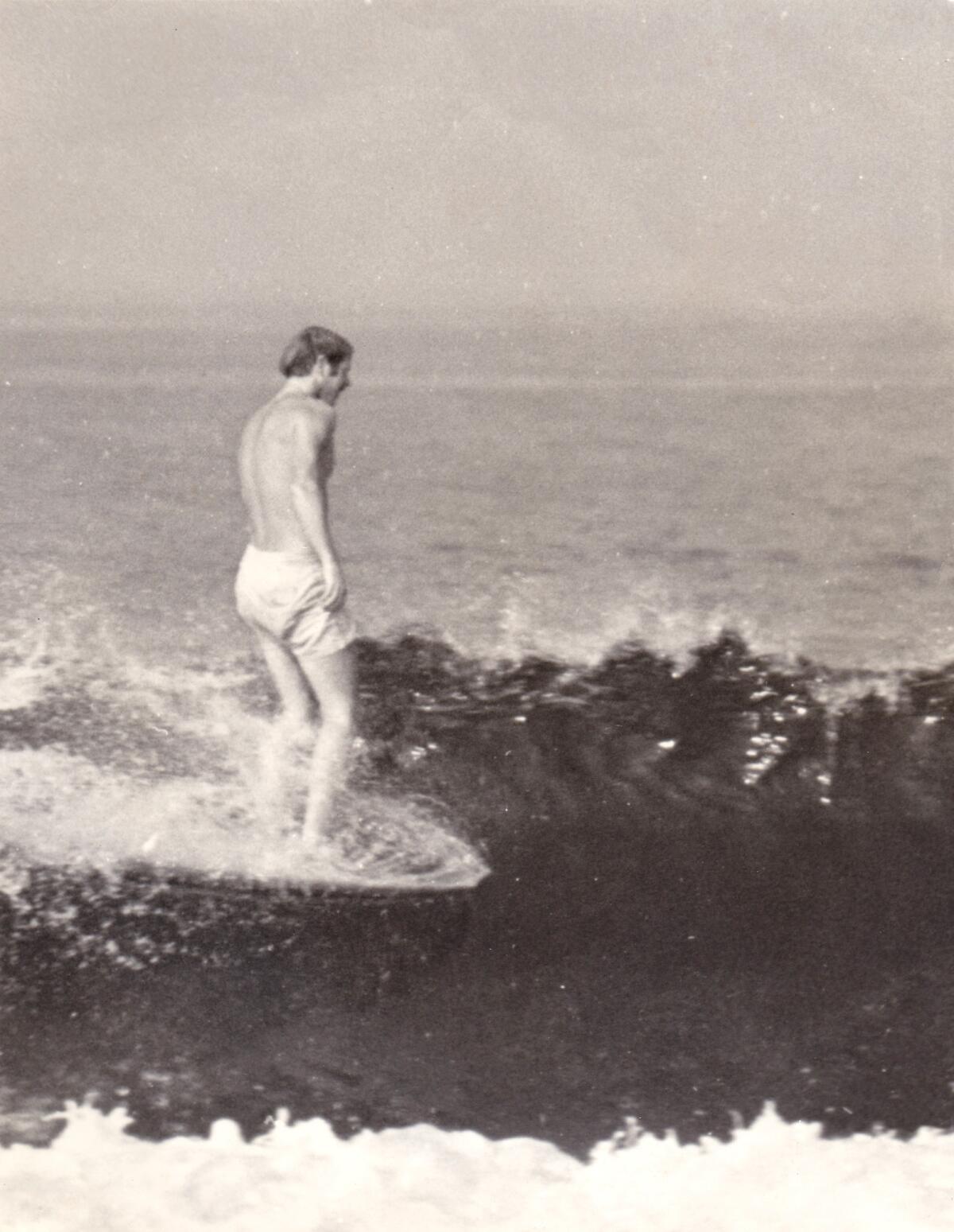 "BA is one of the last true watermen left — the last generation of guys who remember the days of the huge heavy balsa boards with no leash," said Dr. Julie Ellner, a bariatric surgeon and fellow La Jolla surfer, during a phone interview. "He always pushed his own limits. He would always pull into the waves that no one else would, and inevitably, he would get drilled on the reefs and come up bleeding."
Ellner said you could always tell where Andrews had been surfing "because there would be little footprints of blood going up the rocks."
Commonly known as Lou Gehrig's disease, ALS is a particularly cruel disorder that leaves the mind intact while destroying every muscle in the body — including, eventually, the diaphragm and heart. (Most sufferers die from respiratory failure.)
Andrews asks this reporter for help inserting his oxygen tube so he can continue talking.
"Right now, I have the strength of a two-year-old," he says, straining to suck enough from his gurgling Invacare oxygen machine. "There's nothing good about this disease."
Andrews' boyish smile pokes through the depression only occasionally. When surfing is the topic, however, it's nearly constant.
"I learned to surf right in front of my house in La Jolla Shores," he says, recalling the year as 1954. "My favorite memory was that first wave. I'm thinking, 'OK, I'm a surfer now.' "
Andrew loses his train of thought and nods out, as he does once every 6 or 7 minutes or so, before returning to consciousness 30 seconds later and asking where he is. This condition is common among ALS sufferers, a result of the exhausting fight to stay alive that the body must mount on multiple fronts.
From La Jolla Shores, Andrews waded out to WindanSea and became celebrated there, too. He then became the first to surf Black's Beach, and he opened the Pacific Beach Surf Shop.
"Back then, there was a real clash of cultures between surfers and the mainstream," Andrews says. "It's not like it is now."
But Andrews will leave a legacy that transcends surfing. He was also a tech pioneer who worked as an engineer for Northrop, where he says he designed a lunar excursion module radar platform that made it to the Moon.
"I never thought my accomplishments were that big of a deal," Andrews says. "But now that I'm getting ready to croak, they seem to be."
Andrews says he's broken his back four times — from surfing and motocross.
"I figured, with my levels of participation in sports, I wasn't going to live a long time anyway, just because I was stupid. But I figured it wasn't going to be a gentle, you know, here I go die."
The average survival from the onset of ALS to death is three years. Only 10 percent of sufferers survive longer than 10. (Cosmologist Stephen Hawking, ALS's second most well-known sufferer after Lou Gehrig, was also given two years to live — in 1963! — but he has a rare early-onset form of the disease that progresses slowly.)
The fifth time Andrews broke his back was the worst, he says. It was in his doctor's office in November 2016.
"I fell down," Andrews says, "which kind of clinched that something was really wrong."
Whatever Andrews decides regarding the end of his life, he says his loved ones — including three sons and six grandchildren — promise to stand by the decision. (He is divorced twice.)
"Whatever path that is, I give him my full support and love," his 48-year-old son, Brian, said during a phone interview. "I'm here to support and carry out his wishes 100 percent."
In recent years, Andrews became more of a surfing photographer than a surfer. The last time he got up on a board was in January, and he knew it would be the last.
"If you like to surf, keep surfing," he says. "If you like to paddle, keep paddling. Don't let any small issues get in the way, because, one of these days, a big one will."
Get the La Jolla Light weekly in your inbox
News, features and sports about La Jolla, every Thursday for free
You may occasionally receive promotional content from the La Jolla Light.