A Treasure Trove Adventure: UCSD students are finalists in Disney design contest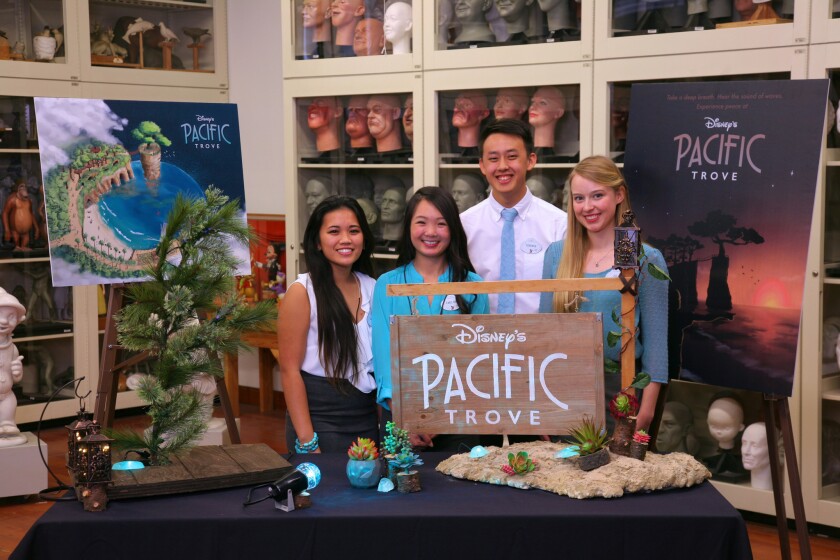 Getting one step closer to fulfilling lifelong dreams of one day working for The Walt Disney Company, four UC San Diego engineering students became finalists in the 26th annual Walt Disney Imagineering Imaginations Design Competition. Out of more than 330 submitted projects, the UCSD team — Emeline Lee, Allison Masikip, Julia Soderstjerna and Terence Tien — were in the top six for their project, "Pacific Trove."
According to press material, the challenge is to apply the same design principles used in creating Disney's theme parks, resorts and immersive experiences to develop new outdoor spaces within one's own college or university that could address the diverse needs of students, faculty and visitors while also providing a respite from the stresses of everyday life.
The projects and concepts presented are not necessarily intended to be built by Disney — they are a way for the entrants to demonstrate their skills and creative abilities as the theme park designers of the future.
The six finalist teams received an all-expense-paid trip to Walt Disney Imagineering in Glendale last week, where they presented their projects to Imagineering executives and competed for monetary awards. The UCSD team did not place beyond the finalist level. The winning team hailed from Iowa State University and secured the victory with "Hourglass," which uses the concept of an hourglass turned on its side to allow guests to pause time and find respite from everyday stresses.
The crew was at the Disney Imagineering (a combination of imagination and engineering) campus the week of Jan. 23. "We got the opportunity to present our project several times. It was an amazing experience to get feedback and see people's reactions to the work we did over the course of half-a-year. We got to interview for internships, and now we're waiting to hear back, so fingers crossed!" joked Soderstjerna. "The entire week was amazing to see how things operate behind the scenes, and see the amazing minds that work at Disney and who were finalists in the contest. It was life-changing."
Tien added, "We didn't place, but we won by being there and being finalists. It was the most incredible week."
The lore of La Jolla
"Pacific Trove" was inspired by La Jolla. The team had to produce a story about the location, a video, renderings and models of their mock city. Here's how their story goes (though it sadly does not begin with "Once upon a time"):
"On the coast of California, an enchanted jewel was once rumored to reside in the seascape of La Jolla. Nicknamed 'Jewel City' by early Spanish settlers, La Jolla tells the tale of a magical power, that in which the city's beautiful, natural wonders owed their existence. Over the years, the beautiful space drew a growing population. A college campus and concrete buildings grew and the powers of the jewel dwindled. One moonless night, a student was snorkeling in the sea caves of La Jolla and found these shimmering teal jewel fragments embedded in the rocks. She brought some pieces back to commemorate her solo moment with nature, but lost them within the campus on the way back. The lost fragments reawakened a region on campus and the area grew into a space of rejuvenating splendor, bringing back the natural elements of La Jolla students, faculty and visitors love."
In this project, with the "powers of the famed jewel recently reawakened," guests follow the numerous paths to "share an experience of rediscovering their relationship with nature, through walking trails, tree slides and zip lines."

Tien said the local points of inspiration included Torrey Pines State Reserve and La Jolla Shores. "While conceiving the idea, we took trips around town because our idea revolved around natural elements of La Jolla, so we wanted to explore them thoroughly. We also read a lot and studied a lot on how Disney creates these spaces. It was an exploration of how these things are created and how we should go about them. We wanted to create a place of respite inspired by all the beautiful scenery we have near at UCSD."
Armed with visual inspiration and excitement at the opportunity, the team began work in summer 2016. "Most of us grew up watching Disney movies and going to Disneyland. Now that we're older and this could be a career, we thought this would be a fun thing to do," said Lee. "Plus, we are a bunch of Disney nerds."
As for who did what, Tien created the concept art and illustrations. Soderstjerna made the props for the presentation. Masikip crafted trinkets that glow to resemble the famed jewel and helped with the story development. Lee was charged with video direction and music selection.
"It was great to work as a team outside of school," Lee opined. "We had to learn public speaking and communication, so this project also gave us career skills. It was fantastic."
— Learn more about the contest at disneyimaginations.com
---
Get the La Jolla Light weekly in your inbox
News, features and sports about La Jolla, every Thursday for free
You may occasionally receive promotional content from the La Jolla Light.