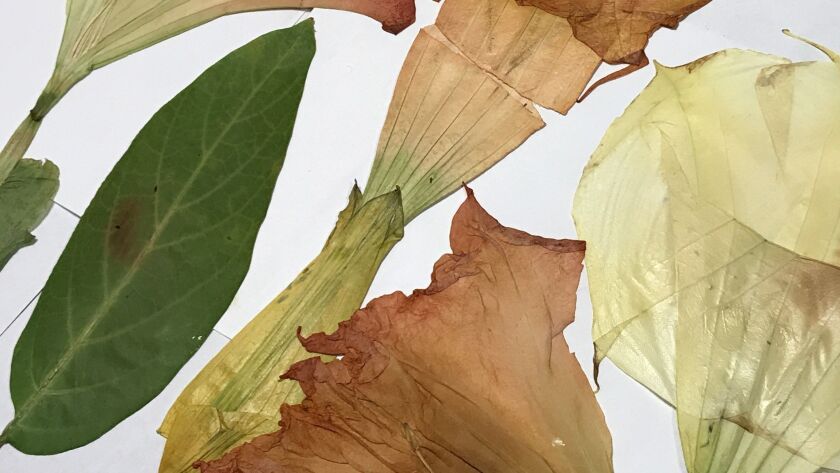 Although May Gray is still holding on, summer is just around the corner! When the skies clear and the sun takes its time to set, there will be a little something for everyone at venues across La Jolla and beyond.
Athenaeum Music & Arts Library
1008 Wall St. (858) 454-5872. ljathenaeum.org
An art exhibit on display June 16-July 28 showcases the work of Mariana Magdaleno and Sue Whitman. Magdaleno's exhibit "Respira (Breathe)" includes drawings, artist's books and paintings of plants and flowers native to North County, alongside plants from Casa Callina in Mexico City. Whitman's collection, "Visions of Discovery" includes collages, along with sculpture and wall works from her vast studio archives.
The 20th annual Athenaeum Summer Festival is 4 p.m. Sundays July 1, 8, 15 and 22 with pianist Gustavo Romero performing a selection of works from his 19-year involvement with the festival. $45-$165 single, $152-$620 series.
The Flicks on the Bricks film-and-wine series returns with "San Diego Noir," a look at films with scenes or connections to San Diego, 7:30 p.m. Thursdays in August.
The series opens with a double-feature: "Devil Thumbs a Ride" (1947) and "The Clay Pigeon" (1949) Aug. 2, and continues with "Tension" (1949) Aug. 9, "The Brothers Rico" (1957) Aug. 16, "The Grifters" (1990) Aug. 23. $10-$15, wine available for purchase.
Bayside Summer Nights
Concerts June 29-Sept. 2 at Embarcadero Marina Park South, 200 Marina Park Way, downtown. sandiegosymphony.org
Variety of artists, genres and performances in a one-of-a-kind, outdoor concert setting, some with fireworks at the conclusion. All shows start at 7:30 p.m. unless otherwise noted. Here are some highlights:
June 29 to July 1: Star Spangled Pops opens the series with patriotic hits and rousing selections from movies and Broadway, capped off by fireworks.
July 4: America's Birthday with Clint Black, considered "one of the most successful singer/songwriters of the modern country era."
July 13-14: Rick Springfield, the man behind "Jessie's Girl," "Love Somebody," "Don't Talk to Strangers" performs.
July 28: Powerful songstress Patti LaBelle takes to the stage in "one of the hottest, most soulful nights of the summer."
July 29: The annual Beethoven by the Bay features the orchestra in a performance of Beethoven's Fifth Symphony and other favorite classical works. Guests: New Bedford Symphony conductor Yaniv Dinur and young award-winning Swiss pianist Albert Cano Smit.
Aug. 3: Burt Bacharach brings his treasure trove of pop hits.
Aug. 4-5: "Harry Potter and the Goblet of Fire" screens while a live symphony orchestra performs the score.
Aug. 22: "Star Wars: A New Hope" screens while the San Diego Symphony Orchestra performs John Williams' score.
Aug. 23: "Ladies Who Jam: Women in Jazz." Guest is Grammy and Tony Award-winning jazz veteran Dee Dee Bridgewater.
Aug. 24-25: The Temptations and the Four Tops, two of the greatest acts in Motown history, perform their hits.
Aug. 31, Sept. 1-2: The 1812 Tchaikovsky Spectacular concludes the series with the1812 Overture and booming cannons and a grand fireworks display.
Birch Aquarium
2300 Expedition Way. (858) 534-3474. aquarium.ucsd.edu
SPF Summer: June 26-Aug. 25 Mondays, Tuesdays, Thursdays and Fridays. InterpreTEENS lead ocean conservation stories highlighting Science, Protection and Fun for those walking through the Aquarium; interactions, bio-facts and live specimens.
Snorkeling with Sharks: 8 a.m. every other weekend July 21-Sept. 16. Join aquarium naturalists and visit leopard sharks in their underwater home off the La Jolla Coast. Intermediate swimming ability required and previous snorkeling experience is recommended. Participants must supply their own gear. Ages 10 and older (minors must be accompanied by a paid adult). $25-$30. Pre-purchase required.
Full Moon Pier Walks: 7 p.m. June 27-28, July 27-28, Aug. 25-26 and Sept. 24; 6 p.m. Sept. 25, Oct. 24-25. Explore the Ellen Browning Scripps Memorial Pier, one of La Jolla's most prominent landmarks normally closed to the public, and discover the 100-year history of pier-based data collection while walking along the pier on an exclusive moonlit tour. Collect plankton, learn about bioluminescent organisms, and explore current research while engaging in hands-on activities.
SEA (Science, Exploration, Adventure) Days: 11 a.m. to 3 p.m. third Saturdays. Series opens with "Surfing into Summer." Each month, guests are invited to meet researchers from Scripps Institution of Oceanography and learn about current ocean topics.
Green Flash Concert series is the epitome of summer with its lively, outdoor, sunset, 21-and-over concerts. $30.95-$35.95. Steve Poltz takes the stage 6 p.m. June 20; 1970s London-based, new-wave band The FIXX, 6 p.m. July 18; Performer TBD, 6 p.m. Aug. 15.
Children's Choir Concert
The San Diego Children's Choir and jazz icon and award-winning trumpeter Gilbert Castellanos will showcase "An American Tapestry: A Musical History of our Nation," 2 p.m. Saturday, June 2 at Copley Symphony Hall, 750 B St., downtown.
Choristers ages 4-18 will take guests on a musical journey of the indigenous people of Southern California and Mexico and progress through two significant waves of immigration representing European and East Asian cultures. San Diego Jazz icon and award-winning trumpeter Gilbert Castellanos will join the choristers in the second half of the program when the focus widens to a broader picture of our nation's music. Quintessential genres of Americana, Spirituals, and Jazz will be highlighted. A highlight will be Duke Ellington's, "It Don't Mean a Thing If It Ain't Got That Swing."
The San Diego Children's Choir has six ensembles and two introductory programs for children in kindergarten and pre-kindergarten and for low-income youth. All six will be performing. Tickets: $25-$30, Children $10. (858) 587-1087. sdcchoir.org
La Jolla Community Center
6811 La Jolla Blvd. (858) 459-0831. ljcommunitycenter.org
Opera Night featuring Salvador Padilla and Anna Belaya, 7 p.m. June 1, dedicated to the most famous arias and duets.
Opera Wednesdays continue 7 p.m. second Wednesdays with past and present Metropolitan Opera Competition Winners, San Diego Opera performers and guest artists who have sung all over the world. $10 suggested donation.
La Jolla Historical Society
780 Prospect St. (858) 459-5335. lajollahistory.org
On exhibit "La Jolla Canyons: Place, Diversity, Connections," will be on display in the Wisteria Cottage gallery, June 9-Sept. 2. It examines issues of geography, geology, wildlife habitation, plant habitation, watershed, fire and social history as interrelated aspects of the canyons within the context of the urban environment.
La Jolla Music Society's SummerFest
Aug. 3-24 at Conrad Prebys Concert Hall (unless otherwise noted) 9500 Gilman Drive on the UC San Diego campus at Russell Lane. 12- and 16-concert pages available, starting at $470, individual concert prices vary. (858) 459-3728. ljms.org
SummerFest 2018 marks Cho-Liang "Jimmy" Lin's final Festival as Music Director, and celebrate his 18 years. Highlights (all at 8 p.m.) include:
Aug. 3: The series opens with "Carnival" with works by Bartok, Villa-Lobos and Saint-Saens.
Aug. 8: "Late Night with Leonard Bernstein" hosted by daughter Jamie Bernstein, with soprano Amy Burton, pianists John Musto and Michael Boriskin.
Aug. 14: "My favorite playlist," nine performers and pieces by Turina, Dubussy, Lei Liang, Mahler and Ginastra.
Aug. 16: "49 Minutes on the Edge: Piano Focus," includes Marc-Andre Dalbavie's "piano Quartet for Piano and Strings" and Pierre Jalbert's "Piano Quintet."
Aug. 21: "Midnight in Paris," 12 performers presenting pieces by three French composers.
Aug. 24: "Finale with David Zinman," at Balboa Theatre, 868 Fourth Ave. Zinman conducts the SummerFest orchestra in pieces by Elgar, Beethoven, Elgar and Beethoven.
La Jolla Playhouse
2910 La Jolla Village Drive. (858) 550-1010. lajollaplayhouse.org
"The Squirrels" is on stage June 5-July 8. Winter is on its way, and the squirrels are restless. Mistrust is growing between the rich Gray Squirrels and the outcast Fox Squirrels. When a wily outsider gets in the mix, he ignites an epic animal kingdom soap opera teeming with rebel armies, conspiracy, love and family loyalties in this new comedy. Tickets from $46.
"Queens" takes the stage July 3-29. In 2017, a young immigrant arrives at a tenement in Queens, New York. She is met by her new landlord, who stood on the same doorstep 16 years earlier. As they get to know each other, the old brownstone reverberates with the voices of the fierce and proud women who preceded them. Tickets from $41.
La Jolla Rec Center
615 Prospect St. (858) 552-1858. bit.ly/ljreccenter
The longstanding community event, the Kiwanis Pancake Breakfast, returns 7-11 a.m. Saturday, July 28. Pony rides, arts and crafts, bounce house and face painting for before – or after – a breakfast of pancakes and sausage. $10. Kids 10 and under free.
The Senior Luau Dance, 5 p.m. Friday, Aug. 10 for ages 55 and older. Dinner, beverages, coffee and dessert served. Live entertainment provided by the Breez'n Band. Tickets: $15.
This year's Movie in the Park is the Disney•Pixar classic-in-the-making "Coco," 6 p.m. Saturday, Aug. 18. Before the movie there will be a bounce house, arts and crafts, and other activities, followed by the movie at dusk. Bring chairs and blankets.
La Jolla Riford Library
7555 Draper Ave. (858) 552-1657. lajollalibrary.org
This year's summer reading program "Reading Takes You Everywhere" runs June 1-Aug. 1, to encourage young bibliophiles to read 10 books or 10 hours — or more! By read 10 books or 10 hours, participants earn a prize bag. For every additional 10 books or 10 hours, participants can pick a book to keep.
The La Jolla Library also has events for children of all ages this summer, including:
June 1: "Hullabaloo" performs 10 a.m. for a toe-tapping and wing-flapping concert.
June 8: A Wild Animal Show, 10 a.m. with Pacific Animal Productions.
June 15: The Library's first Sleepover at the Library, starts at 7 p.m. for children entering grades 1-5. Parents must participate and stay overnight as well.
June 15: A drum circle with Chazz Ross, 10 a.m. More than 25 African Djembe drums will be available to create a collective of jungle sounds, songs and rhythms.
June 22: During Michael Rayner's found object juggling show, 10 a.m., the master juggler will balance a wheelbarrow on his chin, juggle a tennis racket and more.
June 29: Superhero Science, presented by the Fleet Science Center, 10 a.m., showcases how super strength and other powers through science in this interactive show.
July 6: Storyteller Georgette Baker brings her engaging tales and songs, 10 a.m.
July 13: Magic, audience participation, music and comedy come together during the Magic of Rafael & Katia at 10 a.m.
July 20: The Children's Discovery Museum comes to the library by way of its Mobile Exhibit, 10 a.m. to noon.
July 27: A Wild Animal Show brings six furry, feathered or scaly friends, 10 a.m.
Aug. 4: The 1982 Oscar-winner "ET: The Extra Terrestrial" screens at 4 p.m.
La Jolla Symphony & Chorus
Season closing concert, "A Line Broken," 7:30 p.m. Saturday, June 9 and 2 p.m. Sunday, June 10 at Mandeville Auditorium, UC San Diego campus, 9500 Gilman Drive, at Mandeville Lane. Steven Schick conducts guest artists sopranos Helga Davis and Priti Gandhi, baritone Patrick Walders, trumpeter Peter Evans and contrabassist Mark Dresser in pieces by Rand Steiger, Courtney Bryan, Ornette Coleman, Gabriel Faure.
JCompany Youth Theater
Let it go, let it gooooooo! JCompany presents a 60-minute youth production of Disney's classic "Frozen," adapted for middle school-aged students. Matinee and evening shows July 13-29 in the Garfield Theater at the Jewish Community Center, 4126 Executive Drive. Tickets $17-$25. sdcjc.org/jc/
Fair concert series
June 1-July 4 at Del Mar Fairgrounds, 2260 Jimmy Durante Blvd. (858) 755-1161. sdfair.com
The following shows start at 7:30 p.m. unless otherwise noted.
Five grandstand acts for the 2018 Toyota Summer Concert Series: Hanson of 'MMMBop' fame June 8, young Mexican mariachi singer-songwriter Christian Nodal, June 9, EDM trio Cheat Codes, June 20, "Barracuda" rocker Nancy Wilson of Heart, June 22 and Latin pop duo Sin Bandera, July 1.
On the comedy stage, Gabriel "Fluffy" Iglesias performs June 30 and the "Roastmaster General" Jeff Ross performs July 4.
The Fair features a total of 26 nights of entertainment treats on the Corona Grandstand Stage. Tickets at sdfair.com and Del Mar Fairgrounds' O'Brien Gate Box Office, 10 a.m. to 6 p.m. Tuesdays-Saturdays, or by calling (800) 745-3000.
Summer Organ Festival
Mondays, June 25-Sept. 3 at Spreckels Organ pavilion, 2125 Pan American Road East, Balboa Park. spreckelsorgan.org
The 31st annual Summer Organ Festival returns with free concerts. Pets welcome on leash. Light snacks, beverages available, proceeds from donations benefit the nonprofit Spreckels Organ Society.
Festival opens 7:30 p.m. June 25 with Raúl Prieto Ramírez, new Civic Organist of the City of San Diego.
Other festival highlights include:
July 2: American theatre organist Walt Strony performs an evening of patriotic music celebrating Independence Day.
July 23: An evening of Violoncello and Organ with Chelsea Chen and Joseph Lee,
Aug. 13: Rising Stars Night with 15-year-old twin brothers Reilly Xu and Bruce Xu.
Aug. 20: Silent Movie Night with organist Steven Ball playing for the comedy "Safety Last" (1923)
Aug. 27: The return of San Diego Civic Organist Raúl Prieto Ramírez and his wife Maria Teresa Sierra.
Sept. 3: The series concludes with Rocking Balboa: A Pink Floyd and Led Zeppelin Tribute.
Shakespeare Festival
June 17-July 22. The Old Globe Theatre, 1363 Old Globe Way, Balboa Park. (619) 234-5623. theoldglobe.org
Opens with "The Tempest," June 17-July 22. Opening night is 8 p.m. Saturday, June 23 at the Lowell Davies Festival Theatre. Tickets from $30.
Additional events during the run of "The Tempest" include Shakespeare in the Garden, 7 p.m. June 26-30, free; Monday night free film screenings "Forbidden Planet" 8:15 p.m. July 9; "Coriolanus," 7 p.m. July 16, Shiley Stage; "Othello," 7 p.m. July 30 Shiley Stage; "Richard III," 8 p.m. Aug. 27 Festival Theatre. Seating is first-come, first-served by general admission.
---