Building Bridges, Not Walls: Solidarity Sunday group forms in La Jolla to offer tools for activism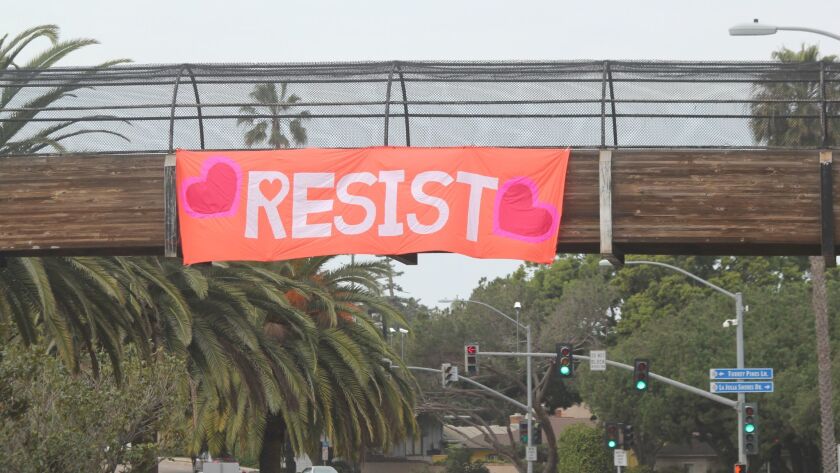 The newly formed La Jolla Chapter of the Solidarity Sundays network has a message for the politically charged women of San Diego: Resist. Get involved. Speak up.
To get this message across, chapter members hung a banner across the Torrey Pines Road footbridge on Feb. 14 with the word "resist" on it.
The La Jolla branch, formally called Solidarity Sundays San Diego Coastal Chapter, launched this month and will continue to meet on second Sundays at private homes throughout 92037. The next meeting will be Sunday, March 12. According to the national group's mission statement, Solidarity Sundays is a network of feminist activist groups focused on taking action to resist the 45th President of the United States, Donald Trump.
They meet to "engage with elected officials; amplify the action items of existing progressive organizations; and build communities of empowered, educated active feminists who will resist the presidential agenda and work for peace, justice and equity."
At the first La Jolla meeting, there were speakers and a postcard-writing campaign. Co-founder Robin Sinclaire said meetings going forward would provide a way for women (or men) to educate themselves on productive ways to take action on whatever issue compels them.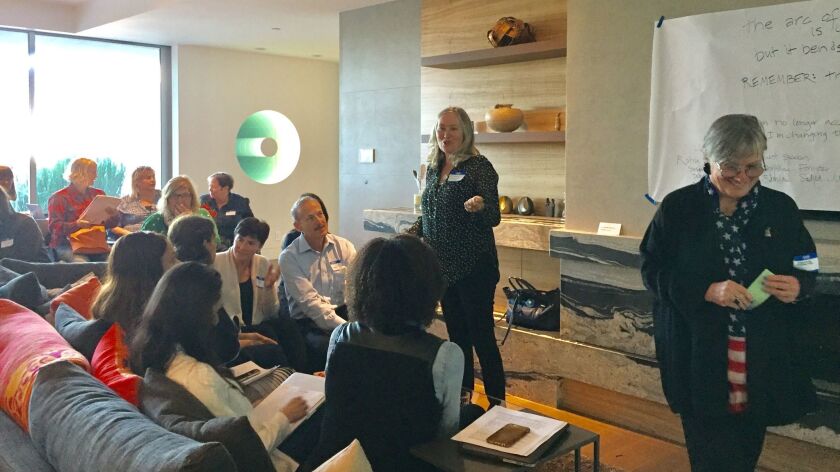 "Our mission is to encourage people to be upstanders not bystanders," she said. "You can't get involved with everything, but you can get involved in something and make your voice heard. Whatever your issue is — climate change, the travel ban, women's rights, LGBT rights, the wall — pick an issue and get involved. They are equally important and need a voice.
"I have three daughters and hearing how the Administration talks about women and wants to regulate women's bodies is something I needed to act on." She said environmental issues and racial tension are also issues about which she is passionate.
For co-founder Judy Adams-Halter, one of the motivating issues is the rights of refugees, in light of the recent presidential Executive Order banning entry to the USA to immigrants from certain countries. This prevented some refugees from finding sanctuary here.
"I had heard about the group after the election, and thought about getting involved, but when the travel ban went into effect, I was in," she said. "I care about my country and the principles on which it was founded. People came to this country for a better life. And that new blood coming in and working hard is what makes our country great."
Adams-Halter has worked with refugees for the last five years (primarily in schools with refugee students) and provides mentoring opportunities and tutoring. "(The election and travel ban) really lit my patriotism on fire because our country is so great and it's because of the people who come here. I couldn't sit back and just watch all that was happening," she said.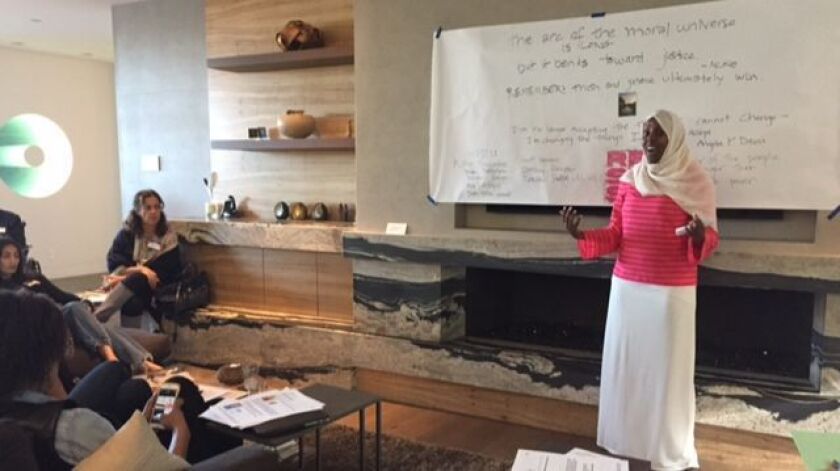 Apparently, neither could the 60 others who attended the inaugural Solidarity Sundays San Diego Coastal chapter meeting. At the gathering, they heard from speakers with knowledge of the democratic process who immigrated to this country, and wrote postcards to government officials.
"We got a list of contact information for government representatives and scripts on what to say if we called. We also got a (schedule) of what was being discussed and when, so we knew when our calls would be most productive. We also wrote thank-you cards to those who crossed party lines to vote for what's right, and notes to our Congress members to encourage them to support important legislation or oppose the things being talked about that could be really damaging," Adams-Halter said.
Sinclaire added that spurring civic engagement is what the group is all about. "We're not trying to reinvent the wheel and be the most important resistance group in the world, just work together to increase civic engagement and not take for granted what an amazing country we have," she said. "I'm not really political, but there is so much going on right now, I needed to do something."
Also inspired, Haida Mohjedhi, who immigrated to La Jolla from Iran during the Iranian Revolution in 1979, felt motivated to speak. "I'm an involved member of the community and I have children in La Jolla schools. I wanted to talk about the effect the anti-Muslim and xenophobic rhetoric has had on people like me, and my friends and family," she later told La Jolla Light. "Right now, my worry is for my children, who were born here, but with the travel ban, they now have this stamp of being different.
"Thankfully it hasn't happened to my children, but a lot of Muslim and immigrant families are hearing they need to go back because when people hear the leader of their country say that, they think it's OK. They reply, 'This is our country, where are we supposed to go?' "
But with the tools to take action and confidence in the groundswell of support in the room, Mohjedhi said she is optimistic going forward.
"It was great to see all these different forces come together with a united voice saying these divisive attitudes are not what we believe are America's core values. I remember thinking 'this is a Sunday afternoon and all these people are here for this cause.' People gave their time and passed on commitments because it was important for them to be educated and show support."
At the end of the meeting, the group decided to make their presence known, with the "Resist" banner they later hung. "We were so motivated," Adams-Halter said. "We wanted to motivate others to use their voice while using a positive, encouraging message. The silver lining to this election is people have really started to pay attention and are coming together to get involved."
Want to learn more? Visit solidaritysundays.org or e-mail halterjah@aol.com and there is also a Facebook page for the group.
---
Get the La Jolla Light weekly in your inbox
News, features and sports about La Jolla, every Thursday for free
You may occasionally receive promotional content from the La Jolla Light.