2017 Secret Garden Tour tickets on sale, may sell out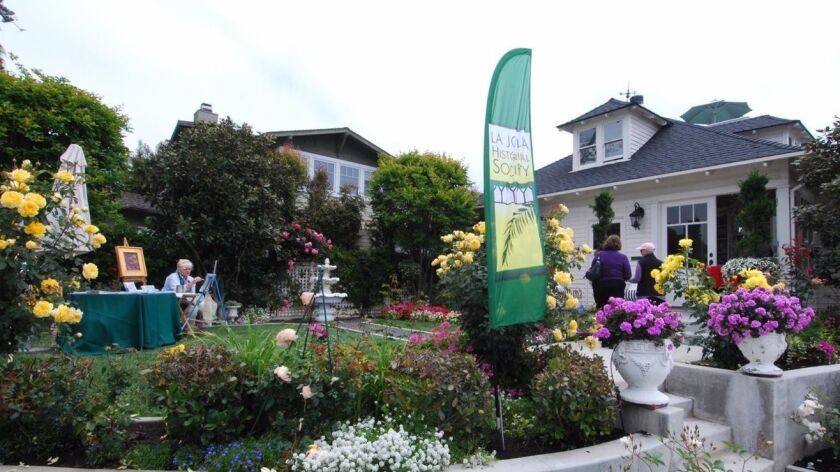 Within the 2017 La Jolla Historical Society (LJHS) Secret Garden Tour's featured spaces, one homeowner removed a swimming pool to install their garden, another a tennis court, and a third bought the adjacent house and demolished it for the same purposes.
"This is a group of people committed to gardening, and there are some really special gardens on this year's tour," said LJHS director Heath Fox.
The Secret Garden Tour returns to La Jolla 10 a.m. to 4 p.m. Saturday, May 20, with the novelty that this year LJHS will kick off the weekend with a Friday Night Garden Candlelight Soirée (tickets $75) from 6 to 8:30 p.m. May 19. During the event, guests will gather at a garden featured in the 2016 Secret Garden Tour and enjoy hors d'oeuvres, wine and music by candlelight. The celebrity guest will be Nan Sterman, garden designer, botanist and host of KPBS's "A Growing Passion" show.
The 19th edition of the event offers various options. The "Platinum Tour" ($150) starts with brunch at a secluded setting, and then guests go off to visit the six "secret gardens" in small buses. The "Self-Guided Tour" ($50) begins at LJHS's Wisteria Cottage, 780 Prospect St., where tour-goers will pick up their program booklets with locations of the gardens, a map and the wristband necessary to gain entrance. Visitors who choose this option drive themselves to the different locations and can visit the gardens in any order. Garden locations are kept secret until the morning of the event.
What's in store?
The gardens featured this year are accompanied by "spectacular La Jolla properties with beautiful views," according to a press release. "The 2017 Secret Garden Tour gardens include a historically designated 1930s Edgar Ulrich fantasy castle with romantic gardens to match, a Cape Cod Ranch overlooking canyons and the ocean with vegetable gardens and fruit trees, a 1930s Spanish Style home set in a botanical wonderland with specimen plants and spectrums of color, and an elegant home set amongst drought-resistant plants over more than an acre property."
The garden visits are enhanced by local musicians, artists and tabletop displays by designers and merchants.
Tickets have gone on sale at lajollahistory.org/events and, according to Fox, may sell out. "Sales this year are ahead of what they were this time last year. I'm anticipating we're going to sell out," he said, encouraging those interested buy their tickets in advance.
Coinciding with the Secret Garden Tour, the "Secret Garden Boutique" will take place 9 a.m. to 5:30 p.m. at Wisteria Cottage, 780 Prospect St. This free, open-to-the-public event consists of an open-air market where 25 vendors will offer gardening accessories, plants and gifts available for purchase. Vendors are selected for their special artistic style or craftsmanship.
Fox highlighted the "variety" of secret gardens featured this year. "We have design styles that range from classical to contemporary, with a wide range of planting materials, including three gardens that integrate fruit and vegetable plating," he said.
If the 200 tickets for the "Platinum Tour" and 800 for the "Self-Guided Tour" are sold, a total of 1,000 visitors will walk the six selected gardens. The organization challenge this presents is solved by LJHS with the help of volunteers who make sure everyone's safe. "We will have a team of 85 volunteers working on tour day, some of whom will be here for registration, but most of them will be working in shifts in the gardens on behalf of those gardeners," Fox explained.
Asked if any garden ever repeats an appearance in the event, Fox said his rule of thumb is to never repeat a garden that's been featured in the previous five years. However, in this year's edition, he admitted LJHS included a garden that was on the 2009 event. "Since that time the property has a new homeowner who has put in a new garden that I believe is more appropriate to the architecture style," he added.
Two of the gardens in this year's tour belong to houses designated "historical." For Fox, landscaping is an important part of the historical designation process.
"When we talk about historic preservation, we're talking about a building, and we're talking about the urban environment, which we typically associate with buildings, but it's more than that," he said. "You really can't talk about preservation in the urban environment without considering conservation in the natural environment, and gardening is a method of conserving the natural environment that's integral to the urban city."
Fox added he would like to see more attention paid to "cultural landscapes," as they are referred to in the preservation lingo. "I'm glad to see that there are two appointments of landscape architects in the Historical Resources Board, Todd Pitman and new chair David McCullough. You have to consider things holistically."
Want to know more? Visit lajollahistory.org/events or call (858) 459-5335.
---
Get the La Jolla Light weekly in your inbox
News, features and sports about La Jolla, every Thursday for free
You may occasionally receive promotional content from the La Jolla Light.