La Jollans knit scarves for homeless people
For three months, mothers and daughters from the La Jolla-based National Charity League (NCL) San Diego Chapter partnered with retirement home Casa de Mañana residents to knit 150 scarves for homeless people. The scarves were distributed during the Dec. 10 Salvation Army Luncheon at Mariners Point.
Three knitting tutorials were held at Casa de Mañana, where some 40 mother-daughter couples participated and knitted alongside elderly residents. Many mother-daughter pairs already knew how to knit and taught others or socialized with the residents.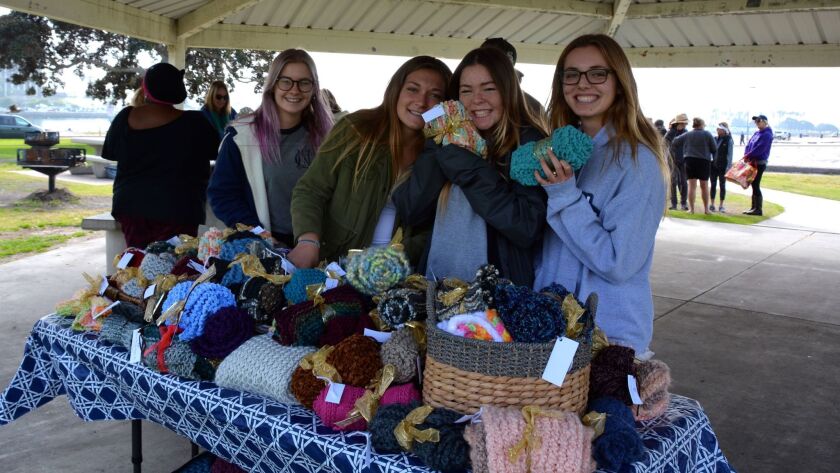 Additionally, some girls helped wrap the scarves in gold bows to add a little holiday cheer to the project. More than 150 scarves were collected, with about 75 coming from Casa de Mañana and 75 from NCL.
The scarves were distributed to homeless men, women and children who showed up for the Salvation Army luncheon. Many expressed their gratitude to receive a warm and soft scarf along with their meal. Several happy children tried to match a scarf to their outfits.
One father, his 8-year-old daughter and a 4-year-old son who live out of their car, explained that they travel back and forth between Tijuana — where the cost of living is lower but the streets are less safe — and San Diego. The children grabbed scarves for themselves and then one scarf for their mother, who was at work, saying they had no other way to get her a Christmas gift.
The scarf project made a lot of people's day and served as a nice holiday addition to the Salvation Army Luncheon. Both Casa de Mañana and NCL will continue to make scarves for what will become an annual tradition.
---
Get the La Jolla Light weekly in your inbox
News, features and sports about La Jolla, every Thursday for free
You may occasionally receive promotional content from the La Jolla Light.