Poet laureate visits to inspire Bishop's School students
In one of the first encounters between U.S. Poet Laureate Juan Felipe Herrera and the students at The Bishop's School (where he's spending a week as the 2017 Endowed Scholar-in-Residence), he asked a student for her family's origin. "She took her time," Herrera told La Jolla Light, adding that he could feel momentum growing in the class, and when she revealed the answer, "There was an inner emotional insightful moment. That's my mission."
Herrera explained he's on a quest to help students achieve their highest expression potential. "When you say something in a poem, people can relate to that. That's what you can do with poetry, but it needs to have sincerity, your full attention and freedom to express yourself at that level," he explained.
The first Mexican-American to become a poet laureate, Herrera spoke to the entire Bishop's School student body Jan. 24. "Do what you really like to do," he told them. "I have a Ph.D. in daydreaming. If you like to daydream, daydream. My daydreams became all this."
Herrera, who grew up in San Diego, credited his teachers for challenging him, which prompted the growth that made him become a poet. "Your teachers present you with life puzzles sometimes. When I was in sixth grade, my teacher wanted me to do a theater piece on Peru. My teacher had a lot of faith and support in me. I didn't know how to do it, but I crunched it out and somehow with my wizard genius I did it," he explained, and immediately started playing his harmonica, one of the highlights of his lectures for students.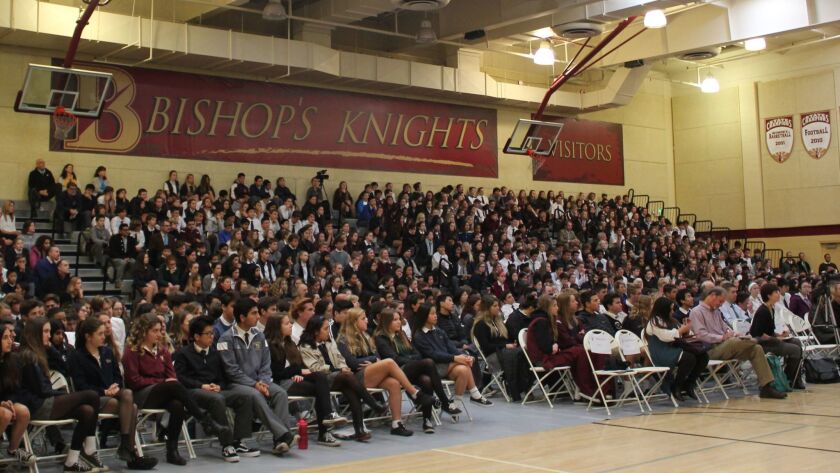 He also discussed his struggles as the son of Mexican migrant farmers growing up in San Diego. He recalled the time a teacher asked him, "Juan, what are you?" And he replied, "What am I … I am Hawaiian."
"I said that because I had just come back from San Francisco and I had amazing friends from Hawaii, but I'm Mexican and I told myself, 'I'm not going to lie anymore.' I told myself, 'I don't want to be scared or nervous when my teachers ask me a question anymore.' "
For his poetry, Herrera often uses Spanish and English weaved together into a whirlwind of rhythms and words. Asked how an only-English speaker would understand his poetry, he replied, "You don't have to know what those words mean, you can just look at them, and you're good. There's no requirements in poetry — even if you know all the languages in the poem."
Herrera invited students to write "celebration poems" and read them or give them to someone. "A poem does not exist if you do not give it away. It is empty if you not read it out in your beautiful voice. It has to have your voice, without your voice is not really a poem."
He insisted "giving" is especially important in present times because "people are feeling a little agitated. It's good to have a gift from someone else, a stranger especially, someone they don't know ... or maybe know a little bit. It's very deep and magical. You don't have to think too much; it can be a poem about what happened today, or how you feel, or what you dreamed about ... or just a few words," he continued.
He said one of his first experiences as a student was when his teacher told him to sing in front of his entire class. "She said, 'Juan, you have a beautiful voice!' I don't have a voice, Miss, I don't talk at all. And that was my life puzzle. I had to figure it out. … And all of you students at The Bishop's School have beautiful voices. Every single one of you."
Want to Know More? To read Juan Felipe Herrera's biography and some of his works, visit poetryfoundation.org
---
Get the La Jolla Light weekly in your inbox
News, features and sports about La Jolla, every Thursday for free
You may occasionally receive promotional content from the La Jolla Light.