People in Your La Jolla Neighborhood: Meet 30-year Rotarian Penny Shurtleff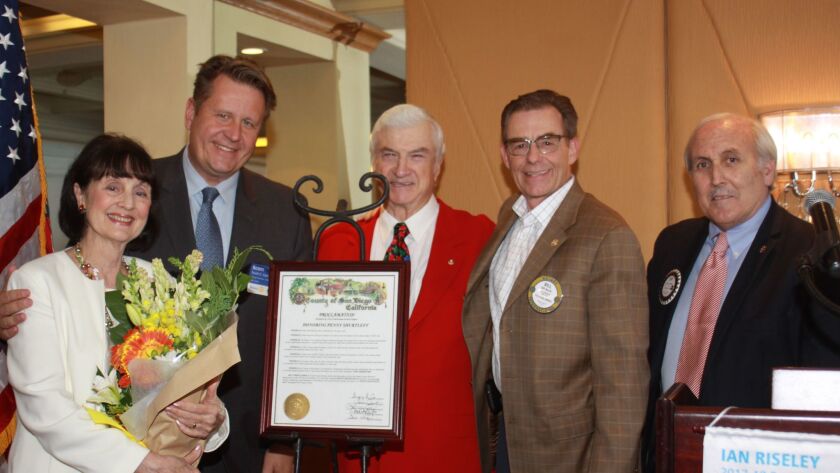 La Jolla resident and 30-year Rotarian Penny Shurtleff got the surprise of her life at the Dec. 12 Rotary Club of La Jolla meeting, when it was revealed that Dec. 12, 2017 had been declared "Penny Shurtleff Day" in the County of San Diego. Arranged by her loving husband Gordon, the recognition was given in honor of her decades as a Rotarian.
How did you feel when you realized what was happening?
I was in shock. I couldn't even talk. I get embarrassed when people do things like that, but I understand why (Gordon) did that. I was one of the first women in my hometown Rotary Club, and I'm proud of what I've done with my life. Back then, Rotary was a men's organization, and the wives were called Rotary-Anns, which was really humiliating. A friend of ours wanted me to join Rotary, and I questioned why, given that it was a men's organization, like the Boy Scouts.
What convinced you to join?
I saw all the good they were doing, I loved it, and that was when their mission was to eradicate polio around the world. That alone impressed me. Then there were the scholarships Rotary gives young people, and the international and local projects.
The only problem was that, at the time, the club decided to dump everything on me, because they were testing me. They had me heading the fundraisers and all these different projects. I asked the president if that was normal? He said it was. In the end, my membership worked out great.
Where did you grow up?
I was actually born in La Jolla, but moved to Santa Rosa when I was two. My father was in the wine business in the 1940s. He had ranches in northern California, so we moved up there and had a winery and apple ranch (Penny's maiden name is Frei, and Frei Brothers wine still exists today).
Do you have any children?
I have one child, Anthony, who lives in LA. I got married when I was 19 and had Anthony. It was a doomed marriage from the start. I went to school with (my former husband's) sisters, who told me not to marry him. But I'm glad I did because now I have a wonderful son. But we got divorced and I remarried again on the rebound because in those days, if you had a child, you didn't live with someone, you married them. He was a disc jockey and we moved to the East Coast.
So how did Gordon enter the picture?
I was going through a second divorce and decided I needed to grow up, so I went back to school to train to become a secretary. I lived next to some really great people, who were friends with Gordon. They offered to set me up and I said they're not fixing me up with anyone!
But we met anyway and he was so good to me and Anthony. I always wanted to move back to California and start a business. Gordon was supportive of that idea, and we moved back to my hometown. In trying to network, he would introduce himself as 'Penny Frei-Shurtleff's husband' because it was a small town and everyone knew everyone.
What was your business?
Gordon and I started our business in the 1980s in Santa Rosa. We had a temporary help service, like Manpower and clerical. We started with a filing company and two desks, and then we had some investors, things got good, and we started making money. Our job was to send people out on jobs. It was like having children; you bring them up and teach them all the skills they'll need and then they go out.
In the 1990s, we were bought out by a company and retired early. I kind of wish we would have stayed in business a little bit longer.
Once we retired, we moved here. I love La Jolla, I love everything about it. I always knew we would end up here. Our son lives in LA, and he wants us to move there, but we're fighting that.
What did you do when you got here?
The first thing Gordon and I did was join Rotary. We knew it would fill our lives. But we've never wanted to be in the same club. So I joined the Rotary Club of La Jolla and he joined the Torrey Pines Rotary Club. I feel connected to the world and the people in the Club. I love giving back and the camaraderie.
What do you do in your free time?
We like to travel a little. All of our friends live in Sonoma and on the East Coast. We love Hawaii. But we're so busy, we don't have much free time. We love to have parties, and we used to have huge theme parties. I just enjoy being around people.
I'm very interested in people and their business. Most people think 'What do you do?' is just a polite question, but I'm genuinely interested in the answers! (Proving her point, she occasionally flipped the script and asked this reporter how I got into journalism, my thoughts on equality in the workplace and whether I would like a sandwich.)
How is life now?
Life is good now, especially since I'm getting older. The one good thing about getting older is you are more secure with yourself. I'm learning to handle myself and stand up for myself, but still respect other people's opinions. We all have the right to feel how we do.
But the hardest part of getting older is facing changes we may or may not like. We all look back on our generation and consider 'the good old days.' I look back and say, 'Well, we didn't do things that way in my day.' It's an interesting thing we all seem to do.
La Jolla Light's "People in Your Neighborhood" series shines a spotlight on notable locals we all wish we knew more about! Light staff is out on the town talking to familiar faces to bring you their stories. If you know someone you'd like us to profile, send the lead via e-mail to editor@lajollalight.com or call us at (858) 875-5950.
---
Get the La Jolla Light weekly in your inbox
News, features and sports about La Jolla, every Thursday.
You may occasionally receive promotional content from the La Jolla Light.