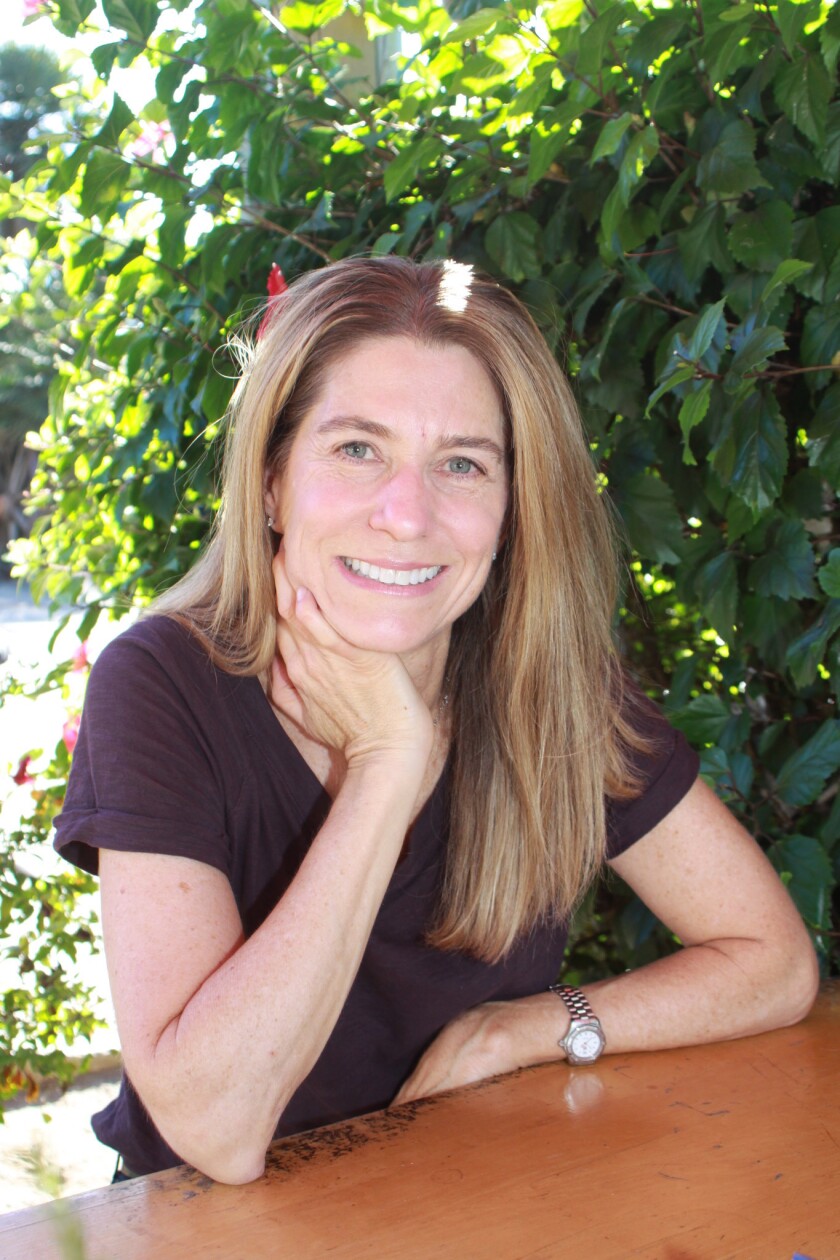 La Jolla native Ilene Schaffer (nee Ilene Brenner) is purposely and contagiously positive. So much so, that birds zipping by her dark blonde hair (and this reporter's blonde locks) at the Pannikin Coffee House one afternoon is not only cause for a laugh-filled pause, but a helpful reminder that the birds are probably contributing to elevated cortisol levels. Schaffer has a master's degree in counseling psychology with a focus in life transitions, and is a "positive psychology" practitioner and a firm believer in the therapeutic power of walking.
Where in La Jolla did you grow up?
I grew up in The Shores, and went to Scripps Elementary (now The Children's School), Muirlands Middle School and La Jolla High School ... a lot of going to the beach and hanging out with friends, and volunteering with my school clubs. Then I went up north to college, but always came back in the summer. When I had kids, I wanted them to have the La Jolla experience in the summer. My mom still lives near WindanSea, and my dad and step-mother live downtown. You really appreciate the beauty of La Jolla when you leave and come back.
Why did you leave?
I went up to the Bay Area for college. After college, I got a job working with student leaders. After 10 years of that (my husband Peter and I) moved around a lot, from the Bay Area, back here, Seattle and now we're in Carmel Valley.
Before I had my kids (Olivia and Jadyn) and after working for the University, I hit pause and decided to get my master's degree in counseling psychology with a focus in life transitions at University of San Francisco. I had my children after that and started my practice there, then we moved to Seattle and I started a practice there.
What is your focus?
Life transitions counseling and positive psychology. I work with people who are fundamentally healthy, but going through a life transition. I originally wanted to work with new moms who want to preserve their own sense of identity, so I blend that teaching with positive psychology to help people look at where they are today and where they want to be, to help them thrive.
What is positive psychology?
It's science-based tools to help people flourish. Life is going to present bumps along the way, so how do you struggle well, and what tools do you have in your toolbox to help you in your struggle. People think it's all about smiling and being happy through anything, but people are not going to be happy 24/7. While that's a beautiful thought, it's not the reality. I take that with me wherever my practice goes, and now I work with clients long distance.
How does that work?
I walk with clients, so even when I'm on a long distance call with a client, I walk along The Shores beach or the Del Mar beach. Most of the time, the clients walk "with" me. They will find somewhere to walk and we will walk and talk over the phone.
Why is that important?
It's so multi-faceted, from the very beginning. When I meet someone, walking reduces the stress level, as opposed to someone walking into my office, staring at me and my four walls. I don't want to be sitting across from someone as if I have the answers, so I walk side by side with them. I can ask the questions to help them get to the answers.
I started doing this 14 years ago, but now the research is showing that walking lowers stress levels and enables more creativity. And when you are in a life transition and need to get through a situation, the more creative you can be the better. And that goes for me, too, which is why I walk, too.
Please discuss your walking-themed cards.
I created a deck of cards that blend positive psychology-inspired activities with the power of walking. These were my final project when I got my degree in positive psychology. The project needed to be meaningful and take all the education we have and create a tool with it. You can take one of these cards (which have questions on them) and take them for a walk. Some questions can be answered in 10 minutes and some take longer.
These are great for someone who needs an attitude adjustment. We've all had those days when we are just in a funk and need to change our mindset. I figured these tools should be in everyone's hands, not just those who have the time and financial resources to see someone privately.
They sell these at Warwick's, but they often sell out, so they're on back order right now. I'm currently looking at whether I want to continue to self-publish more or work with a publisher.
"People in Your Neighborhood" shines a spotlight on notable locals we all wish we knew more about! Light staff is out on the town talking to familiar, friendly faces to bring you their stories. If you know someone you'd like us to profile, send the lead via e-mail to editor@lajollalight.com or call us at (858) 875-5950.
---