People in Your La Jolla Neighborhood: Meet diver and community volunteer Nick LeBeouf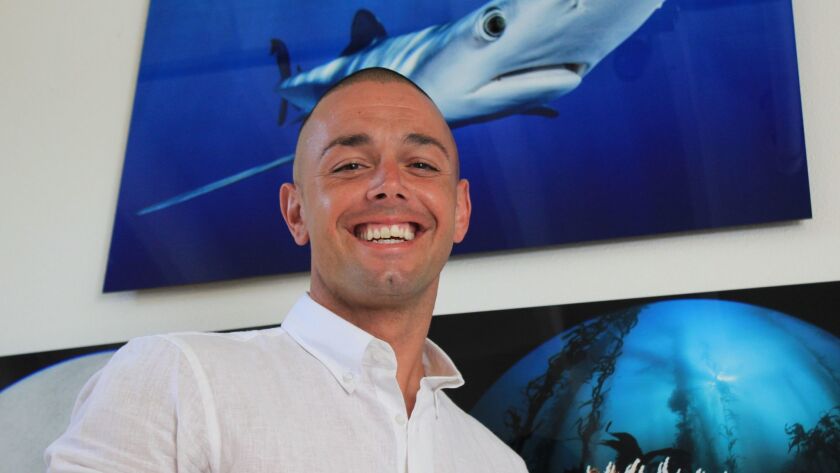 Editor's Note: La Jolla Light's "People in Your Neighborhood" series shines a spotlight on notable locals we all wish we knew more about! Light staff is out on the town talking to familiar faces to bring you their stories. If you know someone you'd like us to profile, send the lead via e-mail to editor@lajollalight.com or call us at (858) 875-5950.
At age 32, Nick LeBeouf owns a dive shop in La Jolla Shores and has chaired the La Jolla Shores Association community board, but there's a lot more to him than meets the eye. During this interview, 6-month-old puppy Elle sleeps on his lap, relaxed by Nick's gentle strokes. In other lives, Nick has been a semi-professional football player, a gambler and collector of Chinese art antiques. Originally from Modesto, California, he moved to San Diego in 2007.
How did you end up in La Jolla?
"I decided that if I could live anywhere in the United States, San Diego was the best place to live. It's the best decision I've ever made. I now have a company and a lifestyle that allows me to work on the ocean, which has been a dream of mine since I was a little kid. I have an ocean-based job, specifically with sharks. When I moved to San Diego I didn't even know I was going to do that, I wasn't even a scuba diver, I was in real estate."
How did you become interested in diving?
"When I moved to San Diego, the housing market crashed. I became a kayak guide, which was something easy to do, recreational, which led me to scuba diving, and the shop I worked for was a dive shop, I got certified, and I had the opportunity to go on a Great White Shark diving boat, and ended up getting a job on that. I spent the next five years working offshore on a little dive boat in Baja California (México) and Southern California. When I got enough experience, I started my own business in 2013. Two boats and a shop later, here we are."
What's it like to dive with great white sharks?
"It's exhilarating! You realize they are not the ominous animals that Hollywood makes them out to be. They're very calculated, and I've been inside and outside the cage, and it's always the shark that you don't see, the one you have to worry about. You have to keep your eyes open, even when you get in and out of the water; there are certain rules you have to follow."
What's your take on the shark attack at San Onofre?
"It was probably a mistaken identity ... to me, it doesn't seem like the shark was feeding on her, it just took a bite and left. If sharks don't know what you are ... they don't have fins to come up and feel you, they just have their mouths ... and shark teeth can tear up flesh pretty fast. More people get struck by lightning than are bitten by sharks every year, so it's just an unlucky situation."
What kinds of trips do you organize?
"We organize diving trips daily out of La Jolla Shores and La Jolla Cove, then we have ocean safaris with whales, dolphins and ocean sunfish. We motor around for 15-20 miles to the blue water, where the visibility is a lot better. What a lot of people don't realize is that offshore there are Hawaii-type conditions, and being out there, you never know what's going to happen. I've had a whale surface next to my boat! California is a super highway for animal migration. Gray whales, blue whales, humpbacks, sometimes you see orcas. So that's exciting."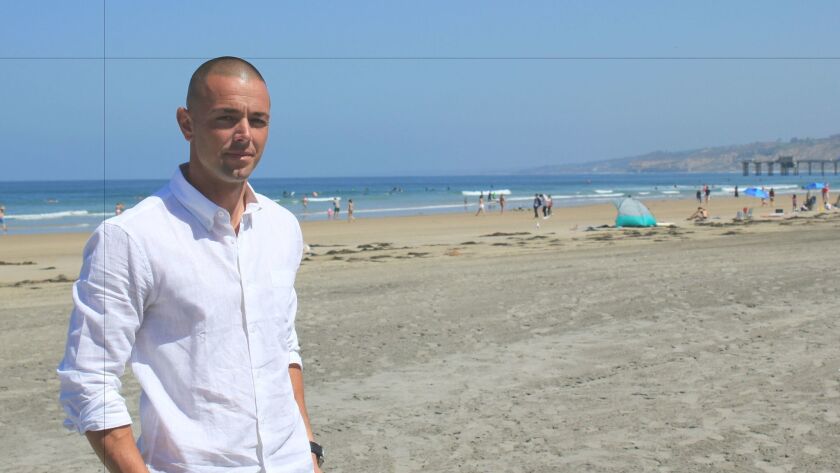 Where's your favorite diving spot?
"The Southern California Channel Islands and this island called the San Clemente, about 60 miles from here. The military owns the island, so there's not much traffic and it's well preserved. I've been at the Great Barrier Reef in Australia, and you may see 300 different species of fish on a dive, but they are this big (gestures about an inch with his fingers) and I like to see the big stuff."
How did you get interested in community service?
"I grew up as an Eagle Scout, and since I was young, I was always on the student council in school. I care about the community I live and work in, so the little time I have, I like to volunteer and give back where I can, like preserving La Jolla Shores and the ecological reserve. It's been very rewarding, and I have learned a lot."
What's the diving community like?
"Divers are technical people. They like to share information and have the latest diving gear and video cameras because diving is kind of like being an astronaut, you are kind of in other world."
Is it scary to depend on a breathing apparatus?
"No, it's very redundant. You have a backup regulator, in case your primary goes out. You dive with a buddy so in case something goes wrong and you don't go to the surface for whatever reason, you have your diving buddy to take a breath or two. There's always a backup. As long as you follow the rules and check your air gauge you're fine. I've done over 3,000 dives, which is not bad for 10 years."
What's the worst part of your job?
"The worst part of my day is going back to gravity."
Are you married or have kids?
"I have a fiancé and we're going to get married in Italy in October. Angela is very supportive and I'm really lucky to have her. We've been dating on and off for the past 10 years."
What do you do for fun besides diving?
"I like to travel. I have a motorcycle. I like to go down to Baja (California) and hit some of the dirt trails down there. I got a touring bike that can go on the road or on an unpaved road. I like to get out on the boat, go to Catalina Island … I really enjoy being on the water."
What's your hope for the future?
"Increasing awareness about our planet. I want to amplify how important it is to protect and preserve what we have, because we've taken a lot from the world and if we continue to take, it's going to be hard to come back — it already is."
How has La Jolla changed in the past 10 years?
"I've been in The Shores, primarily, and rules have been developed for the kayaks renters ... surfing associations have helped mitigate some issues that we had in the past. The parks have some increasing popularity; I hear it's due to Yelp (laughs). It's been more businesses coming in, and that's been nice."
What's your relationship with technology?
"I use my cell phone every day. I'm an Android user. I switched from Apple because running a business, it's a lot easier for me to customize my phone now, and I couldn't do that as well with Apple. I use a lot of ocean satellite apps, sea surface temperatures ... I can check my boat when I'm offshore to see exactly where I'm located. All my apps are ocean-related."
Do you like reading?
"I do enjoy reading. I read a lot of non-fiction, history books. Chinese history is really interesting to me."
Why Chinese history?
"I used to collect Chinese art antiques. Before I moved to San Diego, I was gambling as a Black Jack player, and I would take my winnings and convert them into art and antiques to hold value. I always believed that if you don't buy something with what you win, then you don't win anything. And I learned that art can hold currency value. So I started buying Chinese art. Not a lot of people know that about me, it was a whole different life. It was a good few years."
Describe your younger years.
"They were really good. I kept very busy as a youth. I played football and we were a State championship winning team. I played in high school for Central Catholic High School in Modesto and then at Fresno State for one year, and then went into water rafting. I didn't want to play football anymore because it's really rough on your body."
---
Get the La Jolla Light weekly in your inbox
News, features and sports about La Jolla, every Thursday for free
You may occasionally receive promotional content from the La Jolla Light.