People in Your Neighborhood: Meet Mauricio Medina, La Jolla rep to Council member Barbara Bry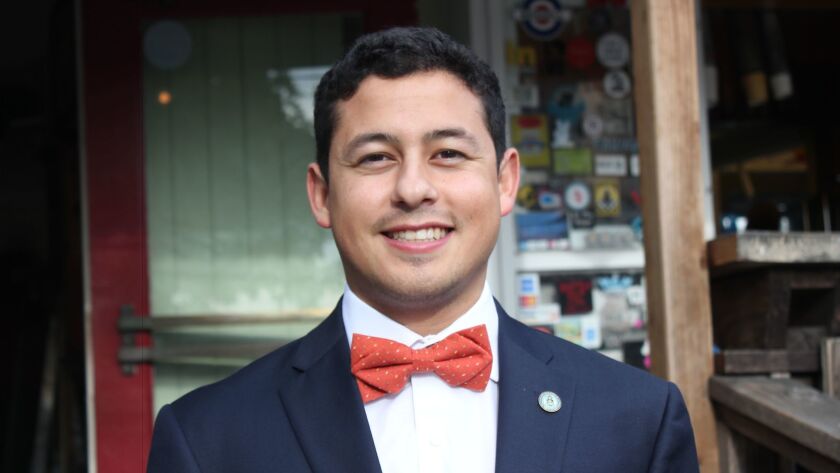 Editor's Note: La Jolla Light's "People in Your Neighborhood" series shines a spotlight on notable locals we all wish we knew more about! Light staff is out on the town talking to familiar, friendly faces to bring you their stories. If you know someone you'd like us to profile, send the lead via e-mail to editor@lajollalight.com or call us at (858) 875-5950.
Mauricio Medina, also known as the "bow-tie guy" in some La Jolla circles, has assumed the responsibility of representing District 1 San Diego City Council member Barbara Bry. His tender smile and peaceful demeanor belie what's under the surface — a smart, down-to-earth, funny 24-year-old young man with a wish to change the world.
Where are you from?
"I'm from San Diego, but I've been in La Jolla since I was 4 years old. My parents moved here because I went to school at Stella Maris Academy."
Where else did you go to school?
"Stella Maris is a kindergarten through eighth grade school, then I went to La Jolla High and then UC Santa Barbara, so that's when I broke the circle of just being in La Jolla. After college, I came back, moved back home, and I've been here ever since."
What did you study in college?
"I majored in Political Science with an emphasis in International Relations, and I minored in English."
What do you do for fun?
"I play soccer with my friends. A couple of us in the office are in an indoor soccer league. I read, I have a book club with about six people with whom I went to college. It's cool because everyone moved away; there's a girl in Australia, one of my friends moved to Pennsylvania, some are in Sacramento and I'm San Diego … so this is a place where we meet once a month through Skype or Google Hangout. We started it last year and we're continuing this year.
Like a typical La Jollan, I also like going to the beach, swimming, hanging out with friends — all that cool stuff."
How did you land this job?
"I guess I have to go back to almost a year ago, when my parents got an invitation in the mail to join Barbara Bry for a community coffee and they asked me if I wanted to go. I said 'no,' but I looked on the back (of the invitation) and it read, 'We're always looking for volunteers,' so I said, 'OK, I'll see if I can volunteer.'
I joined their fellowship program, and they said, 'You can put in more time than high schoolers, so why don't you start working full time?'
So I was there; one of the last people on the campaign with Barbara, until the very end. I guess you could say it was a very long job interview, and after the election, Barbara said, 'We really like what you did; you built ties in the community. You obviously know La Jolla and you're really up-to-date with what I believe and I do, so, come on board!' And I was like, 'Sure, let's do it!' "
Was that your first political campaign?
"Yes, it was. I liked it a lot; it was very eye-opening. Campaigns are very fast-paced, and I was lucky it was a City Council one. I was able to wear multiple hats and poke my head into different places — fundraising, drafting talking points — and you see the immediate results of your actions in the campaign. You type something up and it gets published. You say something and it gets tweeted by five different people. You knock on doors and you see those 'yes' votes rise in number every day. It was very exciting, but I'm glad I get to sleep more now and I get to enjoy the sunshine."
You are the youngest Council member rep in La Jolla in a while, how do you intend to tackle the challenge?
"Daniel Orloff (another Bry rep) has a good metaphor about it — it's like drinking water through a fire hose. It's very intense, all at once. But it's just handling people who call angrily, not taking it personally, but personally enough to sympathize with them. Know their issues, know the gravity of their concerns and try to deal with them as reasonably and quickly as possible."
Why the bow tie?
"I had to completely redo my wardrobe going into City Hall because I have to wear suits. I was wearing ties, but I found them really annoying, because they're long, and when you're sitting down or you're eating, they fly everywhere. And bow ties are very comfortable! I just like wearing them, they're cool! People know me now as the 'bow-tie guy,' so I guess I'll own it!"
How was your experience growing up in La Jolla?
"It was cool, I liked it a lot. My first job was at Harry's Coffee Shop. I started hosting and then I moved to busing and taking drink orders. I had a lot of friends growing up in La Jolla, I'd always go to Bird Rock, play soccer at the La Jolla High School. When people ask me, 'Oh, you're from La Jolla, do you know how to surf?' I'm like … 'No' (laughs). I guess I missed a check mark there. I do love the ocean. I do bodysurfing, but I guess I was more of a land kid growing up."
Where do you live now?
"In La Jolla, with my parents, on Herschel Avenue. The immediate blocks next to where I live have developed so much … Chipotle, Starbucks, The LOT, the YMCA just got rebuilt … It's really cool, I say this jokingly, 'I'm very urban,' because I walk everywhere! I walk to the grocery store, to get food, to get my coffee … I like it here a lot, and in the summer months, I get to walk to the beach."
Do you have any early memories of La Jolla?
"I remember going early in the morning with my mom to The Cove, and then I remember learning how to ride my bike without training wheels at The Cove. And then, falling down (laughs)."
Where are your parents from?
"My father is from Tamaulipas (Mexico) and my mother from Michoacán (Mexico). They moved here around 1986, and then my brother was born in 1991. I was born in 1993. At the time, we were in Normal Heights, and we settled in La Jolla, and we haven't moved since."
What's something people don't know about you?
"I like to pay trivia. I play on Tuesdays every week at a bar on Turquoise Street. I also play disc golf."
Do you like movies?
"Yes, I remember there used to be a Blockbuster in La Jolla, down where Rubio's used to be, and my parents had an unlimited rentals pass, so my brother and I would go there almost all the time. We saw so many movies. Basically, every mob movie ever made because that's our favorite. The 'Godfather' trilogy, 'Goodfellas.' … If it's been made, I've seen it."
Robert De Niro or Al Pacino?
"De Niro. He has way better characters."
What would be your dream job?
"Working in international-conflict resolution. What I do now, but on a much larger scale."
If you could change something in La Jolla, what would it be?
"The streets. I get upset when I drive. I'd like to see the town flourish more. I'd fix the empty storefronts because The Village is really cool, a really good neighborhood, and I do appreciate it a lot. When I walk my dog, if I see something (on the ground) I pick it up. So if someone else leaves their dog droppings, it hurts me, so I pick them up."
— Mauricio Medina can be reached by e-mail at mauriciom@sandiego.gov
---
Get the La Jolla Light weekly in your inbox
News, features and sports about La Jolla, every Thursday for free
You may occasionally receive promotional content from the La Jolla Light.