Merlot in the Making: LJ Crafted Wines brings community into vino-making process
Tucked away behind LJ Crafted Wines in Bird Rock, in a space barely large enough to fit a standard car, a group of Bird Rock residents got their hands dirty to make the 2018 batch of Bird Rock Merlot.
After crushing the grapes to release its juice in late October; the elixir was separated from its vessel, to be readied for its time in a barrel, in early November. The fruits of their labor will be on tap at the 5621 La Jolla Blvd. wine-tasting room around August 2019.
Much of the LJ Crafted Wines inventory is made in Central California, but as part of its business license, as little as one bottle of wine must be made locally, so co-owners Lowell and Anne Jooste decided to make it a staff project three years ago.
"We wanted to make some wine on a small scale so we could train the staff, because some have never been involved in the process, and this was a way to educate our staff and get them excited," Lowell said. "Then some of the members of our Wine Club wanted to get involved."
So two years ago, the community was invited to participate. And the wine they made, which was on tap earlier this year, sold out within six weeks. Given the first year went so well, the Joostes repeated the process this year.
On Oct. 21, half a ton of Merlot grapes from Sonoma were de-stemmed, placed into a bin and crushed with wine yeast to begin the fermentation process. On Nov. 6, volunteers pressed the grapes to extract the juice — and all the flavors and color that comes with it — in a high-pressure apparatus to release the fermented juice into small buckets. From there, the buckets were emptied into larger bins.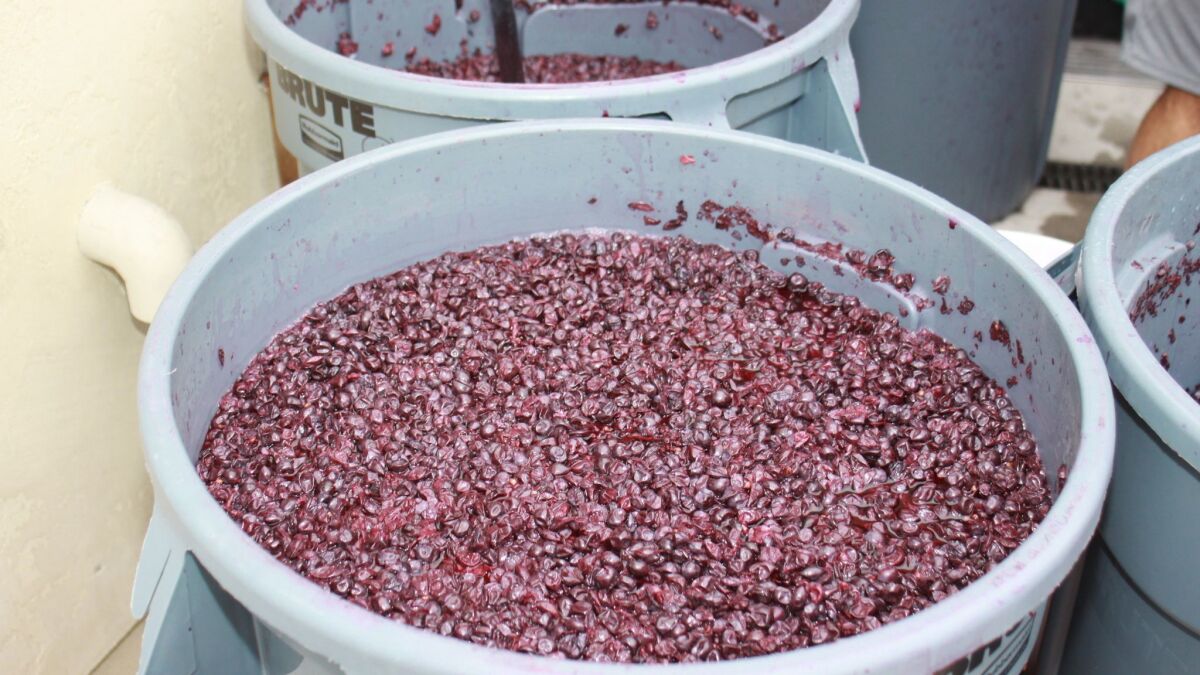 When the barrels arrive from Napa Valley (they were on route as of Nov. 6), the wine-to-be will be transported into the barrels to age for the next several months.
"This wine is very fruity with full fresh flavors, but it needs to mellow and be rounded off with some wood flavors. I think when it's done, it is going to be better than last year's community wine," Anne said.
Bird Rock resident Gail Hammond, with magenta-stained hands, participated in the community wine-making last year and this year.
"I always wanted to be Lucy from the 'I Love Lucy' episode (where she stomps grapes) with her feet and always wanted to learn the process," she laughed. "I've enjoyed learning about it and the best part is knowing, when the wine is ready, you had something to do with it. Last year, it was delicious. I call it my wine, they call it the Bird Rock wine. It felt so good to get in there and crush and press the grapes, very Lucy-esque. It's very calming and relaxing, it has been my favorite part."
Conversely, La Jollan Shira Bliss participated for the first time. She works with La Jolla Wine Tours, and is self-described as "book-smart" about wine, but not experiential about it. "I got to be hands-on this time," she said. "Getting to be literally hands-on instead of just hearing people talk about it was really fun."
Dave Dunbar added that seeing wine be made on a small scale using simple equipment — think Ace Hardware buckets and 32-gallon Rubbermaid bins — was a fun insight.
"My sister and her husband live up in Napa and make wine there, so it's something of a family interest," he said. "Since we enjoy wine, seeing how it gets created from the grapes until it ends up in your glass is quite enjoyable."
The Joostes have a longstanding tradition of bringing the wine-making process to the community. In their native South Africa, Lowell had a winery and often invited friends and family to participate in the harvesting process.
"Our eldest son's birthday was during the harvest season, so we would get his friends and their parents together during the celebration and we would pick a ton of grapes. He was 10 or 12 then. They weren't drinking it, but they would pick grapes and press grapes," Lowell explained.
A fourth-generation winemaker, Lowell has been involved with wine-making for more than 20 years.
But unlike those that came before him, Lowell and Anne have brought a modern-day, environmentally conscious approach to distributing the wine by using refillable growlers rather than single-use bottles.
"We started messing around with serving wine straight from the barrel into glasses or refillable growlers … and since we opened, we've sold 140 barrels worth of wine," he said. "As a visual, within every barrel you get the equivalent of 300 bottles. If you multiply that by the number of barrels we've sold, we have saved 42,000 bottles from production and disposal. If you lined all those bottles up end to end, you could go from here to the Rec Center."
Anne added: "The wine industry is so dependent on single-use bottles and care for our environment is one of the most important issues of today. I believe we are being tasked with bringing this new model, after 25 years in an industry ordering hundreds of thousands of bottles knowing they are going to be disposed of or recycled. So much energy goes into the production of glassware, and I see our little shop here as a proof of concept.
"I think this model can be replicated … and save on the cost and environmental impact. I think it's our most important thing, bringing wine in a new way."
---
Get the La Jolla Light weekly in your inbox
News, features and sports about La Jolla, every Thursday for free
You may occasionally receive promotional content from the La Jolla Light.