La Jolla Country Day students attend President Donald Trump's inauguration in Washington, D.C.
Although most were not old enough to vote, a group of La Jolla Country Day School (LJCDS) students got a first-hand, one-of-a-kind look into the world of politics during the recent presidential inauguration.
From Jan. 18-22, 62 LJCDS students were in Washington, D.C., to attend the inauguration of President Donald Trump, meet with senators and hear a speech from Supreme Court Justice Ruth Bader Ginsburg. Some also attended the Women's March.
Sitting down with La Jolla Light, sophomores Skylar Kelley-Duval, Raquel Ramirez and Nina Khosla, along with teachers Jonathan Shulman and Blair Overstreet, shared their experiences.
Shulman explained LJCDS organized a trip to the nation's capital in 2009 and 2013 following the two preceding presidential elections. "I grew up outside of Washington, D.C. and since coming out here, it surprised me how many students are disconnected from D.C. and what goes on there after the election," he said. "We start the planning before we know who the nominees are … it's about bearing witness to the peaceful transfer of power and meet the people there."
Voices of the Mall
While on the frosty East Coast, the students engaged in the Voices of the Mall project, in which they interviewed Inauguration attendees to hear their stories, learn what influenced their political decision-making and more. Each student was required to conduct two interviews, but some opted to do more. The results will be posted on a website this summer: voicesofthemall.com
Skylar said he asked which issues most influenced his interviewees in the voting booth. "There were people who described themselves as not being a 'problem-voter' or an 'issue-voter.' They looked at the ethics of the candidate over their stance on certain issues."
Added Nina, "I met one woman who also did not talk about the issues, but more about how she thought the government should be run. She said it should be run like a business to solve our economic issues. I hadn't thought of it like that, that America is like a business. So she made me think of the pros and cons of having a president who has run multiple businesses and how that could influence the next four to eight years."
Behavior on Capitol Hill
As to the behavior of people at the Inauguration, Raquel said she was surprised at the "divided" attitudes of attendees.
"We were too young to be involved in the last election, and I thought, looking at this election, that things were really messy. I feel like it's going to be harder going forward to mend the lines that were drawn. Being at the Inauguration was a little disheartening in that respect," she said. "People were booing (Hilary Clinton), and I thought we were supposed to be coming together. We went and we accept the fact that Trump is our President, and that means we have to work together and get stuff done."
She added that the "best part" was watching a friend of hers — a Trump supporter donning a "Make America Great Again" hat — scream "show some respect" as people were booing.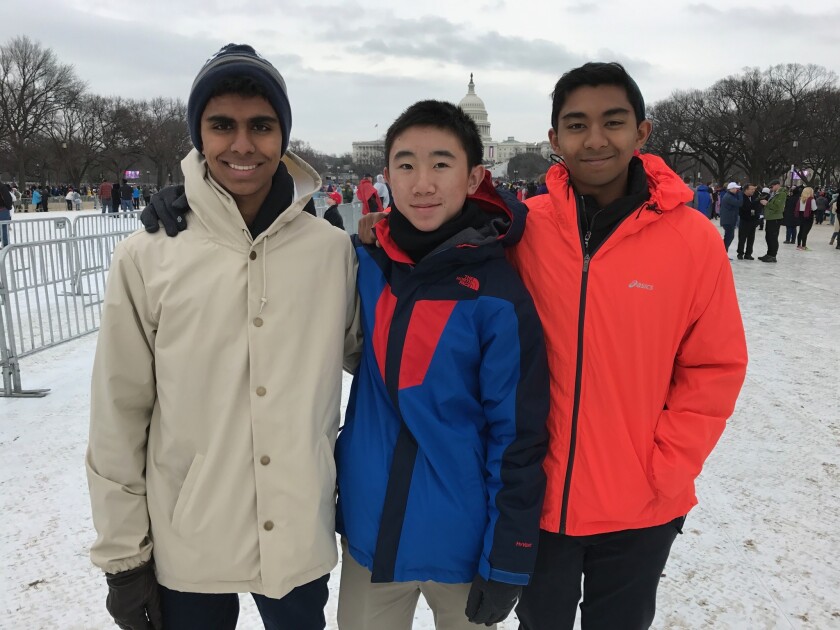 Words from a Justice
The students also got to hear from Supreme Court Justice Ruth Bader Ginsburg as part of their itinerary, and said Justice Ginsberg provided them with an example of what it means to show respect.
"She shared how the Supreme Court and the binary party system we have now worked when she arrived on the bench versus how it works today," Skylar said. "She said there is less of an effort to work across the aisle and for change, but she mentioned her friendship with (the late) Justice Antonin Scalia and how they were able to be close friends despite their deep disagreements on certain issues. It was based on respect. She said she hopes we can return to that, because it's important to the survival of our democracy."
Nina said she was encouraged by hearing that despite disagreements, civility is possible. "Some of the debates (leading up to the election) got a little bit disrespectful, and disrespect breeds disrespect, and we should get to a place where those on opposite sides can respect each other. I'd like to see that, not just in government, but in schools," she said.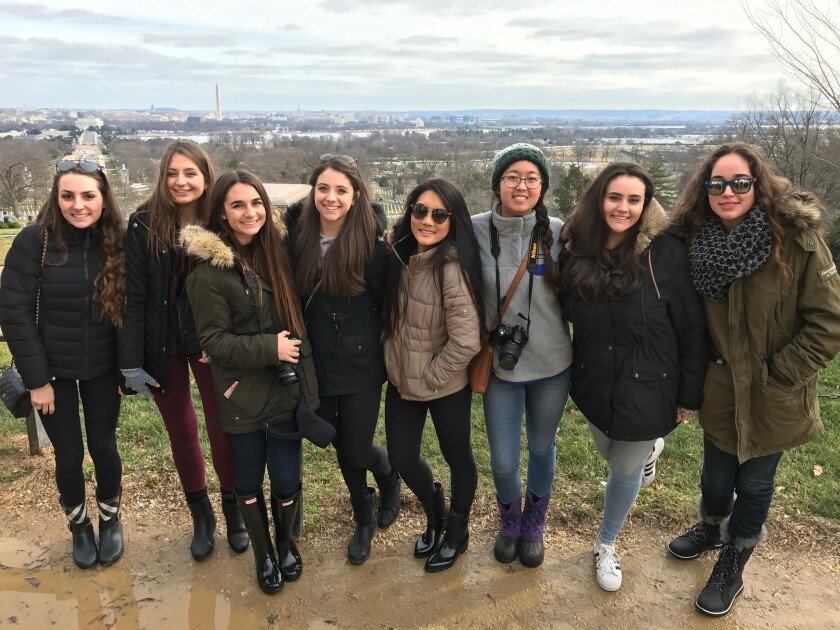 Students in the March
Once the school's itinerary was complete, Overstreet said the students had the option to participate in the Women's March the next day. It was one of hundreds of marches across the world with attendance reported in the millions. In D.C., more than 450,000 people took to the streets.
"Once the election went the way that it did and the March was announced, many students expressed an interest. So students who wanted to could march, and those that didn't could go to the Smithsonian and the National Archives," Overstreet said.
But, as Schulman joked, "If you were walking around D.C. that day, you were marching." That was fortunate for Skylar, who said he wanted to march but didn't because "I have wanted to see the Smithsonian my whole life." However, while enroute between the Smithsonian and other museums, he crossed paths with marchers.
"The hundreds of thousands of people who attended the march made it difficult to navigate museum-to-museum. So as someone who wanted to do both, walking in between counted for me as marching," he said.
Both Nina and Raquel opted to march. "Being part of the historic event like the Women's March was a great experience. I expected to be disappointed during the Inauguration, but all the amazing experiences I had before that and after that completely made up for anything I was feeling that day."
Added Raquel, "The March had an aura of positivity and there were fantastic signs. Everyone was cheering, except when we passed in front of the Trump Hotel, when people booed, but then they cheered again as they passed it. One of our friends is in a wheelchair, and she told me that at the Inauguration, people wouldn't let her through and some made comments to her. At the March, if someone had a stroller or a wheelchair, everyone got out of their way."
Parting thoughts
Inspired by the experience, each student reflected on how they were motivated to keep a watchful eye on the political process going forward. Skylar said, "I feel a little scared. Trump signed an executive order freezing the Affordable Care Act (aka Obama Care) in its tracks, and my aunt is a recipient of Obama Care and she no longer has health insurance. Things like that hit people hard. But I remain hopeful.
"If Trump is anything," Skylar reasoned, "he's new, and this can be seen as an opportunity to figure out some way to get something done. His policies may be considered extreme or harmful to many people, but I think there will be a way to move forward and get something done in the next four years."
Nina observed, "I saw a quote on a sign at the March that said, 'Don't count the days, make the days count.' I feel like we have to remember that ... to not just count the days to the next election, but go about making change and not let one person in government stop us. We can't hope for change if we don't want to do anything about it."
Raquel concluded, "We witnessed the way our democracy works and it makes me want to go out and, when I can, vote and be active in government."
---
Get the La Jolla Light weekly in your inbox
News, features and sports about La Jolla, every Thursday for free
You may occasionally receive promotional content from the La Jolla Light.