Room to Grow: La Jolla NCL members update challenged teen's bedroom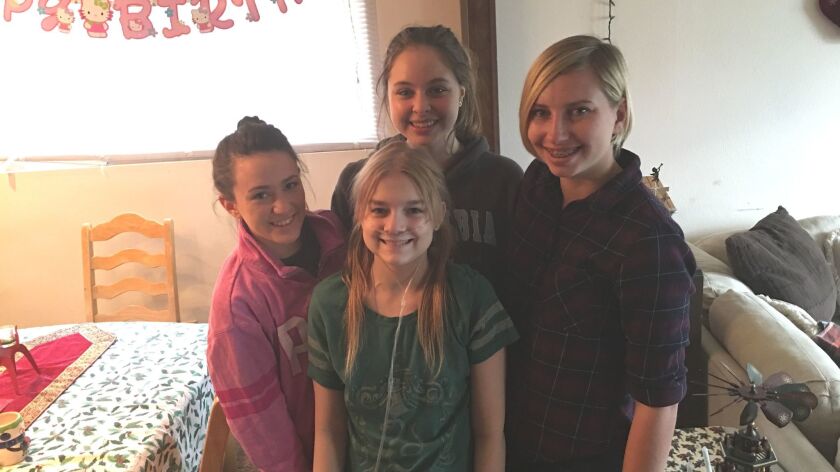 To improve life for Emma, a 14-year-old with cystic fibrosis living in Spring Valley, the (La Jolla) National Charity League (NCL) Seaside Chapter engaged in a bedroom makeover project with Cecily's Closet.
Before the National Charity League stepped in, Emma was still in her childhood room, which was in dire need of some updating.
"We wanted to give Emma something she could grow into, something functional, but cute," said 16-year-old NCL member Julia Munson. "After we got to know her, we spent months planning the design. It's a tiny room, so we wanted to have lots of light and lots of storage. We wanted to keep it practical, but also girly and fun."
On an informational web page about Emma and the project, she is described as "a mature, fun-loving, sassy, sweet and simply lovable girl, who is very excited about all things girly. She loves the color purple, Taylor Swift, glitter, make-up and all things Lego."
Cecily's Closet pairs volunteer groups with children in San Diego County who have medical or special needs, to provide these children with room makeovers. When volunteers agree to redo a room, Cecily's Closet gives the group $1,500 to fund construction services, furniture, decoration and whatever else the room needs.
Rachel Ackerly, Cecily's Closet president explained, "We're committed to helping children in the community and our efforts would not be possible without the hard work of volunteers who make it happen. We partner with organizations of all shapes and sizes, and our volunteers range in age from six to 70-plus. We are passionate about providing hands-on opportunities for our youth to improve the lives of children with special needs."
Because she is the treasurer for the NCL junior year group, Julia was in charge of keeping track of everyone's purchases "to the cent," she said. "Whenever someone bought something, I had to write it out, including shipping and taxes, and keep strict track of everything."
Julia was also tasked with designing the bed, including a new bedspread and pillows. Others were asked to rearrange the closet, decide on an area rug, purchase a couch, install a vanity and come up with ways to improve storage.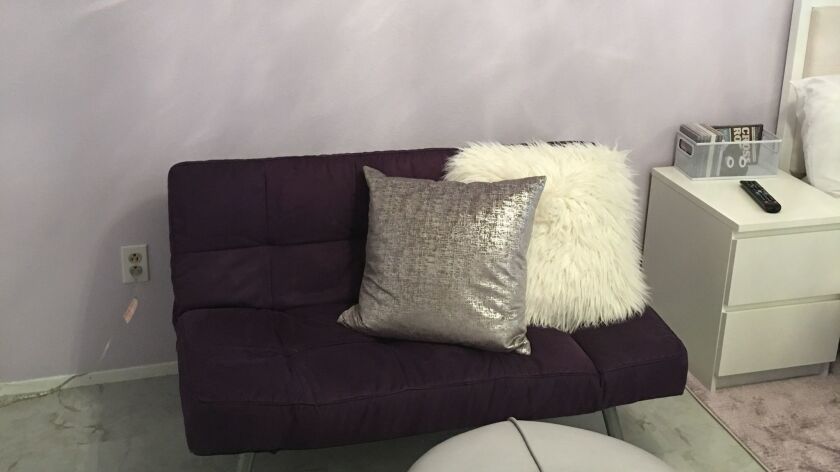 "Emma loves LEGO, so we needed a place for her to put everything. She gets tired very easily, so keeping things clean can be challenging to her. We needed to provide her with easy-access storage. Cleaning out the thousands of LEGO bricks in her room (so we could put in new furniture) was the hardest part. Emma has an oxygen tank with her at all times, so we also needed to clear the dust out of her room."
Another challenge for the group was contributing ideas that would yield a cohesively designed room with everyone's ideas heard. "The walls went from blue to purple to lavender, and the bedspread changed like eight times. Even the day of, we had three choices and were still picking between them," Julia laughed.
When the big "room install" day came in February, Emma was in Northern California on a regular visit to Stanford Health Care for a medical check-up. The NCL girls spent a few hours cleaning out the room, freshening up the paint and bringing in new furniture.
They recruited volunteer help for construction services and were able to stay on budget with the exception of one item — a television.
"We all pitched in as a group to get her a TV because she really wanted one," Julia said. "When she saw her room for the first time, it was so great. Once we all saw how happy it made her, it was a great feeling."
Ackerly said Emma's reaction was "priceless" when she saw her room.
"The NCL team truly spent the time necessary to understand Emma's likes, dislikes, her wishes ... and they got to know her, not just her disability. As a result, Emma adored her room. It was evident that she was overwhelmed with excitement and happiness, and the room was full of special touches that the teens made just for Emma," she said.
The Seaside NCL Chapter was founded on June 1, 2015 as the ninth NCL, Inc. chapter in San Diego County, and the 203rd NCL, Inc. chapter nationwide. National Charity League is a mother-daughter group that engages in community service projects.
On the Web: seaside.nationalcharityleague.org and cecilyscloset.org
---
Get the La Jolla Light weekly in your inbox
News, features and sports about La Jolla, every Thursday for free
You may occasionally receive promotional content from the La Jolla Light.