La Jolla Lions Club raises money for health, youth causes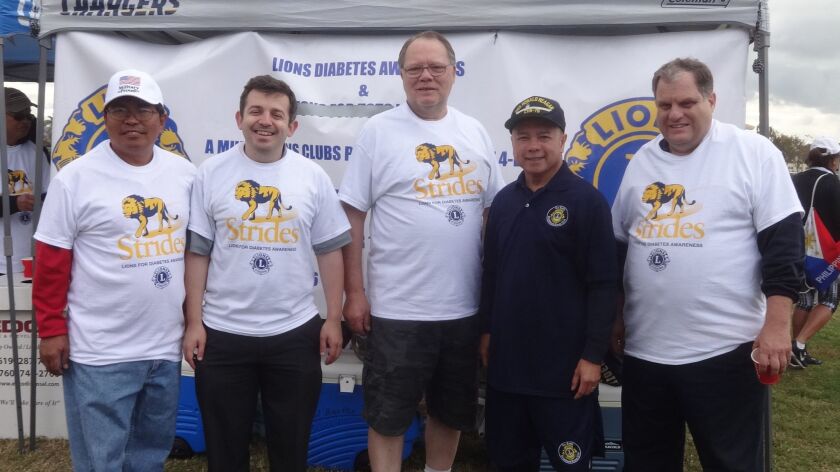 "A lot of people like to do charity work, but they don't have time to do it," said Julio DeGuzman, charter president of the La Jolla President's Lions Club. "That was the case for me. I was a member of a different Lions Club and when it was suggested I start one in La Jolla, I said, 'I'm too busy.' I work full time, I belong to ump-teen organizations and I'm raising two teenage boys." But in 2014, DeGuzman did start the La Jolla Lions Club chapter, which emphasizes action rather than extensive time commitments.
"I say, if you join our Club, meetings are not mandatory, just pay the dues — $100 a year and an initiation fee of $30, the latter of which is waived if you are a veteran — and when we have fundraisers, show up and bring some friends. They can pay the entrance fee or donate something, either money or a raffle item."
For those who do have the time for meeting, the Club gathers the second Tuesday of each month at 6:30 p.m. at Donovan's Steakhouse, 1250 Prospect St. At a typical meeting, DeGuzman said, "We have a speaker and announce upcoming service opportunities and get volunteers organized, discuss which charities to support and how to help them, and if we have money, we talk about where to give it."
The Club is accepting new members through Feb. 1. Under the motto "Where there's a need, there's a Lion," the overall mission of Lions Club International is to eradicate blindness. With chapters in 200 countries, efforts often include fundraising for sight programs including vision screenings, eye banks and eyeglass recycling.
"Our Club helps by participating in events to provide eye exams and give out reading glasses. We have access to a special machine that examines the eyes of children. A lot of young children are afraid to say, or don't know that they can't see, so they keep quiet, but their vision is blurry. This machine checks their eyes and then prints out a prescription they can take to their optometrist so they can get prescription glasses," DeGuzman said. "In 2016, we participated in eight events including wellness fairs. At these events, we give out reading glasses with no questions asked. We tell poeple, if these work for you, take them! And we do fundraising events to purchase these materials."
Other Lions Club initiatives support local community needs, provide health programs for children and adults, coordinate youth volunteer opportunities and carry out the Peace Poster contest (in which ages 11-13 share their artistic vision for peace), participate in environmental service projects, and assist with worldwide disaster relief.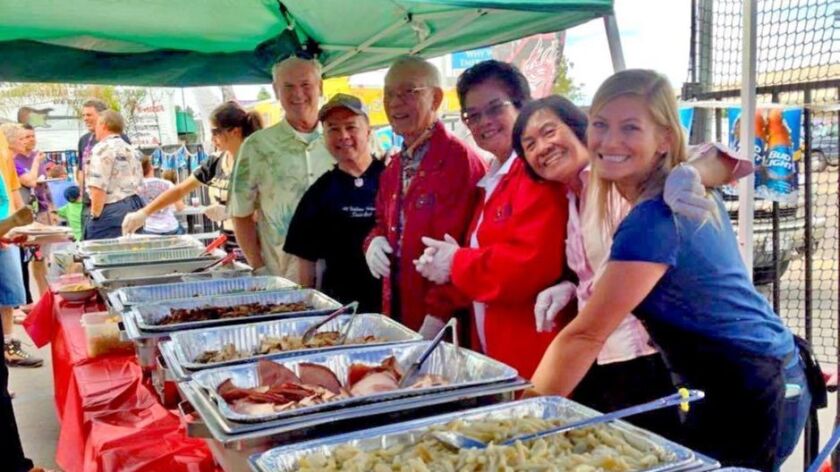 According to the Lions Club International website, there are more than 1.4 million members worldwide, and "Because we're local, we can serve the unique needs of the communities we live in. And because we're global, we can address challenges that go beyond borders."
When it came to forming the La Jolla chapter, DeGuzman said he would only do so if certain conditions were met. "I wanted to name it the 'La Jolla President's Lions Club,' and require all members to be a current or former president of a company, business, service organization, community organization, non-profit or be a veteran. I also said it had to be capped at 20 members because I came from a Lion's Club that had 117 members, and that was just too many." A later compromise bumped that cap to 26 members.
"There are so many events we do each year, we have to stay organized," he said. Events in 2016 included a walk to raise money for diabetes research, which had a "good turnout" of La Jolla members, and raising money for the annual Lions Scholarship for local high school students.
As to what DeGuzman gets from Club participation, "For me, I made a lot of friends that I wouldn't have made if I hadn't been a Lion. Second, I get personal enjoyment out of giving to charity, and I like that I get to be involved in the community ... I get gratification from that."
The La Jolla President's Lions Club is in the process of developing a website, but those with questions can contact DeGuzman at julio.deguzman@gmail.com
---
Get the La Jolla Light weekly in your inbox
News, features and sports about La Jolla, every Thursday for free
You may occasionally receive promotional content from the La Jolla Light.