People in Your La Jolla Neighborhood: Meet community booster, gala-goer Kristi Pieper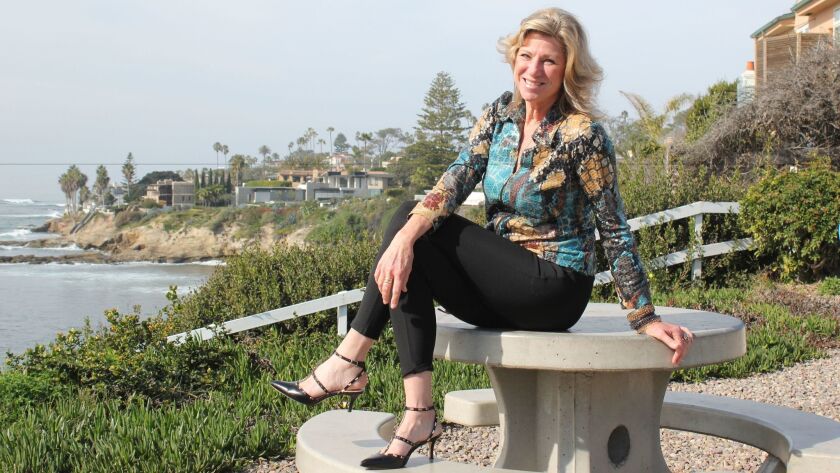 Editor's Note: Welcome to La Jolla Light's "People in Your Neighborhood" series, which shines a spotlight on notable locals we all wish we knew more about! Light staff is out on the town talking to familiar, friendly faces to bring you their stories. If you know someone you'd like us to profile, send the lead via e-mail to editor@lajollalight.com or call us at (858) 875-5950.
Real estate agent, volunteer, party organizer, bank teller, fahionista, mother and professional smiler Kristi Pieper can't walk down a block on Girard Avenue without greeting some of her neighbors or high school friends. This whirlwind of blond, curly hair and leather high heels has been rocking the streets of La Jolla for five decades.
Where are you from?
"I'm born and raised in La Jolla. I was born at the old Scripps Hospital. I went to La Jolla Presbyterian for preschool, Scripps Elementary for kindergarten, La Jolla Elementary, Muirlands Junior High and La Jolla High."
What changes have you seen in La Jolla over the years?
"When I was growing up, we had five working elementary schools, we had four or five grocery stores, two of them along Girard Avenue. We didn't even imagine that there would be a Westfield UTC Mall, in fact, when that was starting to be built along with the La Jolla Village Square Mall, we would think, 'Where is that?' It seemed so far away."
Are you married? Got kids?
"Yes, I'm married and I have three kids, Dane (19), Drake (17) and Nan (16). Dane is a freshman in Santa Monica College. My children are all of diversity, I adopted them at birth, and then got married when they were ages 3, 2 and 4 months. My boys are both from Hawaii and my daughter was born in Sacramento. I also have animals, a dog rescued from the Humane Society, a duck named Patty and two cats."
Where in La Jolla do you live?
"Bird Rock."
Tell me about your professional life.
"I started off in retail because I love fashion. I was a part of the JC Penny Board of Fashion when I was in high school and I thought, 'I'll just be a fashion buyer and move to New York and get clothes for people all the time!' I loved doing that, but I realized going on to college, that you really have to be a business major and do accounting and a lot of other things, other than just running off and thinking you're a stylist and you've got it all going on. So I went into banking for a bit, I worked for San Diego Trust & Savings downtown, and it was really exciting. It was in the 'old boys club' ... the business world. I was young, just graduated from college and it was great. But then I got robbed at gunpoint on the job, and I thought, 'Maybe this bank business is not for me.'
An opportunity came up to work within my family with my brother, so I took over all his secretarial and paralegal duties in the late 1980s into the '90s. But our family had always been into real state, so one by one, I started acquiring small apartment buildings. Then, I did the management and physical labor of working on those, got to know amazing contractors and hold onto that for 20-plus years.
As the kids were getting older, I was handling everything for my family trust, at the same time working with the rental apartments. I wanted to spend more time with my passions — fundraising and volunteering — and with my kids. I chose to back off some family things, and center more on things I wanted to do. I diversified my own business, so now I have some condos in La Jolla, and some property in Big Bear and the desert.
What is your volunteer work like?
"I love it. I probably learned it from my parents because they were very inspirational, they volunteered quite a bit. I have five charities that I'm very passionate about — Meals on Wheels, Rady Children's Hospital, Saint Madeleine's Sophie Center, the Humane Society and Balboa Park — which is my prime focus this year because I'm chairing their Patrons of the Prado gala in July. There's nothing more amazing than having underserved children come to our museums and look at everything. I feel like I have the cultural, the animals, the elderly, the children and those who suffer with disabilities, covered and I'm passionate about all of them."
What do you do for fun?
"That's my fun. I love being with friends, but I love doing what I do ... parties and being a part of their planning. I love walking with friends or with my dog and trying new restaurants. My favorite thing to do is to go out to lunch because I can try different places and still get back and pick up my daughter from school (laughs). I'm a real pick-up mom, unless something comes up."
Do you like music?
"I love music. I'm kind of the rock 'n' roll type of girl. I missed my calling by being rock star, not that I can sing, but to be a groupie with a rock star. Back in the day, I loved Led Zeppelin, Jethro Tull, Van Halen, Metallica …
My oldest son Dane, is a fantastic guitar player and he loves rock 'n' roll, too. The first concert I took him to was Van Halen. I secretly wanted to go and I needed somebody to go with me (laughs). I love concerts. I've gone to Coachella and Kaaboo. But my daughter is really into hip hop and rap, so on the other spectrum, I go to concerts with Drake and Rihanna … and I enjoy those, too, because it's a whole different kind of genre."
What's something people don't know about you?
"When I go to the movies, I like having a big bag of popcorn and I'm a little tough on sharing. I put butter and jalapeños on top so the jalapeños drain onto the popcorn and I have the sweet, buttery, savory ... and popcorn at the same time. It's a guilty pleasure I really enjoy.
What do you like to eat?
"I love everything that's very spicy ... curry, Mexican food ... anything that has a sweet or savory bite to it. We have such a luxury of fabulous restaurants here in La Jolla. Instead of going out for a big meal, though, I like going out for happy hour or lunch, so when it comes around dinner time, I like catching something a little lighter. I'm a big salad-eater, but I'm not vegetarian or gluten-free or any of that."
How do you like to dress?
"I try to keep stylish. I feel like I'm age-appropriate, but I do like leather and things that are a little bit more revealing sometimes. I try to do something that's flavored to whatever event I'm doing. I like the rock star look (laughs). In clothing, I like to have a little bit of an edge, whether it's the cut, or the length, or the shoes."
---
Get the La Jolla Light weekly in your inbox
News, features and sports about La Jolla, every Thursday for free
You may occasionally receive promotional content from the La Jolla Light.