Koi Wellbeing center in La Jolla: 'We're about feeling good'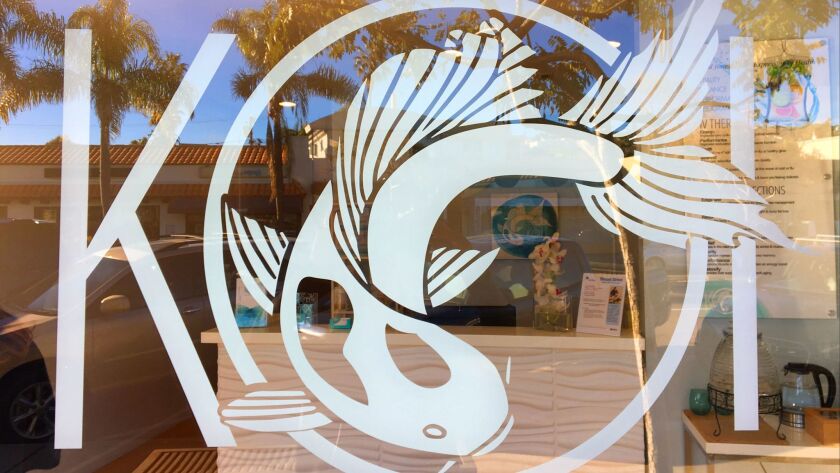 Koi Wellbeing's approach to helping its clients take ownership of their health is three-pronged: a consultation with a naturopathic doctor; nutrient injections of vitamins, minerals and antioxidants; and IV infusion therapy which introduces into the body pure and vibrant vitamins, minerals, amino acids and antioxidants.
This is not your grandfather's health management, but it's not adversarial, anti-traditional medicine. Nor is it what you'd call "out there."
"We're not saying 'Come on in and hold on to a blue crystal," said Jeffrey Sternberg, CEO of Koi Wellbeing, which has been open for exactly a year in a welcoming storefront location in Bird Rock. "We're trying to build a bridge between what you have and what you don't have with your specialist."
Visits to Koi Wellbeing begin with an hour-long consultation with its medical director, Dr. Brooke Leverone, a lifetime La Jollan who attended both La Jolla High and UC San Diego. (She graduated medical school from Bastyr University in Seattle following her pre-med studies at UCSD.) "The biggest thing for me is educating people on what it means to be healthy and how to take charge of their own health," said Leverone. "They don't know that they have options. I show people there's another way to address their health and (how to) put the power in their hands."
Koi Wellbeing's clients essentially fall into two categories: those seeking immediate help for identified issues, for whom nutrient injections are administered (for example, for pain relief, detox, energy boost, etc.); and those in need of more progressive treatment who invest in IV therapy. The latter is determined after consultation with Leverone and subsequent blood testing (that's the one part of treatment at Koi Wellbeing that may be covered by your insurance). "We can do panels that reveal everything about you," said Sternberg," so there's no guessing on treatment."
With the blood panels "I get a full picture of what is going on in the body physiologically," explained Leverone, who then works to identify the imbalances she perceives and determines treatments.
According to Sternberg, the benefits of receiving vitamins via IV over pills or in food are pretty profound. "What you're putting in your body is alive, not something that's been sitting on a shelf. Store-bought vitamins go through a tremendous amount of processing. They're made impure. There's no way you're absorbing 100 percent," he said.
Koi Wellbeing's nutrients, stored on site, come from an accredited compounding pharmacy. Treatments are available on a walk-in basis.
Nearly a dozen nutrient injections are offered. Among the most popular is a shot called "The Skinny." Said Sternberg, "It's incredibly powerful and it's not just for losing weight. It does get those fat cells in a state in which you can burn them, but it also has antioxidant power."
IV therapy at Koi addresses issues such as dehydration, muscle damage, aging and stress, and among the treatments are "Find Your Zen," "Forever Young" and "The Mozart Effect." Ultimately, Sternberg said, Koi Wellbeing's service is a simple one: "We're about feeling good."
Koi Wellbeing is at 5632 La Jolla Blvd. in La Jolla. Hours are 8 a.m. to 6 p.m. Monday-Friday, 8 a.m. to 1 p.m. Saturday, and Sundays by appointment. (858) 257-2808. koiwellbeing.com
— Business Spotlight features commercial enterprises that support La Jolla Light.
---
Get the La Jolla Light weekly in your inbox
News, features and sports about La Jolla, every Thursday for free
You may occasionally receive promotional content from the La Jolla Light.