La Jolla Symphony & Chorus concert to feature vocalist Kallisti and violinist David Bowlin, Feb. 11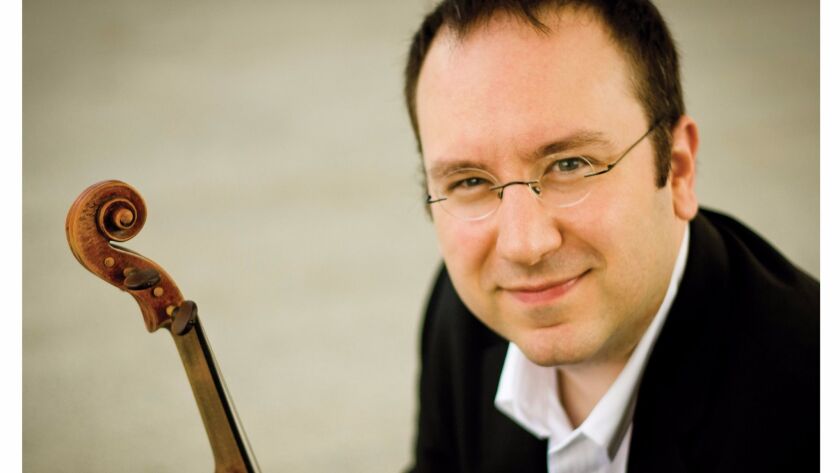 The La Jolla Symphony & Chorus (LJS&C) will present the third concert of its 62nd season, a program of extremes — from the singular focus of Beethoven's "Violin Concerto" to the post-modern pastiche of Luciano Berio's "Sinfonia," Feb. 11-12 in Mandeville Auditorium on the UC San Diego campus.
Music Director Steven Schick will conduct the orchestra and guest artists, violinist David Bowlin and vocal octet Kallisti, in a concert that begins with Gioachino Rossini's overture to the "Barber of Seville." From its premiere in Rome on Feb. 20, 1816, the "Barber" overture with its witty music and comic intrigue, is one of the most popular parts of the opera.
Beethoven's "Violin Concerto" (premiered Dec. 23, 1806) is one of the composer's most regal works, full of majesty and relaxed nobility. Though Beethoven is not normally thought of as a melodist, in this concerto he makes full use of the violin's lyric capabilities. Soloist Bowlin, a faculty member at Oberlin Conservatory of Music, will perform Schneiderhan's rarely-heard arrangement of the cadenza, complete with the fiery duet between soloist and timpanis in the first movement and brilliant outburst in the finale.
In 1969, the 44-year-old Berio confronted the imposing heritage of Beethoven and Mahler and composed his "Sinfonia." The work was commissioned by the New York Philharmonic for its 125th anniversary. The year was 1968, a turbulent time with Vietnam War protests at their most intense, the assassinations of both Martin Luther King Jr. and Robert Kennedy, and the riots at the Democratic convention in Chicago. As these events challenged the established order, Berio consciously re-thought classical form. He made "Sinfonia" the vehicle by which he could evoke and question the ideas and symphonic tradition of Western civilization. Using the full resources of a large modern symphony orchestra, Berio added an important role for eight amplified vocal soloists, performed here by the UCSD vocal octet, Kallisti.
IF YOU GO: Concert times are 7:30 p.m. Saturday, Feb. 11 and 2 p.m. on Sunday at Mandeville Auditorium, on UCSD campus. Parking is free. A pre-concert lecture by Schick is offered one hour prior.
Tickets are $15-$29 at (858) 534-4637 or lajollasymphony.com
---
Get the La Jolla Light weekly in your inbox
News, features and sports about La Jolla, every Thursday for free
You may occasionally receive promotional content from the La Jolla Light.