People in Your La Jolla Neighborhood: Meet retired consultant and volunteer Judy Bee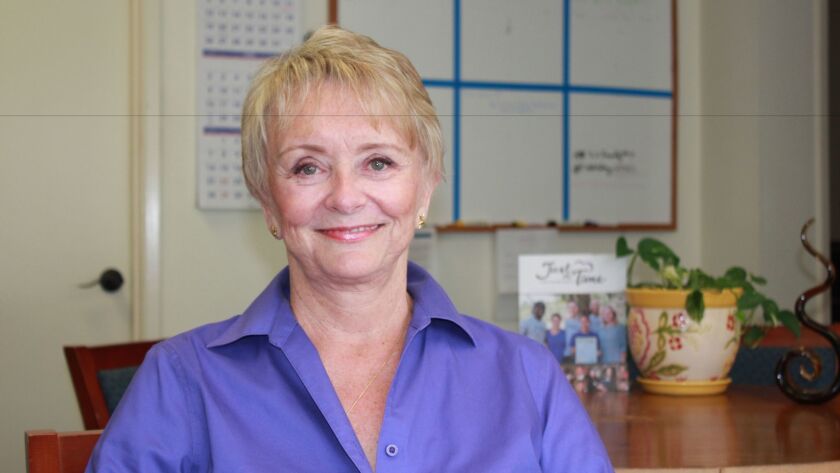 Editor's Note: La Jolla Light's "People in Your Neighborhood" series shines a spotlight on notable locals we all wish we knew more about! Light staff is out on the town talking to familiar, friendly faces to bring you their stories. If you know someone you'd like us to profile, send the lead via e-mail to editor@lajollalight.com or call us at (858) 875-5950.
La Jolla resident Judy Bee, 71, fills an entire room with her laugh. She says she finds humor in most things in life. This energetic woman chose a career with lots of traveling for 40 years, until she settled down in La Jolla, where she has found her home.
Where are you from?
"I was born in Hawthorne, Southern California. I've lived all but five years of my life in California. When I was a kid, from fourth to fifth grade, I lived in Reno, Nevada."
Why did you come to La Jolla?
"My husband Jeff Denning is a graduate of La Jolla High, class of 1966, and this is home to him. We were in business together and we traveled a lot. We had clients in 38 states. So, when his first grandchild was born down here, I said to myself, 'I bet we're going to be moving south!' And sure enough, he said, 'I'd really like to get back to La Jolla,' and I said, 'What's not to like?' so we moved. I have developed a home feeling here in the past 15 years."
Where in La Jolla do you live?
"We live in a condo in Windemere. What I like about it is, it was built in the mid-1970s, and it was supposed to be on a golf course, but they never developed the golf course. There are all these green belts and huge trees; and they only built houses on one side of the street, so it doesn't feel congested."
Do you have kids?
"I don't. My husband has three wonderful daughters. I said to him one day, 'I don't know if I would have been a great mom, but I'm a superb stepmother' (laughs), I think all three of the girls would say that. I have a great relationship with them.
I'm going to tell you a secret here, I'm also really good friends with his first wife. So, we grandparent together, but when I came down here, I knew no one! Michelle graciously took me under her wing socially, introduced me to her book club, which I'm a member of — The Literary Ladies. There's nine of us. We meet once a month and we're a great gang of gals. Then, Michelle introduced me to some philanthropic areas that I looked into."
Describe your professional life.
"I've been a management consultant for physicians for over 40 years. That means I show doctors in a private practice group or solo, who don't know anything about how to run a business — how to deal with personnel, scheduling appointments, collecting from insurance companies or any of those business disciplines, which is what I know about."
Are you retired?
"Yes, since 2015. However, I still work with clients that I've had for 25 years. When I retired, my friends asked me, 'Are you going to travel?' I said, 'Are you nuts? I just spent 40 years on the road!' (laughs). Why do I need to leave La Jolla?"
How was working with your husband?
"We were colleagues first. We worked together for about six years before we realized there was anything else going on. It was a small company and I think there were five of us consultants, and from the day I was hired, he and I could finish each other's sentences, which was kind of strange, but fun. And then we found out that there was something else besides collegiality in the mix. I've never had a problem working with him."
Would you tell us your love story?
"We were going to work in New York City doing workshops for a week. (The first night there) I was thinking about changing employment, because since I traveled so much, there was no social life for me. There are not very many men who want to say 'Hello' Friday night about 10 p.m. and 'Goodbye' on Sunday when you must get on your next plane.
So I was thinking, 'If I'm going to have a stable relationship, I'm not going to be able to keep up this traveling.' Being my best bud, I sat down with him that evening to talk about what I wanted to do, and I wanted him to help me think it through and I swore him to secrecy, because I wasn't sure I wanted to leave the company. Over a long discussion and a little bit of Jack Daniels (we found out we liked each other) (laughs). Maybe it was a lot of Jack Daniels, I don't remember."
How did you get involved with Just in Time for Foster Youth?
"It started with another organization called Women Give San Diego, and that's a giving circle, which is part of the Women's Foundation of California. So, when I started to think about slowing down work and probably retiring, I went to my friends in Women Give, and I said, where should I look? And they all pointed me here."
What do you do for Just in Time?
"When I first came here, I said, 'Here's what I know how to do: I know my way around Excel, Word, I can do public speaking, I know all about management, I'm good at training … so, is there a place for me where I can extend your paid staff so that I can do stuff that you normally would have a paid staff do, that would give them the opportunity to do other things?' It took us a while to figure it out, but we did. I work on the Walk and Talk fundraiser event, this is my third year, the presentation of our College Bound program ... but I'm always in the background doing stuff mainly from home."
What's the mission of Just in Time?
"If a foster youth finds himself or herself in a jam — they need a bus pass, they can't make the rent, they need some food. ... that's what we do here (for kids who don't have families). When most of us, who have a family, got ourselves in a jam when we were 18 and 19, we went back home.
What do you do for fun?
"Read, walk, watch movies, play tennis, volunteer … I get great joy out of volunteering."
Do you have a favorite color?
"I like yellow a lot. I'm told there are not very many people who can wear bright yellow, but there's something about my coloring that will allow me to do it, and people associate that with me."
Do you have pets?
"We couldn't have a dog for all the years we traveled, because it didn't make any sense. So when Jeff finally announced, 'That's it! I'm not traveling anymore.' I said, 'OK, we'll get a dog.'
So we found a rescue place and I had three requirements: 1) not a puppy; 2) under 30 pounds; and 3) no shedding. I went into the rescue and I told them what I was looking for, and they said, 'We have your dog!' They did, and we got Sam.
Sam wakes me up in the morning, we have breakfast, and then we go for a 45-minute walk up and down hills in Windemere. So we get lots of exercise, most of our life revolves around Sam. I enjoy the Inga column in your newspaper because she and I have similar feelings about dogs."
What's something people don't know about you?
"Many people don't know how humble my background was. I was raised by a single parent with very little money. It was just mom and me against the world. Lots of people — because we settled in La Jolla — assume that I come from money. Not at all."
---
Get the La Jolla Light weekly in your inbox
News, features and sports about La Jolla, every Thursday for free
You may occasionally receive promotional content from the La Jolla Light.