Who loves short shorts? Joyce Axelrod! Introducing San Diego Jewish Film Fest's 'Queen of Shorts' — Screenings Feb. 8-19 in La Jolla
Feb. 8, 2017 marks the start of the 27th annual San Diego Jewish Film Festival (SDJFF), presented by the Center for Jewish Culture at the Lawrence Family Jewish Community Center. This year's 12-day festival, Feb. 8-19, features 60 films from 21 countries at five venues around the county, and is expected to attract thousands of viewers, Jews and non-Jews alike. One of the highlights is the Joyce Forum, a full day of short films on Monday, Feb. 13, at ArcLight Cinemas in Westfield UTC Mall. The forum, which includes four 90-minute programs of films, each 2-30 minutes long, was named for SDJFF founder Joyce Axelrod.
Axelrod's life began in Española, a small town outside Santa Fe, where her father owned a furniture store and she was known as "the little Jew girl."
"My father came from Lithuania, he spoke Spanish better than English, and we were the only Jews in town," she said. "His customers were Hispanics and Indians from the nearby reservations. When I was in third grade, we moved to Albuquerque, and later I went to college in Tucson, where I met my husband, Bob Axelrod, and started teaching school."
Widowed young, Axelrod took a job teaching in Japan, on an American airbase. "It was a fabulous experience, and when I came home, I was anxious to start a new job and a new life," she said. "In 1970, I went to San Diego, loved it, and found a job teaching special education in El Cajon."
The program she developed for teaching simple skills to her students was so successful that school administrators asked her to make a video to show their progress. "They handed me a camcorder, assured me they wouldn't judge me on my cinematography, and I did a short piece that was good enough to use as a teaching tool."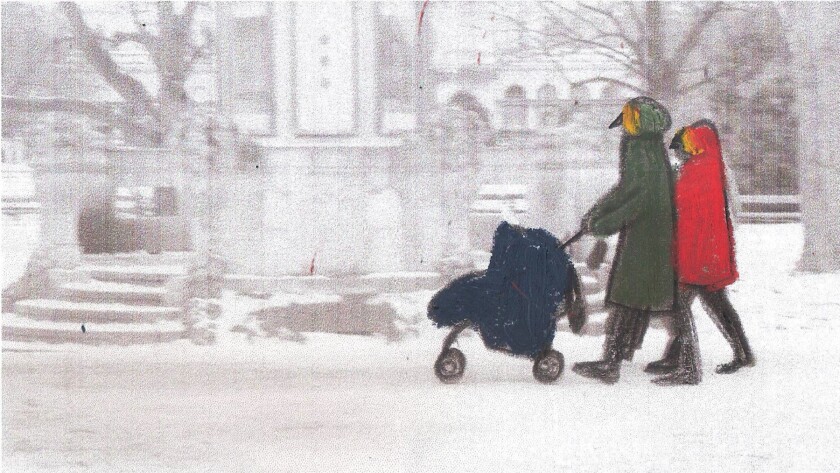 In 1972, she met Joe Fisch, a local attorney, and fell in love. They bought a house together, but didn't get married until 1991, in a "surprise wedding." Among their other unconventional choices: every few years, they'd close up their house and live somewhere else for several months: Manhattan, Jerusalem, London, Philadelphia, Boston, Montreal, Seattle.
"People look at me and think they know who I am," Axelrod said. "They're always surprised to hear about all my adventures."
On the more traditional side, she joined the boards of various organizations, including the JCC's Center for Jewish Culture, La Jolla Athenaeum, Playwrights Project and the local branch of the United Jewish Federation, who asked her to create a slide presentation for their 50th anniversary in 1987. Then Lynette Allen, Director of Cultural Arts at the JCC, invited her to help start a film festival there.
"At first, we set up 60 folding chairs in the gym and showed four films a year," Axelrod remembered. "Then someone said: why don't you have a real festival, in a real theater? So in 1990, we rented Sherwood Auditorium (at the Museum of Contemporary Art San Diego in La Jolla), which holds 500 people, put up posters for the First Annual San Diego Jewish Film Festival, and showed four films in 10 days, with capacity crowds every time."
And what about shorts? "Back in the day, festivals only used shorts as filler," she said. "If a feature ran under 90 minutes, we'd fill in with a couple of 'short subjects.' Sometimes they were better than the feature films!"
In 2003, for her birthday, Axelrod's husband made a donation in her name to the SDJFF, to do "something special" — and so the Joyce Forum was born.
"We now have a 16-person committee that screens about 150 films from all over the world," she explained. "This year, we're showing 23 shorts from six different countries, and it's really a forum — we have a lunchtime panel discussion with some of the filmmakers, led by KBPS film critic Beth Accomando."
From their modest beginnings, Axelrod and her shorts have come a long way.
IF YOU GO: "Joyce Forum: A Day of Short Films," starts at 10 a.m. Monday, Feb. 13 at ArcLight Cinemas, 4425 La Jolla Village Drive, Westfield UTC Mall. For tickets, call (858) 362-1348 or visit sdjff.org
---
Get the La Jolla Light weekly in your inbox
News, features and sports about La Jolla, every Thursday for free
You may occasionally receive promotional content from the La Jolla Light.