People in Your La Jolla Neighborhood: Meet vocalist and poet 'Grandpa' John Meyer
Editor's Note: Welcome to La Jolla Light's "People in Your Neighborhood" series, which shines a spotlight on notable locals we all wish we knew more about! Light staff is out on the town talking to familiar, friendly faces to bring you their stories. If you know someone you'd like us to profile, send the lead via e-mail to editor@lajollalight.com or call us at (858) 875-5950.
With a Ph.D in communication, a voice for singing and a heart for poetry, "Grandpa" John Meyer has been delighting La Jolla seniors with his sing-alongs and poetry sessions for years. During the performances, he switches out his hat to get into characters ranging from cowboys to railroad engineer officers or Irishmen.
Where are you from?
"I was born in Milwaukee (Wisconsin), but when I was 10 my father took over my grandfather's farm near Wausaw, so I grew up as a farm boy until I went off to college."
How did your professional life go?
"I was a debate coach at Hamline University (Minnesota). I was head of the Twin Cities debate league, and when I got my Ph.D., I moved to Plattsburgh (New York), and I was there for almost 30 years. At the end of that time, I retired and met this wonderful lady, Carolyn Shadle, and I've been following her around ever since. She can't get rid of me."
How did you end up in La Jolla?
"I was an instructor at the University of Minnesota — shoveling snow and freezing my pants off in 30-degrees below zero weather — and I said, 'There must be a better place in the continental United States.' So I went out and got a map and found that San Diego, California has the best year-round temperature and it never snows or freezes there. I thought, 'Someday I'm going to retire and I want to retire there.'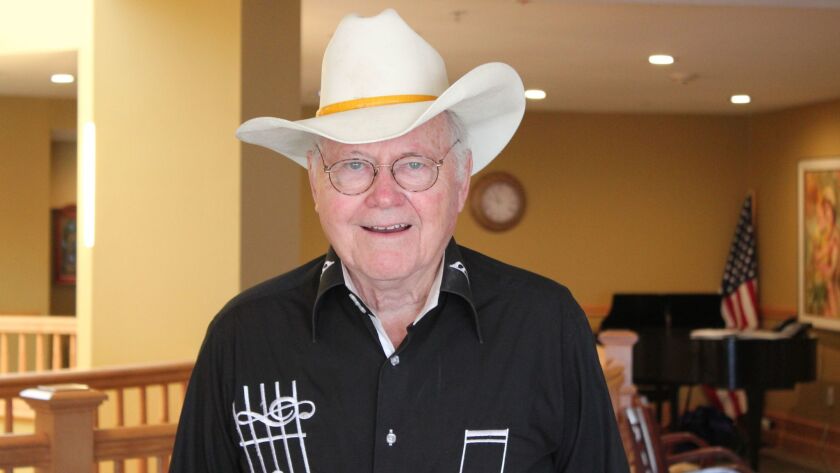 My wife became dean in the University of Denver in 1999, and I followed her. Wherever she goes, I want to be there. She's moved from there to other universities in California, and we kept getting closer and closer to San Diego. She knew I always wanted to retire in San Diego, and then we discovered this place, and fell in love with White Sands. So we moved here."
What did you teach?
"The classical name for what I taught was 'rhetoric,' but they changed it to Speech, Communication or Communication Studies, so it's evolved through the years. But that was my major ever since I started out as an undergraduate in Wisconsin."
Tell us about your music
"When I moved here in 2008, someone found out that I liked to sing, so the activities director at White Sands, who at that time was Cee Barangan, said, 'Why don't you come up and sing with us?' I said, 'Sure.' So I started singing with the groups here, and that's how it got started. She was gracious in giving me recommendations, so I've sung at Casa de Mañana, Wesley Palms, Sunrise, and I sing for a veteran's home in Chula Vista and another dozen places."
What's your singing like?
"I try to sing songs that everybody knows, like 'You are my sunshine,' and I discovered while I was doing this what I call 'The Miracle of Music.' People can have strokes and dementia problems, and sometimes they can't even tell their children's name or their own name or where they are. But the right side of the brain — that's where the music is — (is special) and if I can find the right song they sung when they were young and they know very well, they'll start singing with me!"
Can you give an example?
"The first time I discovered it, a lady was sitting down here at White Sands and she wasn't speaking much at all. I sat down with her, one-on-one, and I said, 'Will you sing a song with me?' and she didn't say a word. And I said, 'Well, I'm going to sing a song, and if you happen to know it, please sing with me.'
She sat there without making eye contact, looking down, and then I noticed that while I was singing her foot was tapping to the music. Finally, her eyes came up and she started singing. I thought, 'This is a miracle!' It happened because music is still there, in the right side of the brain, and if you find the right kind of song, there it is."
Do you accompany your singing with instruments?
"I prefer to sing a cappella, because if you bring a guitar or a piano, people sit back and listen to the music. But if you sing, and keep inviting them to sing along, something happens there."
Do you have any kids?
"I have four children who are scattered all over the country; two in New York state, one in Saint Paul, Minnesota and one just moved to Chapel Hill, North Carolina."
What do you do for fun?
"We play bridge here almost every night. We enjoy movies, and my wife and I write articles together. We get published in the American Animal Hospital Association journal; we write about communicating with their staff and customers."
What do you like to eat?
"I do like chocolate, and more chocolate, and more chocolate (laughs). And I like ice cream and things that I shouldn't have when I'm trying to lose weight."
What's your hope for the future?
"I hope that I can continue doing music and poetry."
What's something about you that people don't know?
"I guess they don't know that sometimes I get up singing, or writing a poem for my wife. And also people don't know that my wife and I were married before, she had two children, I had two children, and we met later in life and there's a song by Frank Sinatra called 'Love is Wonderful the Second Time Around,' which is true, at least for us.
But, you have to work at it, and people don't know that. And I think it's important that you tell your wife that you love her every morning, and every night the same (starts crying). As you can tell, I'm very much in love, it's very emotional with me."
---
Get the La Jolla Light weekly in your inbox
News, features and sports about La Jolla, every Thursday for free
You may occasionally receive promotional content from the La Jolla Light.