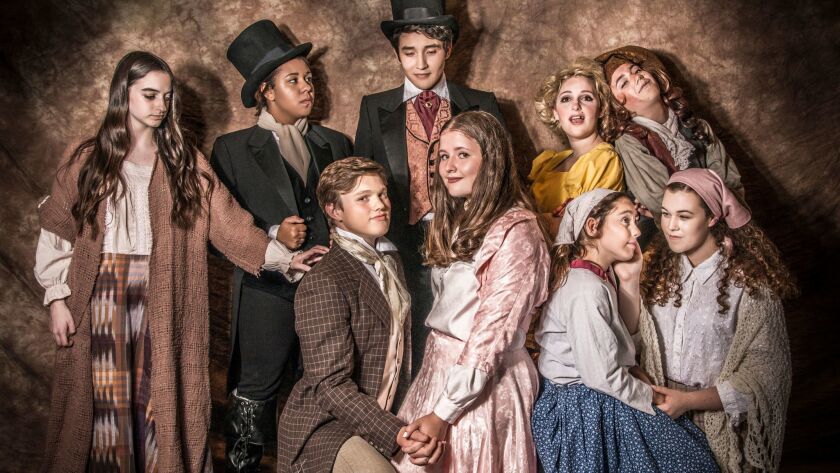 Do you hear the people sing? You will! Les Misérables — a production that has stood the test of time from its origins as a 1800s epic novel to hundreds of staged productions all the way to a 2012 start-studded feature film — gets a "politically engaging" twist in the JCompany Youth Theater incarnation, on stage Jan. 13-28 at the Lawrence Family Jewish Community Center, 4126 Executive Drive.
The standout cast, which gave JCompany artistic director Joey Landwehr a creative outlet in an otherwise standard production, includes eight La Jolla youths — Brendan Dallaire, Henry Austin, Marina Hall, Nathan Conlan, Robert Mackey, Roland Meisler, Stella Wahl and Talia Silver.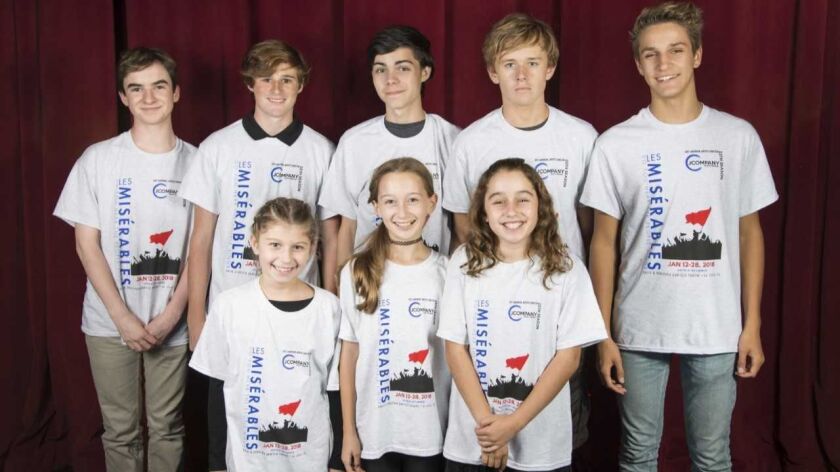 "Les Miserables can be a challenge for directors because you usually don't get to put your own stamp on it. It directs itself. You don't get to have a lot of fun. However, I discovered I could be creative with the casting," Landwehr said. "(The other directors and I) went into the audition with a blank slate and the talent that came forward showed us what a unique direction this production could take."
Chief among the casting choices, 16-year-old Natasha Segui will play the conventionally male role of inspector Javert. "She came in and sang like an angel," Landwehr said. "She's an African-American girl and we thought it would be interesting and politically engaging to have the lead male, who stands for justice, played as a black woman, so she's doing that and killing it."
Additionally, 15-year-old Molly Nilsen plays Cosette during her teen years, and due to a pre-existing condition, Molly walks on crutches. "I can't even describe her voice," Landwehr said, likening it to a combination of Julie Andrews and Kristin Chenoweth.
"The beautiful thing is the man that falls in love her with doesn't even notice her physical issues and just falls in love. It gives a place for young people who are different to be the beautiful love interest in a show," he said. "Some people thought we cast her to be different, but when they heard her sing, they were floored."
To incorporate as many actors as possible, Landwehr also created an "angel chorus" of singers. "There are a lot of dead people in the show," Landwehr laughs, "So every time someone dies, the angel chorus collects the dead and sings them into their next life."
He credits music director Kyle Blair and choreographer Erin Petersen with enhancing the music and bringing "new life to the show."
Other than cutting it down from an imposing three hours to something more palatable to young audiences, the only other major change was to set the production inside Notre Dame Cathedral, with major battles being fought defending the church.
For La Jolla resident Brendan Dallaire (whose 15th birthday was Jan. 4), the staging makes this production stand out. And Brendan should know, he has been in "Les Mis" three times (including this one). "It's one of the best shows ever," he said. "The music is amazing and it's a very big show, very intense. Joey Landwehr and Kyle Blair take it very seriously and give us great direction. There is also staging like I've never seen before."
This time around, Brendan plays Enjolras, the leader of the revolution. "His character is actually based on a woman, which I think is a cool fun fact," he quipped, citing the historical research he did to learn more about the part. "I like reading about history and 'Les Mis' is a very historical show and it's easy to read about that period in time to get a feel for it. I had background information (on Enjolras). He's bold, he's a strong man and has great leadership qualities. He has influence."
Bird Rock Elementary School fifth-grader Talia Silver plays young Cosette, whose image often graces "Les Miserables" program covers. "Cosette is a sweet little girl that gets put down a lot, but she represents love and hope," Talia said. "The story is set in war times and a lot of people die, but she doesn't. She lives and grows up."
With just a few years of theatrical experience under her belt, Talia already has five JCompany productions on her resume and two more with other theater groups. "I like how you get to be a different person and sing on stage, it's a rush," she explained. "And with 'Les Mis,' the music is so good and it's really fun to listen to."
IF YOU GO: "Les Misérables" runs Jan. 13-28, at the Garfield Theater in the Jewish Community Center, 4126 Executive Drive. Tickets: $17-$19. The audience may bring non-perishable food donations for Crisis House. (858) 362-1348. sdcjc.org/jc/
---