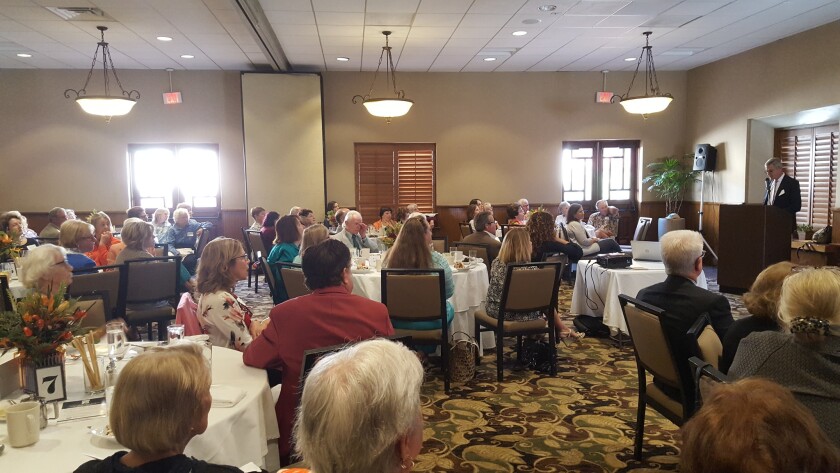 Some 100 La Jolla Historical Society (LJHS) patrons came together on a bright and sunny Saturday for the annual Ellen Browning Scripps Luncheon fundraiser, Oct. 21 at the La Jolla Beach & Tennis Club. Guest speaker Tom Mayes, vice president and senior counsel for the National Trust for Historic Preservation, discussed "Why Old Places Matter."
Introducing the event, LJHS board president Judith Haxo reminded guests that La Jolla philanthropist "Ms. Ellen" Scripps, "was a remarkable woman whose character and generosity shaped the La Jolla community. We are all so fortunate that we get to reap the benefits of her foresighted gifts. Her memory issues a challenge to each of us to think about the legacy, however large or small you define community."
To open his presentation, Mayes also spoke to the concept of community, quoting poet George Zebrowski: "The real value of any building to a community lies in its being a delight to the eye, and its susceptibility to human use. People wish to save those things that are familiar to them and which they love."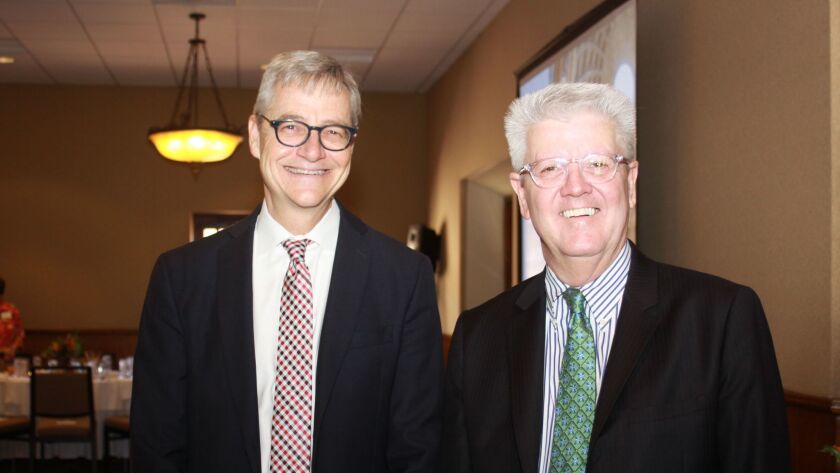 Mayes' essays (found online at savingplaces.org) include three concepts that bring a deeper, humanistic point of view to historic preservation, which he abridged for the lecture. He argues that a people-centric preservation movement 1) hears, understands and honors the full diversity of the ever-evolving American story; 2) creates and nurtures more equitable, healthy, resilient, vibrant and sustainable communities for all people; and 3) collaborates with existing and new partners to address fundamental social issues.
Mayes also talked about future partnerships that could lead to changes in the laws regarding historic preservation.
"I, like many of you, love old buildings, old towns, historic architecture and historic places. But how does the saving of these places actually benefit people? What difference does it make if we do or do not save these places?" Mayes posed.
Concept 1: Honoring the identity of America
Mayes theorized that people form identities around certain places, such as churches, schools and landmarks. "Old places are a constant in an ever-evolving individual identity and our collective identity, and they provide a sense of continuity in a world that is constantly changing."
Concept 2: Creating sustainable communities
Citing research, Mayes said old places contribute to sustainability because people walk more in older communities, and, in a world looking to go green, "The greenest building is one that is already built," he said, quoting architect Carl Elefante.
Mayes also listed the sustainability benefits of reusing existing building as: land conservation, reduced fuel consumption, avoidance of the adverse impacts from the extraction and transportation of new materials, and avoidance of new landfill material. "It can take 10 to 80 years for a new, energy efficient building to overcome, through efficient operation, the climate change impacts created by its construction," he said.
Concept 3: Collaborating with new partners
"What happens when we listen to what our new collaborators have to say?" he posed. "Perhaps if we listen, we can change our practices, and shape our tools to use old places in a way that most benefits people and most leads to human flourishing."
Looking to the future of historic preservation, Mayes predicts the approach will need to be one that is mutually beneficial to different groups. "Now we're looking at partnering with environmental groups to create an ordinance grounded in sustainability — not necessarily preservation — but it would nonetheless have profound preservation consequence," he said. "The proposed ordinance would prohibit demolitions because of their sustainability impacts. If we partner with environmental groups to recognize the ecological benefits of simply reusing older buildings, we may dramatically change the preservation paradigm."
---