Chill in the air or chill down your spine? Halloween events across La Jolla celebrate the season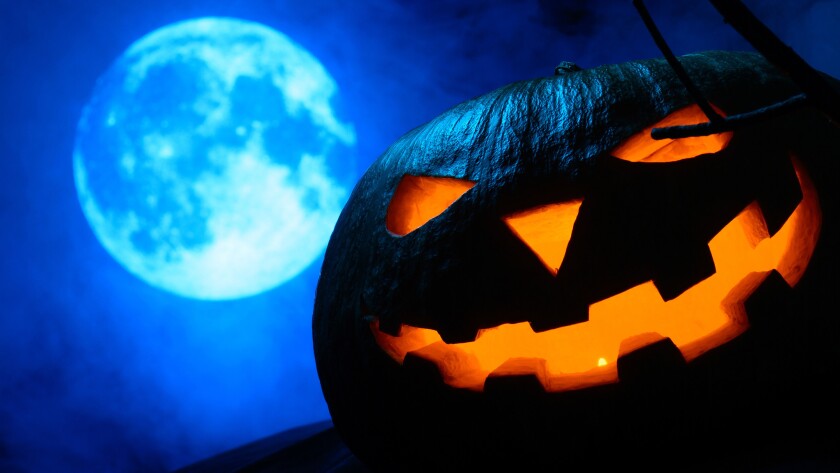 Halloween spooks outside my window,
Halloween spooks behind the tree,
I wish that the children could see,
but I can't find them for the life of me,
And there's Halloween spooks outside my windowpane!"
— 1960s jazz trio Lambert, Hendricks & Ross
Whether spooky or sweet, haunting or hilarious, there are events in La Jolla and across San Diego that celebrate the spirited season for children of all ages.
In La Jolla
Barbarella
Although Barbarella is under new management, the signature Halloween decorations will return. See the Halloween-obsessed floor-to-ceiling and wall-to-wall décor at the 2171 Avenida de la Playa restaurant. (858) 454-7373. barbarellarestaurant.com
Birch Aquarium
Have a (sea) monstrously good time at the Birch Aquarium this Halloween, when educational activities are lined up for those ages 2 and older 6 p.m. Oct. 26-27. Search the galleries for unusual underwater creatures rarely seen at Birch Aquarium, discover a sea of glowing beasts (big and small), get sticky with slime and enjoy spooky stories, all while boo-gieing down to live music. Family-friendly costumes encouraged. As part of the festivities, Birch is encouraging the creation of a reusable plastic containers will be used as decor to highlight the challenges of plastic pollution and to encourage people to think creatively about recycling . The plastic pumpkins can be made of any clean, reused container. Submit yours to Birch Aquarium for a coupon to the Gift Shop by Oct. 25. The Plastic Pumpkin Patch will be on display for Haunted Aquarium. Tickets: $14.50-$19.50. Free for children ages 2 and under. 2300 Expedition Way. (858) 534-3474. aquarium.ucsd.edu
Bird Rock
Bird Rock will be lined with pumpkins, goblins and ghosts when the annual Community Window Painting returns 11 a.m. to 1 p.m. Sunday Oct. 21 (on view until the paint wears off). Children in grades K-5 paint the windows of participating businesses with the seasonal spooks of their choosing. An adult must be present at all times. Pre-registration required to: andrew.ward@edwardjones.com
Trick-or-treating in Bird Rock will also be permitted 5-8 p.m. on Oct. 31.
Covo La Jolla
For some grown-up Halloween fun, Covo La Jolla Lounge presents its haunted Halloween Party, 7:30 p.m. to 1 a.m. on Saturday, Oct. 27. $20 via Eventbrite.com (search Covo Lounge) or $30 at the door. 1205 Prospect St. Midnight costume contest, dancing, drink specials and a free ticket to the Opening Day of Del Mar's Fall/Bing Crosby Season on Nov. 9.
Geisel Library
Celebrating the bicentennial of Mary Shelley's "Frankenstein," UC San Diego presents a spoken/written word event, "Horror/Sci-Fi: 200 Words or Less," 6:30 p.m. Wednesday, Oct. 31 in the Seuss Room of Geisel Library, 9500 Gilman Drive (at Library Walk).
Submit short works (no more than 200 words) of horror prose or Frankenstein-themed poetry (or send your entry as a letter to one of the novel's characters, or as fan mail to the author). Submit your work to spaulson@ucsd.edu by or before Oct. 29 and relay if you plan to read aloud. Free and open to the public. (858) 822-5758. libraries.ucsd.edu/blogs/events
La Jolla Rec Center
The La Jolla Rec Center Halloween Carnival brings some daytime fun to the spirited season, 1-4 p.m. Saturday Oct. 27 at 615 Prospect St. Halloween-inspired games, bounce house, arts and crafts, and more. In the event of rain, activities will be moved inside. Wrist bands are $10, includes bounce house, face painting, carnival games, and arts and crafts. Costume contest is 1:30 p.m. for those 2 and under, 2 p.m. for those 3-4 years old, 2:30 for those 5-6 years old, 3 p.m. for those 7-8 years old, 3:30 p.m. for those 9-10 years old. (858) 552-1658.
La Jolla Riford Library
The La Jolla Riford Library is taking free Halloween activities to the next level this year, with almost a week's worth of events. The fun starts with the Halloween coloring contest, which is open to artists up to age 18 that want to pick up the coloring sheet before the Oct. 25 deadline. The winner gets a pumpkin! At 10:30 a.m. Thursday, Oct. 25, Halloween story time brings tales with trick-or-treating to the Library afterwards. On Saturday, Oct. 27 a hoard of zombies (in grades 6-12) takes over for a game of capture the flag at 7 p.m. Will you defeat the zombies? Or join them? The Halloween season at the library concludes with STEAM Halloween craft activity: make spider web "slime," dancing ghost bats, flying Frankensteins, and black magnetic slime. Supplies provided. For 5 and older. Throughout the month – and until Nov. 17 – earn a free In-n-Out hamburger by reading five books (stop by the library for more details) 7555 Draper Ave. (858) 552-1657. lajollalibrary.org
Pillage the Village
The local tradition, "Pillage the Village" returns 3-6 p.m. Wednesday, Oct. 31. A costume contest will be held at La Jolla REBA, 908 Kline St. and the prizes are Geppetto's gift certificates for $100 (1st place), $75 (2nd place) and $50 (3rd place). Every participant will receive a $20 Geppetto's gift certificate. Spot participating merchants with balloons in front of their stores for a treat!
Warwick's
Switching gears from spooky to sweet, Warwick's will offer a children's story time featuring Halloween stories and a craft, 11 a.m. Tuesday, Oct. 23 at 7812 Girard Ave. (858) 454-0347. warwicks.com
Worth a drive
Balboa Park
The region's largest free Halloween carnival celebrates its 10th year of providing families a fun, safe, and culturally inspired kick-off to their Halloween activities. The Balboa Park Halloween Family Day 11 a.m. to 4 p.m. Saturday, Oct. 27,features dozens of free craft projects for kids, Day of the Dead-themed displays and activities, costume contests and parades, carnival games with prizes, live entertainment, and food trucks. Participating museums also offer free admission to children 12 and under with paying adult.
More than two dozen participating museums, cultural attractions, and community partners will present free hands-on activities for kids in the Plaza de Panama and El Prado walkway, while select museums offer additional Halloween-themed activities inside their buildings.
Full lineup: balboaparkconservancy.org/family-day
Belmont Park
Belmont Park becomes BOO-Mont Park and Fall Fest with activities for kids of all ages Fridays-Sundays in October and November (and Oct. 31 and Nov. 12). 5 p.m. to close, ride the spooky coaster, try your hand at mini-golf when pirates take over, zombie laser-tag, entertainment and pumpkin painting. Free trick-or-treating for children 12 and under 6:30-7:30 p.m. Friday through Sunday; costume contests 5:30 p.m. daily; pie eating contest for adults, 5:30 p.m. Saturdays; and more.
One-time events include: Surf and Skate Day, all day Saturday, Oct. 13; Belmont Beer Tasting Garden, 4-7 p.m. Saturday, Oct. 20; and a 21-and-older Costume Party, 7 p.m. to midnight Friday, Oct. 26 ($10 online, $15 at the door).
Belmont Park, 3146 Mission Blvd. Tickets start at $29. Learn more and get the full lineup: belmontpark.com/event/boomont-park-fall-fest
San Diego Zoo
For fun that is so good, it's scary, the San Diego Zoo presents HalGLOWeen, 5-8 p.m. Oct. 26-28, when the Zoo will be all aglow with black lights and evening activities and entertainment: a DJ spinning spooktacular tunes, bubbles, acrobats, jugglers, a cupcake walk and more. What's more, kids 11 and younger are free with paid adult! Children may wear costumes. HalGLOWeen free with $54 admission. 2920 Zoo Drive, Balboa Park. sandiegozoo.org
SeaWorld
SeaWorld, already filled with mysterious creatures big and small, presents Halloween activities and decorations through Oct. 28. See additional land-based creatures with Animal Ambassadors, ride the Manta in the dark with spooky sound effects, visit the Dia de los Muertos area with costumes and crafts, watch the Sesame Street nighttime Halloween Parade, and see what comic sea lion duo Clyde and Seamore are up to during daily shows.
Trick-or-treating at SeaWorld is offered 12-6 p.m., and costumes are encouraged (only children 10 and under may wear masks). Bring a reusable bag or Halloween bucket from home for treats (no single-use plastic bags). You can also pick up a reusable bag at the park for 99¢ at any park gift shop. When you do, 5 percent of each bag purchase will go directly to the SeaWorld & Busch Gardens Conservation Fund.
There is also the Spooktacular Sleepover, where participants spend the night at Turtle Reef on Saturday, Oct. 27, 2018 and then enjoy a full day of SeaWorld shows, rides and animal attractions the next day. Ages 4 – 14 with adult chaperones. $150 per person, pass members ask about your special discount. Reserve by calling 619-222-4732.
Unless otherwise stated, activities included in SeaWorld admission. Tickets start at $55. (619) 222-4732. seaworld.com
Star of India
Hear spooky tales in a lantern-lit setting from the Star of India's past, such as how young John Campbell fell to his death from the rigging, during the Maritime Museum's Haunted Tales, 6 p.m. Saturdays, Oct. 20 and 27. Haunted Tales is included with general admission ticket purchase to the Museum: $18 adults, with discounts; $8 children; 2 and under are free. Family packages are $47 and include two adults and two children (age 3-12) tickets. All activities will take place at the Maritime Museum of San Diego in downtown San Diego on the Embarcadero. (The Museum closes at 8 p.m. to allow for Museum exploration before the Haunted Tales tour) sdmaritime.org
Whaley House
What is it about late night hours that make things that much more creepy? The Whaley House, recognized as the most haunted house in America, is open later in October for those who dare to venture. Hear tales of bizarre encounters with long-dead residents who still seeks justice from beyond the grave.The Whaley House closes 9:30 p.m. Oct. 24-25; midnight Oct. 26-27; 9:30 p.m. Oct. 28-30; and midnight on Halloween. There are also late-night tours Thursdays through Saturdays ($13). 2476 San Diego Ave., Old Town.
Special this year is PoeFest with 7 p.m. and 8:30 p.m. shows Oct. 19-28 at the Adobe Chapel, 3963 Conde St., in Old Town Historic Park. PoeFest will include staged performances of works by Edgar Allan Poe and other authors of the phantasmal. Tickets are $20 for each program. A $75 Festival Pass provides a ticket for each of the six programs.
Due to unforeseen circumstances, the Ghost Hunting Tours are temporarily on hiatus. (619) 297-7511. whaleyhouse.org
---
Get the La Jolla Light weekly in your inbox
News, features and sports about La Jolla, every Thursday.
You may occasionally receive promotional content from the La Jolla Light.