Class dismissed! Four La Jolla teachers retire from Bird Rock Elementary with parting thoughts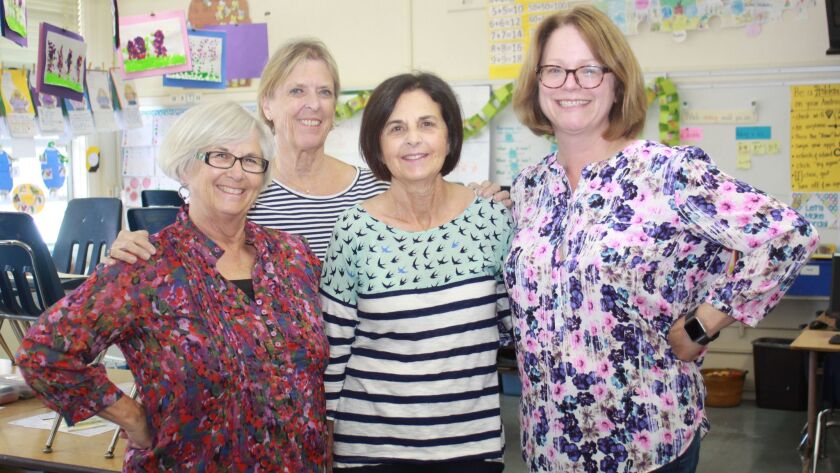 Between the four teachers retiring from Bird Rock Elementary School (BRES) in June, there are almost 100 years of education lessons to be learned. Before Lori Van Orden, Peggy Ray, Sandy Sibley and Barbara McDonald conclude their longtime careers, they sat down with La Jolla Light to reflect on their experiences at 5371 La Jolla Hermosa Ave.
Kindergarten teacher Van Orden has been at BRES for 19 years. First-grade teacher McDonald has been there for 29 years. Ray has been teaching for 37 years — in second grade at Bird Rock for 14 years and some time teaching through the Department of Defense. Second-grade-turned-first-grade teacher Sibley taught at Bird Rock for 27 years, after six years as a teacher in Connecticut. Oddly enough, in all that time, they agree the school hasn't changed much.
"That's a good thing," said Van Orden. "It's always been such as a strong neighborhood school with family support and hands-on parents who are here so much. It's a positive that the school has kept that."
Added McDonald, "It's a family and always has been. It takes a village to raise these kids, and we have a great village here, with lots of support from the families in the classrooms."
The education system, however, has changed quite a bit, they insist — education standards and expectations have become more rigorous and there are higher demands on students and teachers.
"Technology has come into the room and that's a big thing nowadays," Van Orden said. "There is also more testing, maybe not at the level we teach, but there is more of it. The curriculum has also been moved up. It used to be that kindergarten was for teaching children how to behave at school, now you're expected to teach them to read in kindergarten."
Ray added, "There are more demands placed on teachers now, and while things are being added to the curriculum, nothing is being taken out. We are expected to design the curriculum and lessons (to include everything) as opposed to using a teacher's manual you can tweak. This means teachers work 10-12 hour days and weekends."
But, at the end of the day, it's all worth it for these dedicated educators. Especially when you consider the young age of their joyful pupils. In elementary school, they point out, "every day is the best day ever" and "you are their favorite teacher" and "you're beautiful." Sibley said, "School has to be fun for them, especially at this age, or they won't want to come to school ... and neither will we!"
Van Orden added, "A lot of things are new to them, so you get to watch them experience things for the first time. Being able to see the kids as they go through the grades is something I'll miss. First, they are yours and you see them grow through the years, and you check-in with them when they're in second grade and fifth grade and when they come back for visits. Once they are yours, they are always yours. The kind words from parents make this such a fulfilling job."
Entering the profession
Each soon-to-be retiree entered the profession from a different path. For Ray, her "horrible" home economics teacher motivated her. "I thought the teacher was horrible and I thought the stuff you did in home-ec was important and could be so much more fun. I decided I could do (better), so I did. I taught high school home-ec and worked my way down in grades until I reached second grade," she said.
Sibley, who grew up in Connecticut, said teaching was a natural progression. "I worked for the Park & Rec department during the summer and loved being with kids, so it was the love of kids that got me into teaching. I also have sisters who are teachers," she said.
For McDonald, teaching was in her lineage. "My dad was an administrator downtown. I have two sisters who are teachers. I think I was born to teach. I don't know if teaching is something you can learn, it's a gift you are born with," she said.
Van Orden said for her, teaching was a second career. "I started in marketing and public relations. But I have two children, now grown, and when they were in school I volunteered in the classroom and in Girl Scouts, and then thought about making a career out of that. My dad was also a teacher."
A message to parents
By way of parting words, each shared insights into student needs and what they wish parents knew.
Van Orden: "Savor this time with your young child because it goes really fast. We all have adult children now and it does seem like yesterday sometimes that my own were going to kindergarten. With technology, it's easy to become distracted, so put the phone down and play with your child."
Sibley: "There is so much going on with children, they get taken from this sport to that play-date, so slow down! And listen to them because they have good thoughts in their heads."
Ray: "Your kids need to fail in order to learn from their mistakes. Let them fall on their face. Don't bail them out and do things for them. Change is inevitable, so let your child experience change when you are there to support them. Help them solve problems, don't solve the problems for them. When they solve something for themselves, it's like candy for the heart. It makes them feel so good when they've done something empowering for themselves."
When asked if they had a message for the Bird Rock community, they simply said, in unison, "Thank you."
The last day of school for Bird Rock Elementary, and these four teachers, is Wednesday, June 14.
---
Get the La Jolla Light weekly in your inbox
News, features and sports about La Jolla, every Thursday for free
You may occasionally receive promotional content from the La Jolla Light.