The Couple That Namastes Together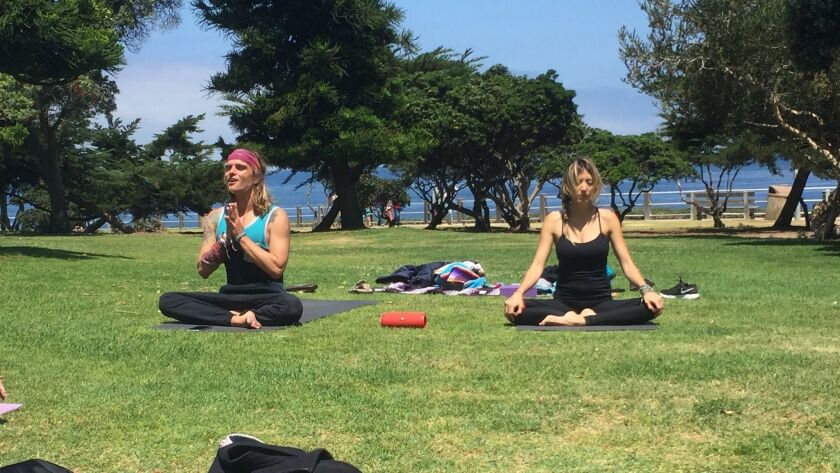 After Astrid Castens concludes her half of the Sunday-morning yoga class in Scripps Park, Martyn Castens takes over once more with a quote from Dr. Wayne Dyer.

"When we change the way we look at things," he tells the 20 assembled yogis, "the things we look at change."It's rare to see a married couple taking a yoga class together; teaching one together is nearly unheard of."I just enjoy doing it with him," Astrid says. "We both enjoy it. Yoga is something we have in common and we enjoy talking about. We do a lot of things together, and this was easy."
Initially, Martyn was only supposed to help out until Astrid, who hails from Guatemala, felt confident enough to teach by herself for a whole hour."English is my second language, so I knew it would be easier for me," Astrid says. "But then it became something we really liked and we realized that we both have different teaching styles and strengths." (Astrid is better at arm balancing, both agree, while Martyn is more flexible.)
In addition to their Sunday-morning Meetups, the couple teaches regularly together at Sol Yoga in La Jolla and Mission Beach Yoga.
"I feel like yoga connects people like nothing else," says Martyn who, with his long blond mane, tatted arms and relentless positivity, suggests a perfect new character for Saturday Night Live's long-running sketch, "The Californians."
Of course, every couple fights. So what happens when yogis fight?"We don't have many fights, believe it or not," Astrid says. "If we do, it will be a two-minute fight and then it will be fine. I can't stand to fight, and he can't either."

Astrid, 37, met Martyn, 36, after his best friend married her sister about 15 years ago.
"He is a super easy person to talk to," she says. "He doesn't judge people and neither do I, and he is very positive."
It wasn't an idyllic childhood that engendered Martyn's positivity. His father died of lung cancer when he was 15. "We kind of went from riches to my mom having to clean houses," he says. "But that definitely helped me to look at everyday little things and go, hey, that's a piece of cake."
Once love blossomed, Astrid immigrated to Boca Raton, Florida, where Martyn grew up a surfer dude. From there, the newlyweds traveled the world. One of those trips, to La Jolla 10 years ago, ended up being life-altering.
"We loved it so much," Martyn says, "we packed up a U-Haul as soon as we got back. We didn't know anybody here, we didn't have jobs and we didn't care. Our friends all thought we were crazy." (Now both of them are graphic designers. He works for a company, she freelances.)
Astrid began practicing yoga when was a kid. Martyn took random classes here and there. Neither witnessed the Hindu ritual's transformational potential until about five years ago, when they stumbled upon a class in Bali, Indonesia, during one of their annual vacations to Southeast Asia.
"It was a private yoga class with three or four people, down in the jungle," Martyn says. "It was taught by this little Balinese lady with a heavy spiritual element to it — not just a physical thing. When we finished, we were blown away."
The couple enrolled together in the 200-hour teaching certification course at La Jolla's Prana Yoga Center."They're great people, very committed," said Gerhard Gessner, the center's owner and the Castens' instructor, "and it was really nice to see the way they work together as a couple. In the yoga world in general, it's roughly 80 percent women. But the way they are together, the way they work together and practice and help each other, it's great to see."

And the family has a potential new yoga instructor on the way. Astrid is four months pregnant.
"We're definitely going to show her the benefits of yoga," Astrid says, "but she can do whatever she wants to do."Martyn chimes in, smiling: "I'd like to think we'll have a bit of an influence, though."

For information on the Castens' yoga classes, email doyogawithus@gmail.com or sign up at Meetup.com for Yoga at La Jolla Cove.
---
Get the La Jolla Light weekly in your inbox
News, features and sports about La Jolla, every Thursday.
You may occasionally receive promotional content from the La Jolla Light.