2018 San Diego County Fair a sweet success: Fun facts and figures from this year's event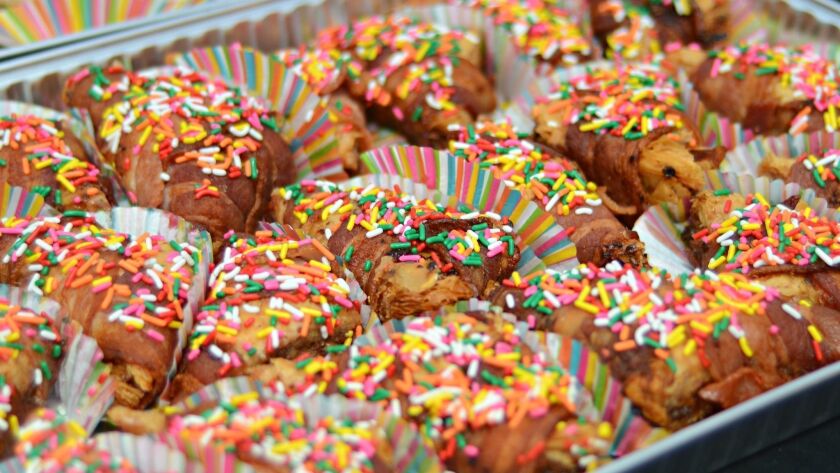 This year's San Diego County Fair, presented by Albertsons|Vons, greeted 1,561,236 guests to a magical candyland of summertime fun over its 26-day run with the theme "How Sweet It Is," according to a news release.
The 2017 fair had a final attendance of 1,565,933. The attendance record was set in 2016, with a total of 1,609,481 guests.
Fairgoers of all ages embraced the theme, many arriving in bright candy colors and unicorn accessories. The icing on top of the fair experience included vendors who offered unique "unicorn foods," including everything from cotton candy ice cream sandwiches to rainbow-colored kettle corn.
The fair, which began in 1880 to bring San Diego County farmers together to share ideas, compete for the best pies and citrus fruits and challenge each other to horse races, continues to celebrate agriculture and community pride.
2018 San Diego International Beer Festival welcomed 6,813 attendees over the three-day event.
2018 Toast of the Coast Wine Festival entertained 1,762 guests at two tasting sessions during the one-day event.
2018 Distilled Spirit and Cocktail Festival hosted 1,539 guests at the one-day event. (This is well over twice the attendance from last year's Distilled.)
Australian Battered Potatoes used an estimated 14,000 pounds of potatoes and 8,400 pints of oil to deep-fry their potato patties. They were covered in 240 gallons of ranch dressing, 60 cases of cheese sauce, 200 pounds of bacon and 150 pounds of sour cream.
Bacon-A-Fair used more than 30,000 pounds of bacon in their various offerings. 500 pounds of pineapple were used in Bacon-A Fair's new Grilled Party Pineapple, which was soaked in 52 bottles of Fireball Whiskey.
Biggy's Meat Market sold close to 4,000 pounds of Big Ribs. They used 10 pallets of potatoes and nearly 200 gallons of caramel sauce for their new Caramel Crack Fries. Fairgoers went through 500 gallons of ketchup, 200 gallons of mustard and 100 gallons of mayo.
Candy Factory's Unicorn Nitro Popcorn was one of the most popular items at the Fair this year, as they literally popped a field of corn to satisfy their customers. They used 2,640 liters of liquid food-grade nitrogen to freeze the candied popcorn to -321 degrees.
Chicken Charlie's debut of deep-fried filet mignon was a sizzling success for the deep-fry veteran. An estimated 5,000 pounds of that delicacy were enjoyed by hungry fairgoers. For the vegetarians, Charlie deep-fried 10,000 pounds of avocados. About 3,000 pounds of sugar were used to make this year's popular Cotton Candy Ice Cream Sandwich and five pallets of deep-fried Oreo's were enjoyed. And, as Charlie put it – he literally used "a truckload of oil" to deep-fry all of his specialties.
Corn Star grilled an estimated 48,000 ears of corn.
Country Fair Cinnamon Rolls used 15,000 pounds of cinnamon roll flour, and three tons of cinnamon and sugar to make their famous pastries. Those tasty rolls were covered with 1,500 pounds of cream cheese frosting and 500 pounds of walnuts. Country Fair also served more than 1,000 cinnamon roll sundaes and 1,000 Unicorn Cinnamon Rolls. They washed down all that sweetness with 500 pounds of organic coffee flavored with 52 cases of vanilla and hazelnut creamer.
Grinders used 780 pounds of pork and 2,340 pounds of pastrami to top their French fries with. They sold over 7,000 pounds of fries with 780 pounds of cheese on top.
Juicy's sold an estimated 35,000 turkey legs.
Kettle Corn sold 53,600 bags of popcorn, which took 22,500 bags of popcorn seeds cooked in 12,600 pounds of oil and 12,000 pounds of sugar to make.
The fair's Premier Food Service Restaurants reports that at Grilled Cheese A-Fair, the all-American traditional grilled cheese topped the chart with over 5,300 sold. Premier's new concept this year – the Sweet Cheeks Bakery and Diner (a collaboration with local dessert pros and cake designers) was well loved for its Whoopee Pies, Cupcake Cones and Salted Caramel Brownie Truffle Stacks. The signature draft beer for this year's fair was the Tangerine-A-Fair from Mike Hess Brewing. They've gone through 86 kegs, which equates to over 14,000 beers.
Pignotti's new food item was a national sensation, catching a mention from Forbes Magazine. They sold 1,600 Spaghetti Donuts. 3,200 orders of Lasagna Nachos were enjoyed by fairgoers along with an estimated 2,000 Lasagna-On-A-Stick treats. Pignotti's also sold 1,000 orders of Deep-Fried Octopus, 2,500 baskets of fish and chips and more than 1,300 fish tacos.
Pink's sold 3,000 pounds of hot dogs and 7,900 pounds of french fries.
Squeezers Old Fashioned Lemonade went through an entire orchard of lemons to make their fresh-squeezed lemonade. One of their most popular lemonades was the new Sour Green Apple Lemonade.
Tasti Chips used 70,000 pounds of California-grown potatoes to make their famous chips, which were topped with 30,000 orders of cheese sauce and 350 pounds of parmesan garlic cheese. Tasti Chips also served 14,000 pounds of french fries which were dunked into 3,800 gallons of ketchup and 720 gallons of tapatio sauce.
Top Ten RidesThe Big Wheel:
Crazy Mouse: S.J. Entertainment
G-Force: Southern Cross Rides LLC
Magnum: Wood Entertainment
Sky Flyer: Bishop Amusements
Olympic Bobs: Helm and Sons
Fast Trax: State Fair Spectaculars, LLC
Rave Wave: Ray Cammack Shows, Inc.
Alien Abduction: Ray Cammack Shows, Inc.
The yearly toy drive broke existing records with more than 15,500 stuffed animals collected for children in need.
An estimated 2,500 took the bungee plunge during the Fair. About 50 people got cold feet! The youngest jumper this year was 9; the oldest was 67.
Fireworks America of Lakeside, Calif. designed the Fair's Fourth of July Fireworks Show. The 20-minute display consisted of:
The total aerial display count was 3,670.
69th Annual Livestock Auction
The auction raised $551,965 for 4H and FFA youth which included:47 cattle at $3.23/pound180 hogs at $3.94/pound92 lambs at $7.72/pound49 goats at $733/head
Special Events and Contests
Number of pies consumed at the daily Coco's Pie Eating Contest – 245
Number of pieces of pie consumed at the Pie Eating Contest – 1,056
Number of babies entered in the three Baby Derby Contests – 43
Number of National Anthem singers at Opening Ceremonies – 84
Number of kids learning magic at the Abra-Kid-Abra Magic Camp – 395
Number of Scout Troops that participated in the flag-raising at Opening Ceremonies – 115
Number of participants in our flag-raising program at daily Opening Ceremonies (Boy Scouts, Girl Scouts, Marines) – 1,451
Number of participants in the Father/Child Look-a-like Contest – 31
Number of pieces of bubble gum chewed in the Bubble Gum Blowing Contest – 58
Number of participants at Three O'Clock Fun contests – 959
Number of couples in the Ballroom Dance Contest – 11
Number of cars in the Car Shows – 264
Number of photos taken on Sparkle the Unicorn, the Fair's mascot – 4,726
Number of kids who cried upon seeing the mascot – 63
In The Spotlight Competition, Youth and Teen Divisions – 72 applicants, 10 finalists
Singer/Songwriter Competition – 89 applicants, 10 finalists
Battle of the Bands Contest – 74 applicants, 8 finalists
24-Hour Film Festival – 17 applicants, 10 finalists, 1 exhibition
Best Dance Crew Competition – 27 crew, 20 finalists, 5 exhibitions
Total entertainment shows scheduled at the Fair – 1,575
Total number of entertainment groups booked on the stages - 512
Total number of entertainers performing at the Fair – 28,050
146 miscellaneous items, including: A set of Invisalign braces, a retainer, a martial arts mat, a cane, umbrellas, five strollers numerous stuffed animals, a laptop, backpacks, water bottles and one drum.
Your admission ticket is valid for more fair fun. Save your San Diego County Fair ticket or Best Pass Ever season pass, because it's good for free admission at these fairs in California during their 2018 season:
California State Fair, July 13–29
Orange County Fair, July 13–Aug. 12
Ventura County Fair, Aug. 1–12
Santa Clara County Fair, Aug. 2–5
Sonoma County Fair, Aug. 2–12
For more information, visit sdfair.com.
---
Get the La Jolla Light weekly in your inbox
News, features and sports about La Jolla, every Thursday.
You may occasionally receive promotional content from the La Jolla Light.