BATTER DAYS: La Jolla waffle icon Felix Tobias remembered by son
Dannie Tobias carefully pours the store-bought batter into his Cuisinart wafflemaker.
"There's a reason I became an accountant," he says. "I can't cook."

Yet Tobias, 61, comes from a family that's La Jolla-famous for waffles. His dad, Felix Tobias, was the chef at John's Waffle Shop, which drew hordes of hungry to the Arcade Building from 1954 to 2000. On weekends, the line along Girard Avenue's southern sidewalk was often more than 20 customers long. (The restaurant seated only 57.)
They came for the brunch menu — which included the Felix Special, a six-egg omelette with ground meat and gravy — but also for the show. Felix was called an "exhibitionist cook."
"There were booths there but people wanted to sit at the counter just so they could watch Felix," recalls D.G. Wills Books owner Dennis Wills, a John's Waffle Shop customer in the '70s and '80s. "He was making about five or six meals at the same time for people and he was a wizard, a master. He reminded me of the guy from the 'Ed Sullivan Show' who ran back and forth, balancing plates on sticks."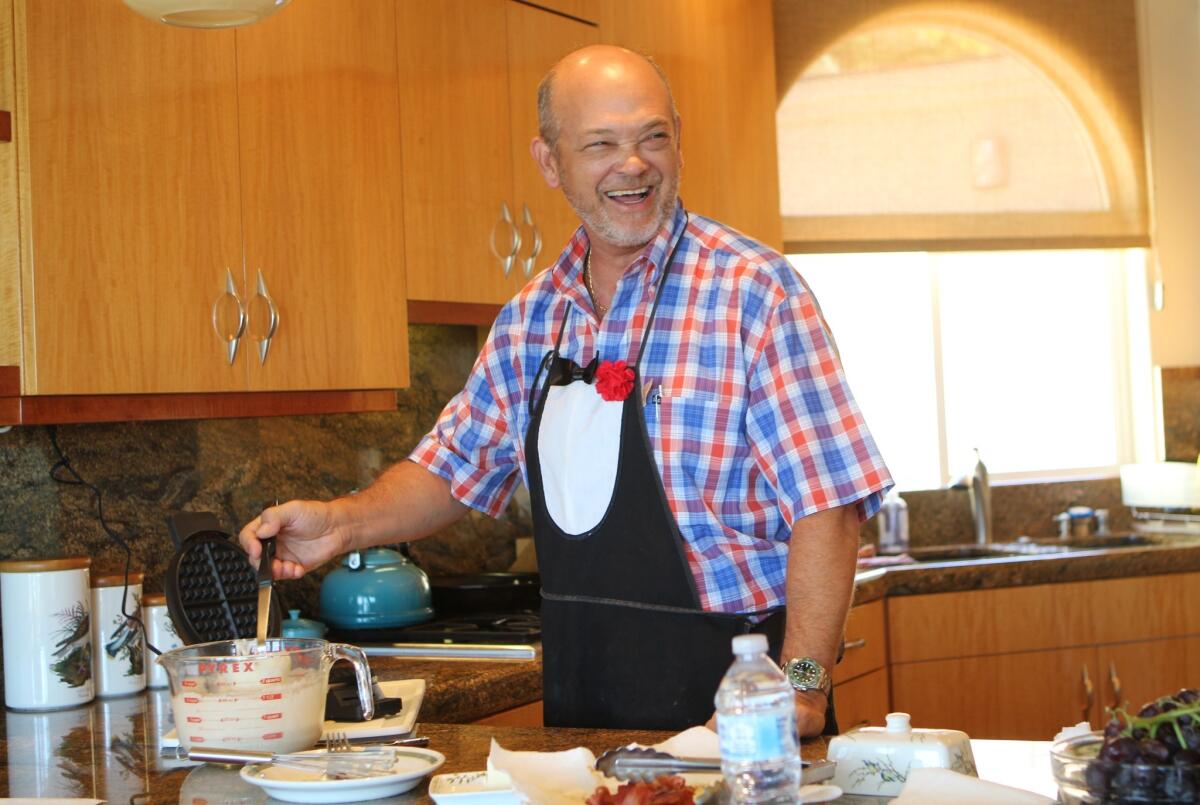 The regulars included FBI director J. Edgar Hoover, who was driven there every weekend during horse-racing season from his bungalow at the Hotel Del Charro. (Dannie has a copy of Hoover's 1958 book, Masters of Deceit, autographed to his father.)

Road to La Jolla

Felix emigrated from the Philippines to the U.S. in 1922. He was alone, 14 years old and had little more than a limp to his name. (A water buffalo trampled his right foot when he was a kid in the Philippines, Dannie says, although the story of how that happened is lost to time.)

Dannie describes his father as "short, balding and larger than life." He says Felix spoke six languages "and English was his worst."Felix stayed for his first few American years with relatives in Santa Monica, where he met Dannie's mother, Juanita. Dannie says he isn't sure how they made it down to La Jolla, but they bought a house on Fay Street "somehow."
Dannie — who was born, raised and still lives in Pacific Beach — worked with his dad starting at 12 years old. The job was strictly involuntary.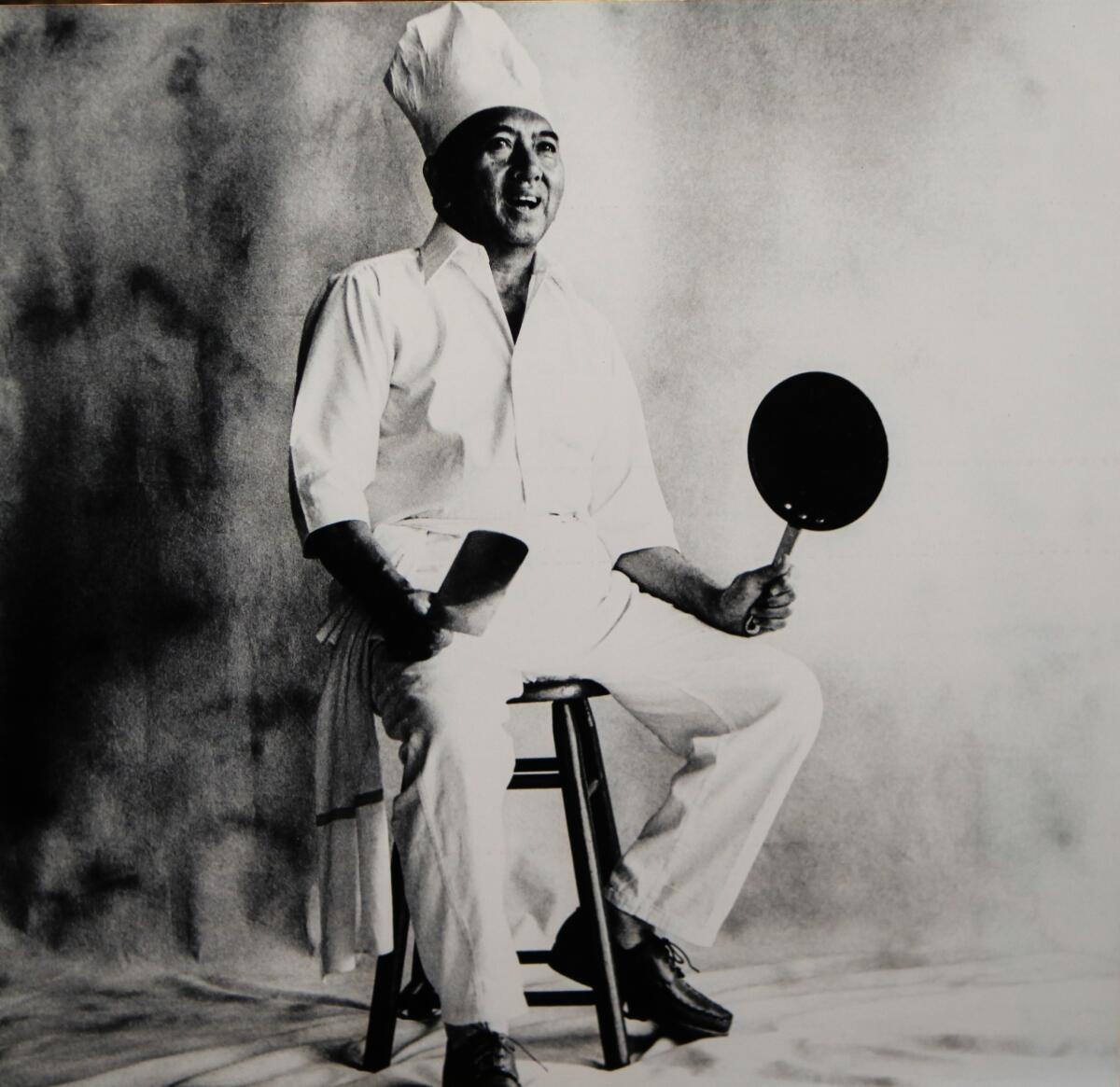 "He made me come in on Saturdays," Dannie says. "He'd wake me up and say, 'Get up, you're going.' There was no way I wanted to go in there."
Dannie's duties included cleaning the kitchen, taking out the trash and the one he remembers as "the worst": scrubbing the vent above the grill, accomplished via a hoist from his older brother, Michael, so he could crawl inside because he was the smallest.
"But I'm grateful for that experience now," Dannie says. "I can't say how much it meant to me for my dad to instill a work ethic like that in me." (Dannie owns a tax accountant firm in Pacific Beach, Tobias & Associates, where his own youngest son, Christopher, now works.)

John who?
So, if Felix was the star, why was it someone else's waffle shop?
In 1954, the former Gene's Waffle Shop at 7906 Girard Ave, opened a year earlier, was purchased by John "Dusty" King, a singing-cowboy star of several B-Westerns in the '30s and '40s. King renamed it after himself and hired Felix in 1957."La Jollans loved my dad, and he loved them," Dannie says. "He knew everyone and could recite what their order was."
Felix retired in 1985, after 28 years. He died 10 years later, followed by Juanita not long after that. ("She wasn't very happy without him," Dannie says.)
In 1980, King sold John's to restaurateur Morgan "Bud" Davis with the stipulation that everything remain the same, and it did — until Davis shuttered it in 2000 due to skyrocketing La Jolla rents — except that it could never be the same without Felix.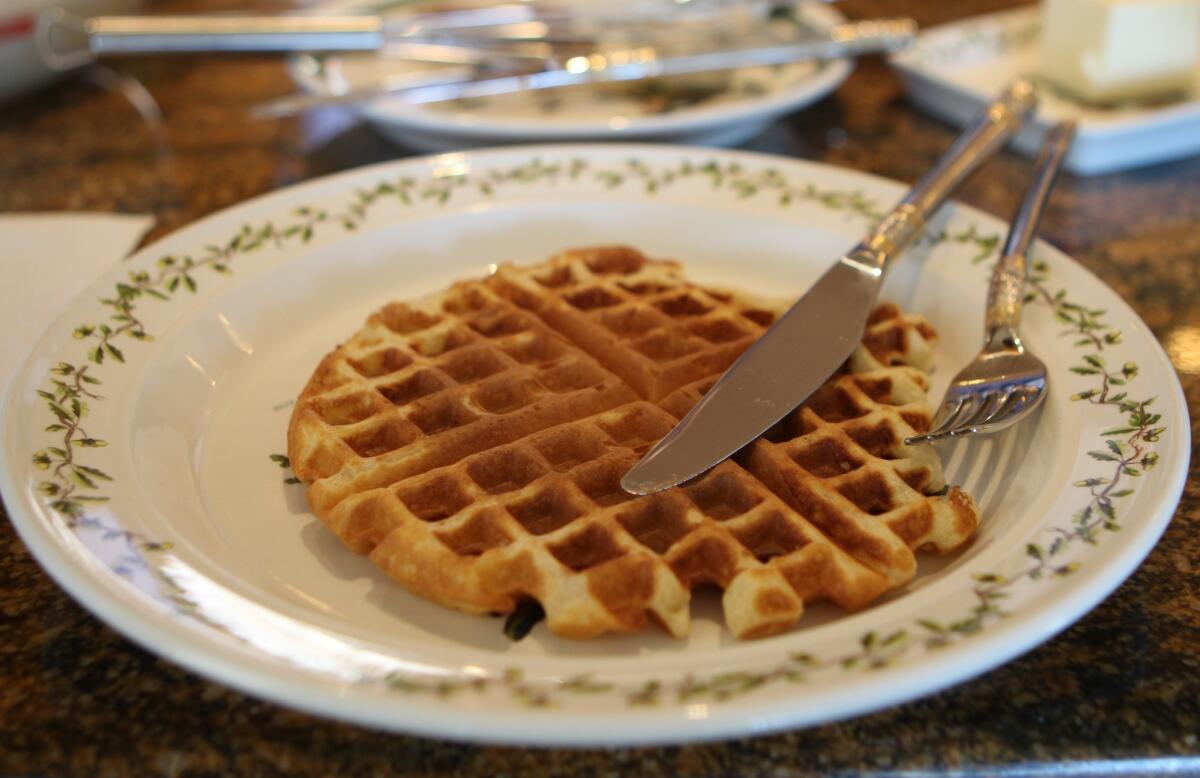 Dannie's waffle is ready. He plates it with unease, then slides it across the counter to this reporter. It's a fine-tasting waffle, if not a particularly circular or evenly browned one.
"It's nothing like my dad's," Dannie says as he douses it with Aunt Jemima syrup. "My dad's pancakes and waffles were always a 10. Mine are a 2 compared to them — on a good day." (Dannie's wife, Tracey, chimes in from the other room: "At least he's better than when I married him!")
To be fair, though, Felix had a special recipe that Dannie didn't even bother attempting today.
"He used to heat up some water and add a little baking soda to it that would thin the batter," he says. "It made them more tender. He was proud that you could eat his waffles with just a fork, you didn't need a knife like you did with everyone else's."
Unfortunately, he never told Dannie how much baking soda and water — or maybe he did say and Dannie forgot.
"I should have paid more attention when he cooked," Dannie says. "It just didn't dawn on me. I had other interests."
If the cooking gene wasn't passed down, that may be because no genes technically were. Felix and Juanita adopted both Dannie and Michael.

"Oh, it gets way more complicated than that," Dannie says.
Indeed. Juanita wasn't the brothers' biological mother, but she was their biological grandmother. The truth was kept secret from Dannie and Michael growing up.
"My biological father took off, he was in the military," Dannie says. "So my mother put us up for adoption and my father stepped in and said 'No, we'll take them.' "
Dannie didn't find out about the arrangement until he requested a birth certificate to apply for his driver's license at age 16.

"They told me, 'You have a three-page birth certificate,'" he says. "'The second page is the name change and the third page is the legal adoption.'" (Dannie says he re-established contact several years ago with his biological mother. She lives in New Mexico, he says, and they text every now and then.)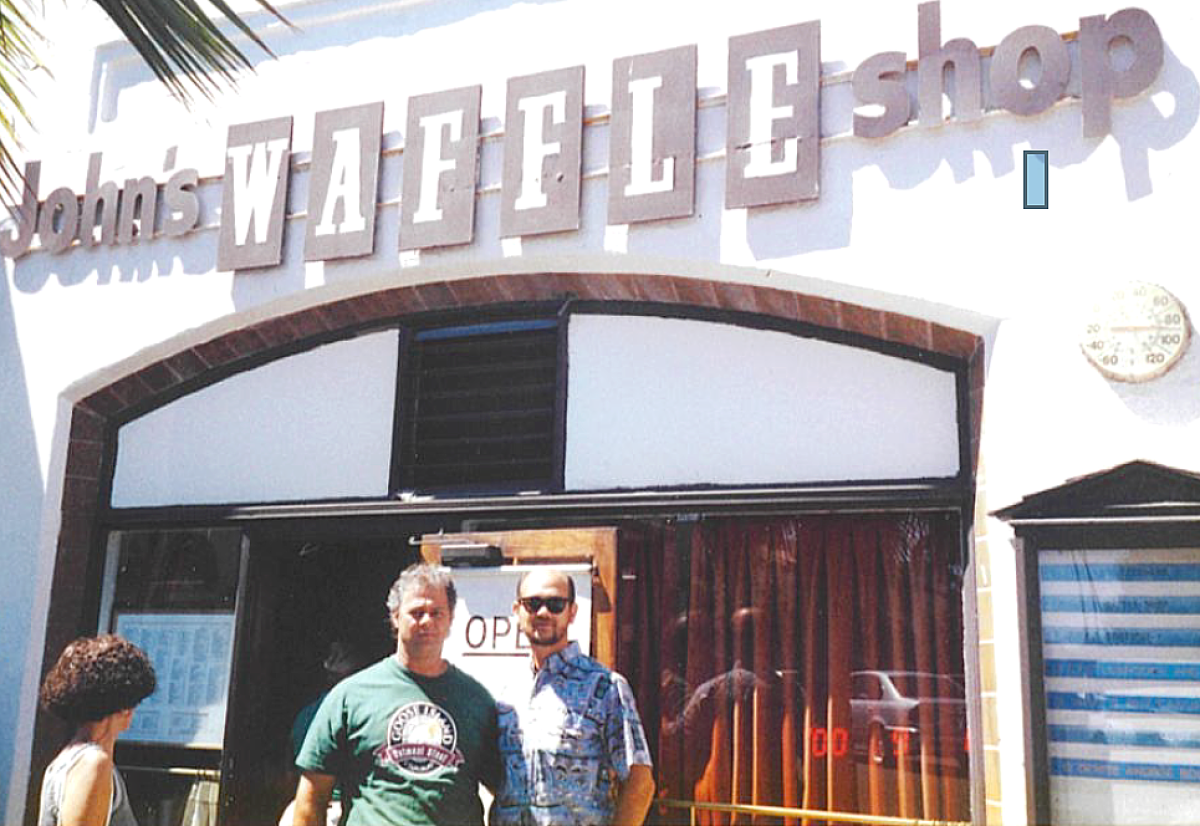 Dannie says he wasn't upset by the deception because of the sacrifice his father made. "Can you imagine taking in two small boys in diapers in your 50s?" he asks. "Who does that?"
But nothing was more important to Felix than family. In fact, he once paid more than $10,000 (in 1960s dollars, no less) for a niece to come over from the Philippines.
"He wanted to take care of everybody," Dannie says. "He was just the nicest guy on Earth."
And that is a gene that was passed down. Christopher and (Dannie and Tracey's older) have been eavesdropping on this entire interview, enjoying the old stories, beaming their support with their eyes and prodding their father for any anecdotes he may have forgotten.
Christopher has also brought along one of Dannie and Tracey's three grandchildren, his adorable three-year-old daughter.

Her name?

Felix.
Get the La Jolla Light weekly in your inbox
News, features and sports about La Jolla, every Thursday for free
You may occasionally receive promotional content from the La Jolla Light.