REALLY LOCALLY GROWN: Urban farming is alive and well in La Jolla
Regulations allow two miniature goats, two beehives and up to 25 hens (not roosters, because those are the chickens that crow at sunrise) on every residential property in the City of San Diego — with restrictions depending on the distance they're kept from property lines.
Considering how crowded La Jolla is, these regulations do not affect very many of its residents. But a maverick few dozen — those with larger houses and, usually, income streams — pour dozens of hours of hard and dirty work and hundreds of dollars a month into food they're proud to grow themselves.
Todd Lesser, owner of a telecommunications company, grew up on an old apricot and prune orchard in the Bay Area and has done his best to reproduce it on the half acre he and his wife, Nanette, own on Mt. Soledad.
"You don't do it for monetary reasons," Todd explains. (Indeed, with his $800-a-month water bill, Lesser estimates paying a couple dollars for every fruit he and his wife, Nanette, harvest.)
"You do it because you want fruit that you can't get in the stores," Todd says as he points out and picks examples of the rose apples, lychees, Surinam and Barbados cherries, pawpaws, cherimoyas and Persian mulberries he grows — as well as the more common bananas, apricots, oranges, lemons, limes, leeks, onions, asparagus, boysenberries, mangoes, pineapple, potatoes and strawberries.
"To have over a hundred varieties of fruit," Todd says, "you have to be obsessed."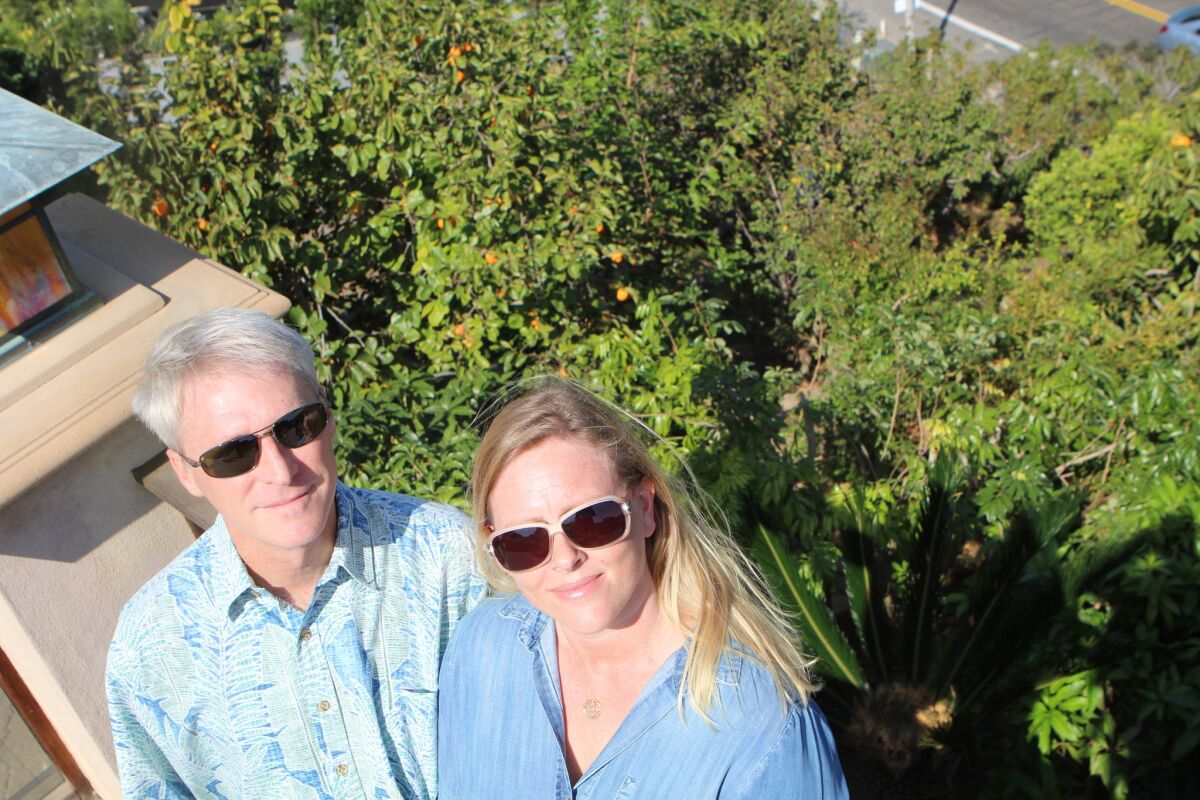 But Nanette says almost all of it gets consumed by the couple and their four children, age 7-25, one way or another.
"Only three or four fruits are ever ripe at one time," she says. "So I preserve, can and dry a lot."
The couple also keeps bees for a steady supply of honey.
"I've gotten stung once or twice," Todd says, "even through my bee suit."
But it's all worth it, he explains, because the food tastes better — especially the fruit. Store-bought fruit, he explains, is routinely picked when under-ripe and then gassed to mask its true color, so the sugar content is lower than it should be.
"There's nothing like eating your own produce," agrees Sharon Wampler, a biochemist and yoga instructor who, along with her husband of eight years, John Newsam, tends to an urban farm in Bird Rock.
Wampler and Newsam — a biotech entrepreneur who also serves as president of the Bird Rock Community Council — grow Japanese spinach, chard, tangerines, arugula, parsnips, collard greens, broccoli and something called cape gooseberry.
"I never saw them in the U.S. until recently," Wampler says as she tours the Light around her raised garden beds. "They're like a tomatillo that grows in this paper lantern thing in Peru. I got a clipping from a colleague of mine from UCSD in 2006."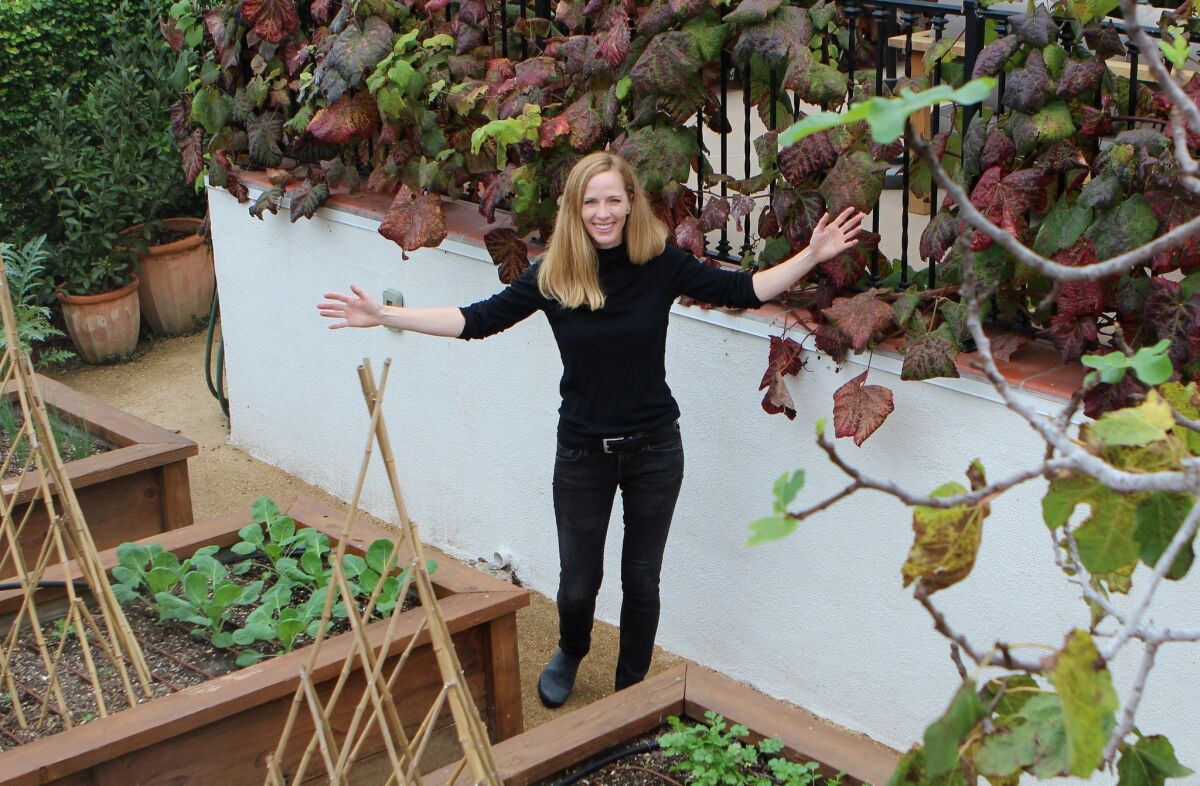 Erin McConkey has also crafted an impressive urban farm out of much of the quarter-acre she and her husband own by the Marine Room. It includes three vegetable beds she turns over twice a year. (In the summer, they sprout eggplants, peppers and about 100 lbs. of tomatoes; broccoli, cauliflower and cabbage in the winter.) There are also grapevines, an olive tree, three chickens and — get ready — a passionfruit tunnel.
"I may have gone overboard on the passionfruit tunnel," says McConkey, who grew up in Vashon Island, Wash., in a house with a huge garden maintained by her mother.
"I had no interest in it, ever," she says, "so my family laughs that I have all this now."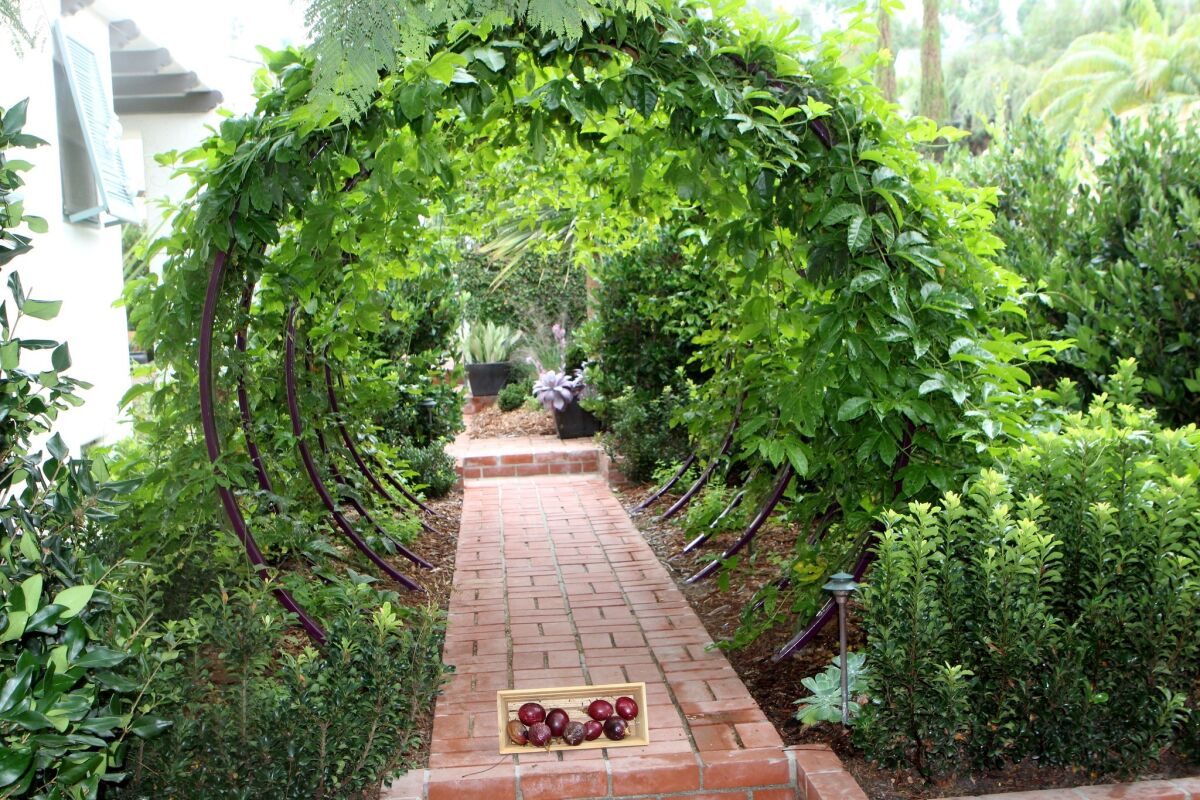 Urban farming demands about 10-15 hours of McConkey's time a month, she says, "and then I have a crew that comes in once a month to fix whatever I break."
By the way, McConkey wants it reported that she was rejected for membership by both the Village Garden Club of La Jolla and the Master Gardener Association of San Diego County.
"Two times each!" she says, laughing, although she adds that being officially accepted as a master composter makes up for it a little. ("They're more welcoming, those master composters," she says.)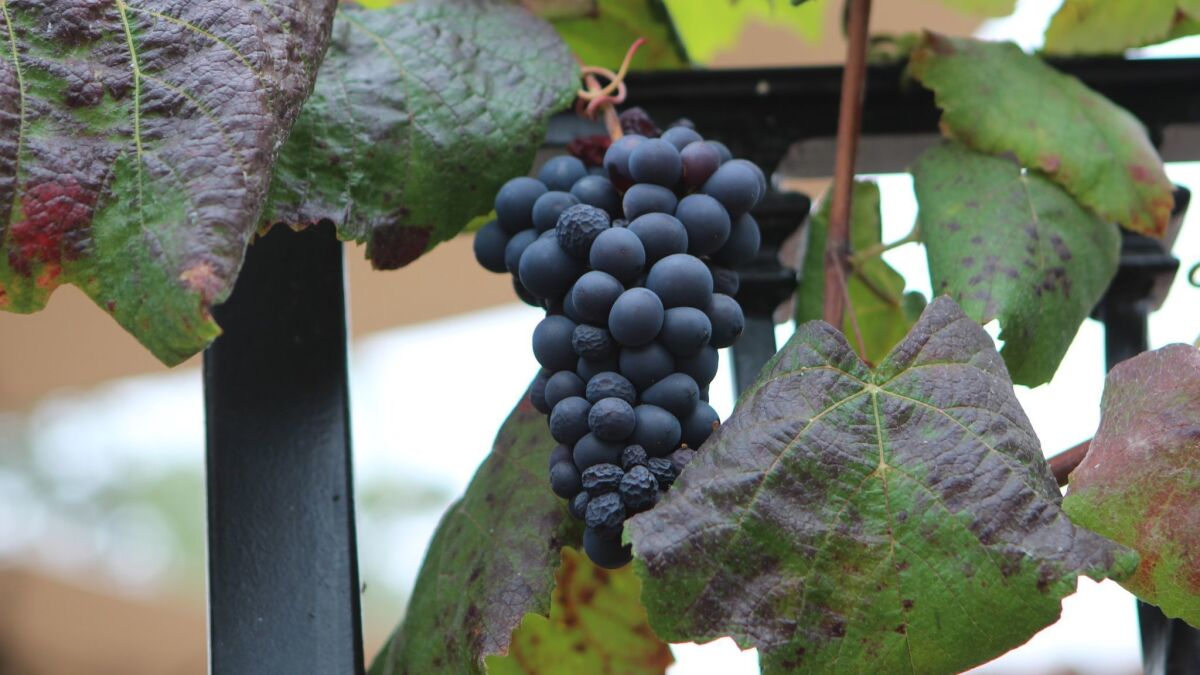 Ironically, McConkey says she doesn't even like to cook. "I cook under duress," she says. "Well, I have to feed my family. I don't have a job." (McConkey is joking. She's married to Superbowl ring-holding former New York Giants wide receiver Phil McConkey, who is now a big-time financial-services entrepreneur.)
Newsam describes urban farming near the ocean as "pretty challenging" due to the salt air and marine layer that blocks out the sun most mornings. "What we found is that with things in the squash family, the plants start growing, they look great and then they get a disease and die," he says.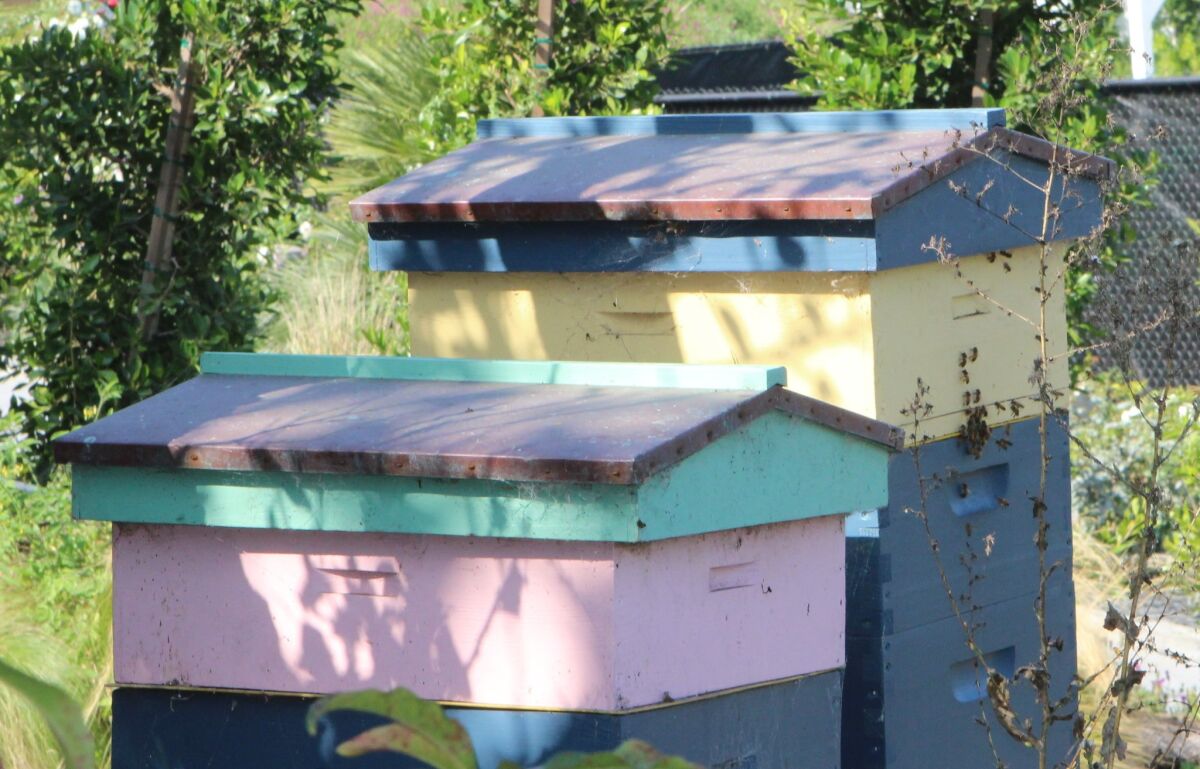 Wampler and Newsam began their urban farm completely as an afterthought to their hobby of feeding wild birds. The birds scattered tons of seed on the ground, which transformed their bird-feeders into rat-feeders at night. So, in May 2017, the couple procured two hens — Nuggets the Rhode Island Red and Blackie the black Cochin — from a chicken-raising friend specifically to consume the scattered bird seed.
"That's what we thought they would do," Newsam says. "However, when we let the chickens in that area, they paid no attention to the scattered bird seed whatsoever. They just stratched up everything and pooped everywhere."
Like all urban farmers interviewed by the Light, Wampler and Newsam soon discovered that this poop, along with household compost, serves as perfect fertilizer for their fruit and veggies. (All three raise chickens primarily for this purpose.)
"The poop is even more valuable to us than the eggs," Newsam says. (Nuggets and Blackie lay about one each per day — when they're not molting.)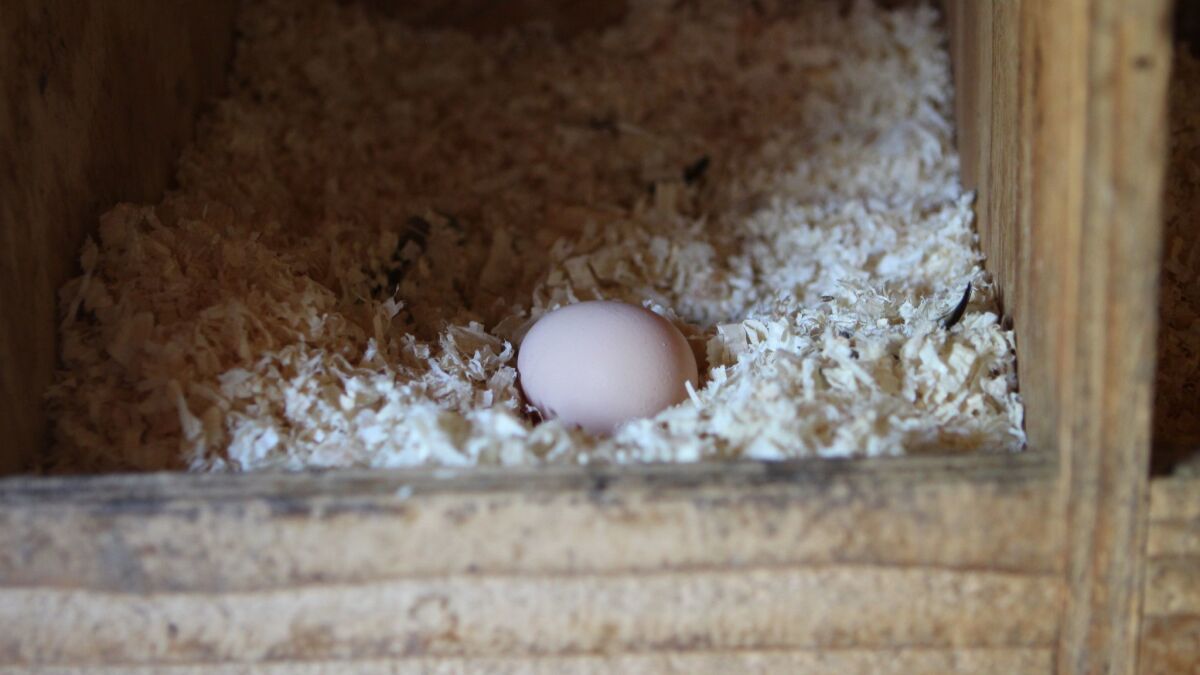 Another thing all our interviewees have in common: claiming never to have sprayed an ounce of pesticide.
"If you don't spray anything, things will tend to stay in balance," McConkey says, explaining that a healthy wasp population, for example, kills the horn worms that try eating her tomatoes.Only the Lessers report a problem with pests — not the flying or crawling kind, but the neighbor dogs who manage to escape their backyards and head straight for their chickens. Although they're cooped up at night, the Lessers let them roam free-range during the day.
"It's like Disneyland for dogs here," says Nanette, who suspects that they take a mental note of the chicken smell whenever they're being walked by the house, then wait for their moment to dash and dine.
Luckily, none of the chickens were ever dog lunch. But it's come very close, Nanette reports. In fact, about 20 minutes before the Light arrived for one interview, feathers were flying. Today's two canine detainees were placed, as all are, into a pen in the Lesser's front yard. Nanette has left messages for the phone number printed on their dog tags.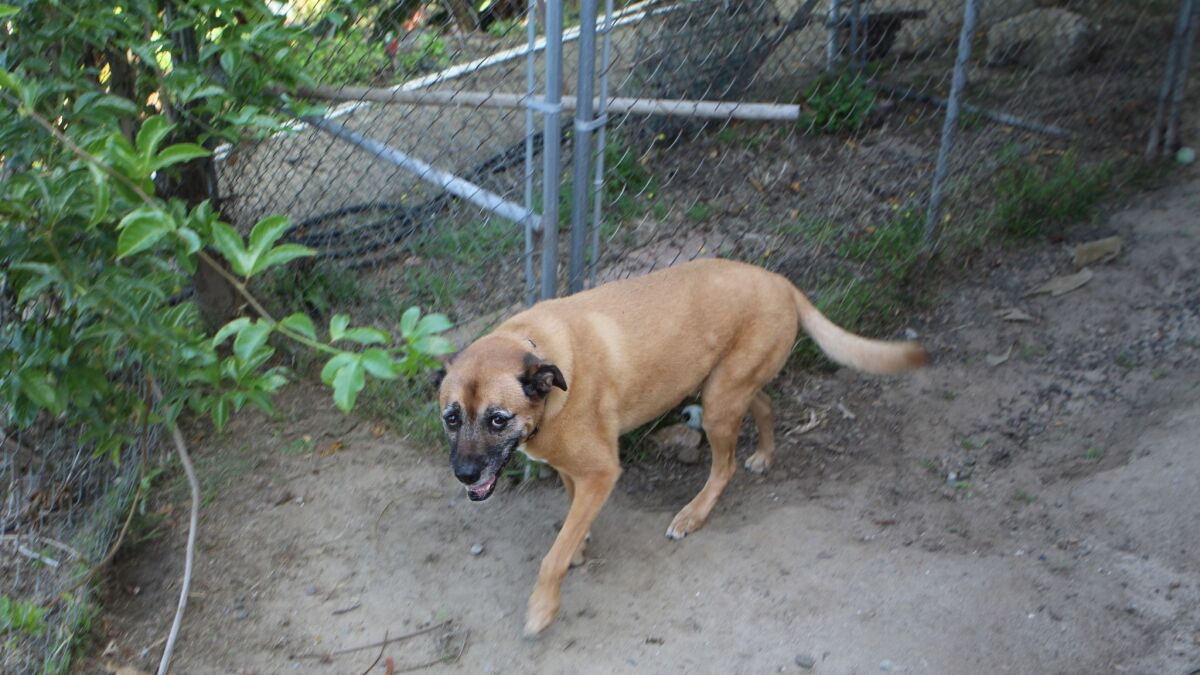 This happens once or twice a month, Nanette explains, and almost never with the same dogs.
"I guess they learn their lesson," she says.
Get the La Jolla Light weekly in your inbox
News, features and sports about La Jolla, every Thursday for free
You may occasionally receive promotional content from the La Jolla Light.