SIDEWALK STAMPS: The La Jolla history under your feet
One August day in 1913, when it was not pouring rain out, a Swiss immigrant named Paul Landis wrote his name in the still-hardening cement he just poured outside the Mission Church of St. James by-the-Sea. It was one of the contractor's early pours, and you can tell because he started the letters in his signature so wide, there wasn't room for a space between the "Paul" and the "Landis."
The original St. James building was moved in 1929, yet Landis' name remains — as do those of dozens of other concrete-pourers who played a part in developing the original La Jolla just after the turn of the 20th century: S.H. Breeze, W. Edgell, William Parker. They're called "sidewalk stamps" and they're almost everywhere you step in The Village.
"You're really walking on history," says Bill Lawrence, executive director of the San Diego History Center. "Sidewalk stamps are wonderful clues as to how neighborhoods have evolved."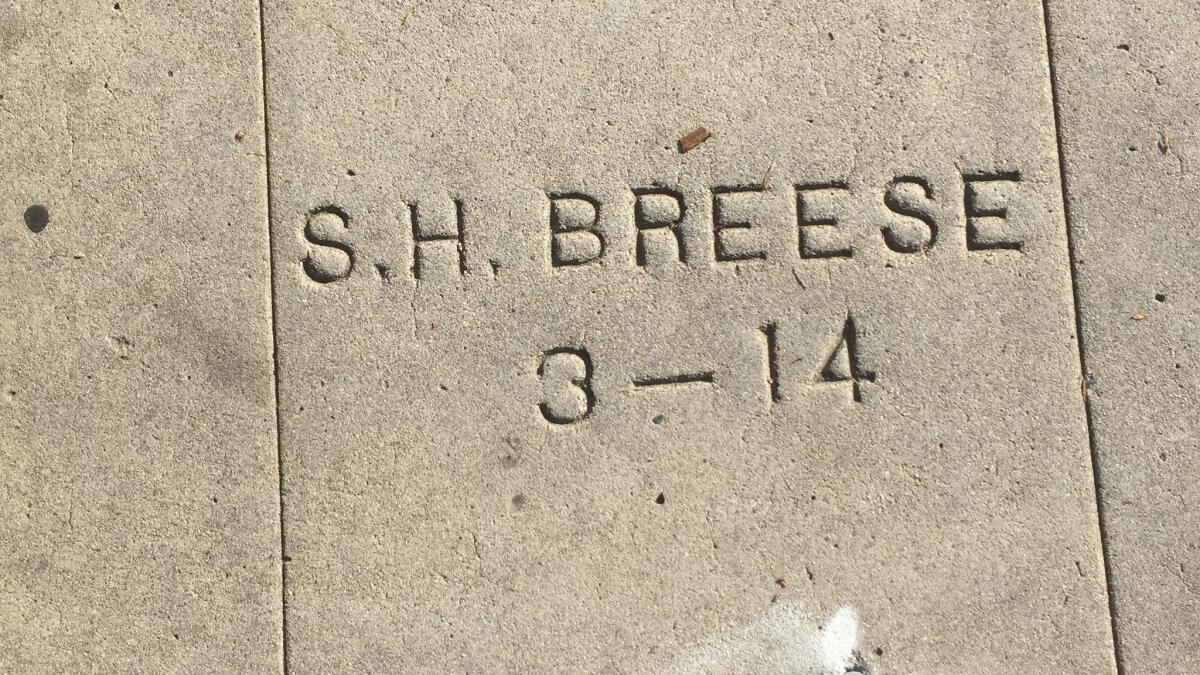 They were commemorations of a job well done, and perhaps subtle commentaries about the artistic skill required. But mostly, sidewalk stamps served as advertising to potential future clients. Developers were the ones who funded most sidewalk projects — an investment that, at the dawn of La Jolla's "sidewalk age," was not even guaranteed to attract business. (According to Howard S.F. Randolph in 1946's "La Jolla Year by Year," La Jolla's first history book, some people refused to walk on La Jolla's first sidewalks, saying the hard cement made their feet sore.)
One thing sidewalk stamps are not is proof that the City never repairs its sidewalks. Since 2003, San Diego has been required to preserve all its sidewalk stamps, so it has cut around and incorporated them into its newer cement work. (La Jolla is not unique in its proliferation of sidewalk stamps; they appear all over the City.)
"It's nice that we preserve them," Lawrence says. "They're part of the charm and character of the neighborhood."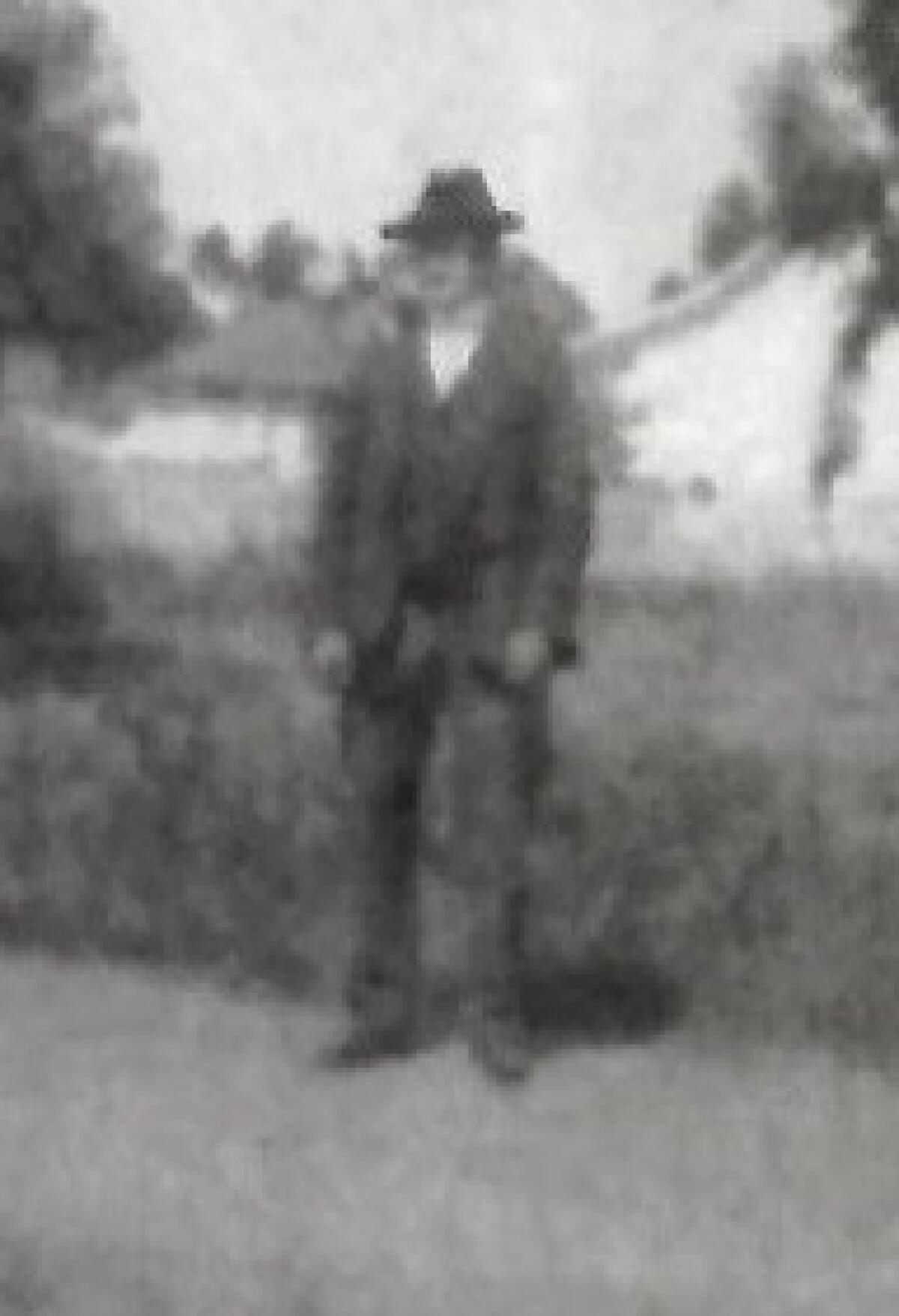 Landis was La Jolla's most prolific sidewalk-stamper. His name appears on cement slabs lining Draper, Fay and Eads avenues, Kline and Silver streets and Torrey Pines Road. Born in Switzerland in 1885, Landis emigrated to the U.S. in 1904, stopping to live for a year or two in Forrest, Illinois before arriving in La Jolla in 1907. Once here, at 22 years old, he applied for citizenship right away and got to work.
"I get the feeling (Paul Landis) felt a sense of pride in what he did," says Debbie Abbott, a former Clairemont history teacher for whom sidewalk stamps, and Landis in particular, are a personal obsession. "Paul Landis was very honest. Everybody seemed to have good dealings with him. And it says something about his character that he was so rigorous in making sure he was a naturalized citizen, because not everybody tried to do that."
Abbott says she was walking around St. James by-the-Sea in 2013, feeling directionless after getting let go from her teaching job, when she looked down at a 1913 Landis signature and had an epiphany.
"I just stared and thought, 'Wow, there was this person right here 100 years ago and this sidewalk still looks brand new,'" she remembers. "Who was he? It just fascinated me so much, I literally walked into a pole!"
After that, Abbott began collecting as much information as she could about Landis and the other La Jolla sidewalk-stampers and assembling it into a scrapbook.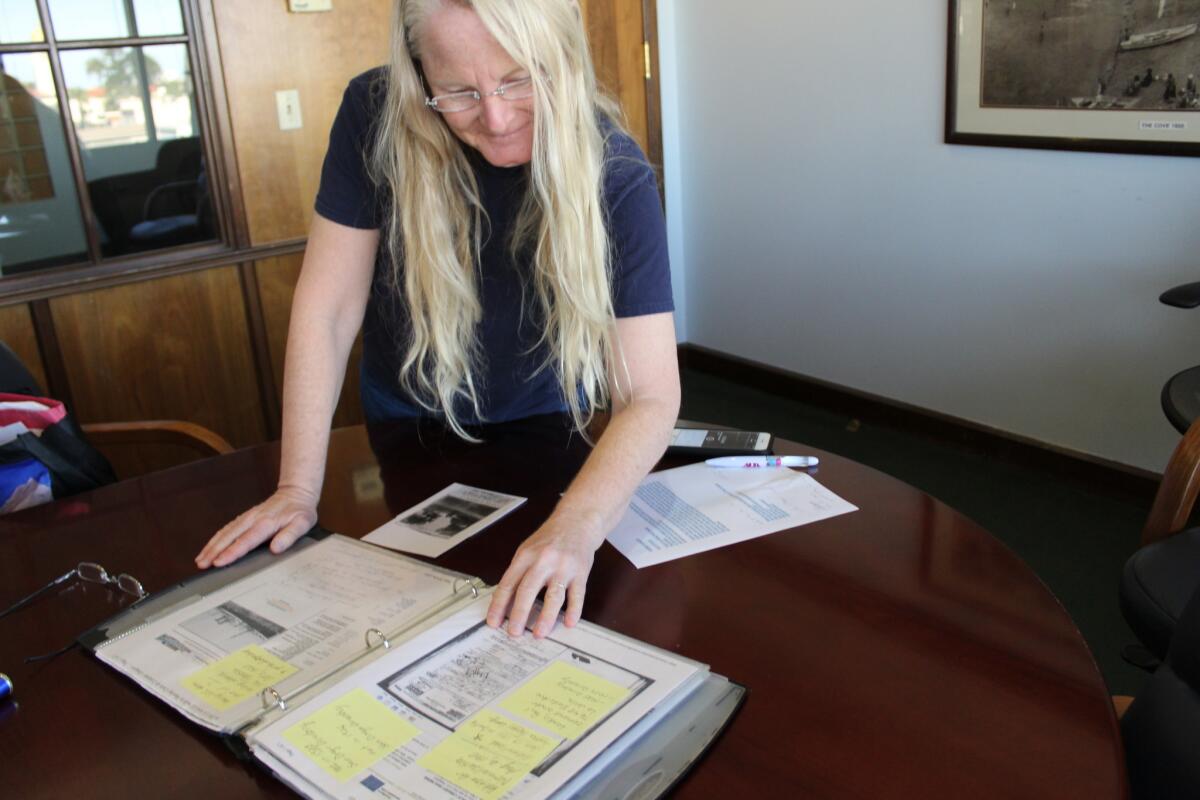 At first, Ellen Browning Scripps gave Landis most of his work. (She donated most of the land over which he first paved.) The La Jolla Historical Society archives include a work order Landis presented to Scripps on June 1, 1912 that included building a cobblestone wall for 22 cents per cubic foot, and sidewalks for 98 cents per linear foot. The sidewalks were all pink, since Browning's landscaper and hardscaper, Kate Sessions — the horticulturist also responsible for Balboa Park's greenery — thought it produced less glare than white.
Landis earned enough money at his trade to purchase his own small home, at 803 Kline St., as well as a signature stamp (or individual letter and number stamps, it's hard to tell) that he imprinted into all his sidewalks from 1914 onward. But by 1918, he split town to buy a farm near Coulterville, California and become a rancher.
Abbott guesses a lack of construction at the start of World War I was the reason. "Cement work slowed around 1917, which was the last year he laid a sidewalk here," she says. "Also, if you had a remotely German accent around that time in La Jolla, you felt so much prejudice, people just moved."
Landis returned briefly to La Jolla postwar, from 1924-25, renting a house at 7648 Eades Ave. Abbott says she believes he looked for work but there is no sidewalk evidence that he found any. Landis died alone back on his farm in 1950. (Neighbors discovered the body after several days of not seeing him.) He is buried in nearby Mariposa, and it's a good bet that more people read his name on any given day in La Jolla than have ever set eyes on his gravestone.
"Sidewalk stamps are very unique," Abbott says. "Here is this person who is not a famous person, he didn't win awards, and this isn't a monument. Yet it feels like a monument. It has this sense of permanence about people from a class that usually don't get that opportunity. It was this way of becoming immortalized for regular people."
Get the La Jolla Light weekly in your inbox
News, features and sports about La Jolla, every Thursday for free
You may occasionally receive promotional content from the La Jolla Light.