LAST STOP, LA JOLLA! Tracking remnants of The Jewel's railroads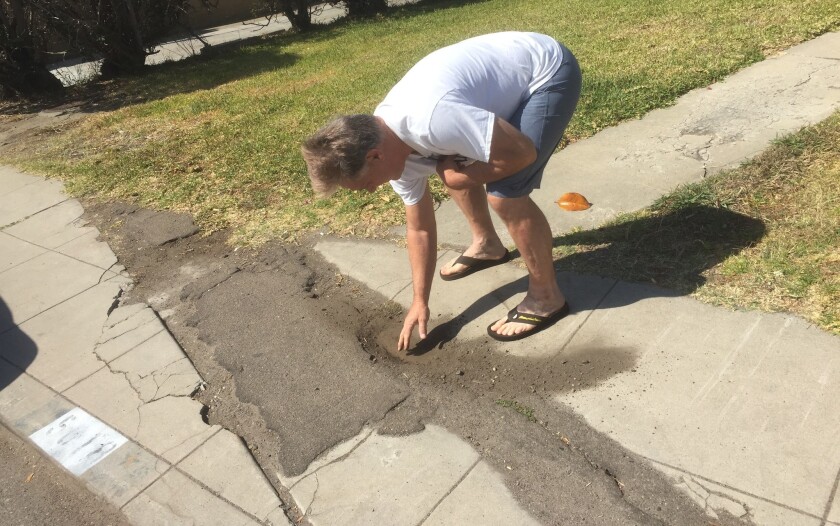 "Here, look, you can see the iron!" says Matt Edwards, eagerly brushing aside the loose gravel poured to conceal a railroad track that still runs diagonally across the driveway of the house across from his on La Jolla Hermosa Avenue.
To the vast majority of La Jollans, they're unremarkable protrusions in the asphalt and dirt. But to those who know where to look — and what to look for — they're time portals to a starkly different La Jolla.

When the San Diego Electric Railway (SDER), the West Coast's first electric streetcar system, opened in 1924, Bird Rock was a long stretch of mostly nothing in between Pacific Beach and La Jolla — except a smattering of houses and San Carlos Station, an ornate facade built to mimic the San Carlos Mission in Monterey.

A year later, the SDER got permission to transport freight as well as people. So the Standard Oil Company built two 30-foot storage silos in what were then the boondocks, along with a spur off the main SDER line to its facility. That boondocks is now the site of a house on the northwest corner of La Jolla Hermosa Avenue and Forward Street.
In 1946, thanks to the GI Bill, Bird Rock's first tract homes started cropping up around the oil tanks, and a brouhaha ignited when Standard applied for a zoning variance to construct more on its property. (Although the zoning committee of the San Diego Planning Commission green-lighted the variance, it was ultimately defeated in a common council vote due to concerted residential protest.)
When the City updated his neighborhood's sewer line around 2012, Edwards says, he offered workers cash to pull the rail out of the ground and hand it to him on the spot.
"I thought it would be cool to put it in my house or something," he says, "but they told me they couldn't do it. They also said some guy down the street had already made them the same offer!"
When Pacific Beach was founded in 1887, a railroad was built to connect it to downtown San Diego by J. Malcolm Forbes, a horse-breeder from Boston (no relation to the younger Malcolm Forbes). Forbes opened an extension on May 15, 1894 to La Jolla, marking the occasion with a grand celebration and picnic. Downtown San Diego was suddenly connected to its terminus at La Jolla's Arcade Depot in a 30-minute trip instead of an all-day one.
The tracks of the Pacific Beach and La Jolla Railway traveled in a straight shot coming up from Pacific Beach, along what today would encompass La Jolla Hermosa Avenue and the La Jolla Bike Path, then Electric Avenue, Cuvier and Prospect streets, and finally, the Arcade Depot's rear entrance.
The only practical way into town, the railroad was the very reason La Jolla's first houses were built. (Ellen Browning Scripps first arrived here on the line in 1896.)
"The railroad played a very significant role in the development of La Jolla both from a real estate and tourist standpoint," said Carol Olten, historian for the La Jolla Historical Society. "The lack of transportation to La Jolla, as well as lack of fresh water, were the two main elements that hindered early settlement after Frank Botsford & Company laid out the first subdivision for auctioning of lots in 1887. The trains brought steady streams of visitors and people interested in renting cottages or building one on their own plot of coastal real estate."
In 1906, the route — its locomotives powered at first by coal steam, then by gas — became the Los Angeles & San Diego Beach Railway. That name turned out to be overly ambitious, however, since it never made it north of La Jolla. And, by 1914, the aging line's need for a major capital infusion coincided with the beginning of America's love affair with automobiles and the first La Jolla bus line.
A preventable deadly train wreck hastened a further ridership decline. On Jan. 16, 1908, engineer Thomas H. Robertson and fireman Thomas F. Fitzgerald were killed when the track pulled loose from its spikes at Winder Street, derailing the train and scalding both men to death.
Unable to meet operating expenses, the Los Angeles & San Diego Beach Railroad went under in 1918. Its tracks were all removed the following year and sold for scrap metal to Japan.
Not everyone supported the railroad's closure, however. As early as 1919, civic organizations proposed laying new tracks for a lighter rail line, connecting to the streetcar that already ran between downtown San Diego and Ocean Beach. Their plan didn't fly but in 1923, John D. Spreckels (the shipping and railroad magnate who also owned the Hotel Del Coronado) began the final expansion of his San Diego Electric Railway — to the still under-construction Belmont Park, then to Pacific Beach and La Jolla.
Costing $2.5 million in rails, terminals and substations, and $800,000 for new cars alone (a fortune back then), the streetcar line traveled over the coast highway at Turquoise Street, necessitating the construction of a steel viaduct, then along most of the same right-of-way as the old railroad's. (Instead of taking Electric Avenue, however, it hewed along today's bike path toward La Jolla High School — built in the interim between rail systems — then alongside Fay Avenue automobile traffic.)
For 16 years, La Jollans lived lives as real as yours and mine riding that streetcar — to work in Pacific Beach, to meet friends downtown for dinner, to live out their daily dreams and nightmares. Retired La Jolla High School teacher Harry Crosby remembers taking it to his orthodontist downtown, in the Bank of America Building at 6th Avenue and Broadway, to get braces on his crooked front teeth.
"I guess (the ride) took about a half hour," says Crosby, 92. "I remember the streetcar was very vertical and sparked a bit on the wires. It had big windows and was a great way to look out and see nature."
Crosby's family moved to La Jolla from Seattle in 1935, when he was 9. They settled on Palomar Avenue, a short walk from San Carlos Station.
"In those days, there were very few houses up close to the streetcar, but ours was," Crosby says.
A number of factors contributed to the SDER discontinuing service on Sept. 16, 1940. Among them were the Great Depression and competition from more than 200 new buses added to San Diego's fleet in 1930. The streetcars were also slowed considerably by burgeoning automobile traffic where they traveled on streets. And the line had its own accidents. (The most notorious occurred on Nov. 22, 1937, when streetcars traveling to and from Ocean Beach found themselves colliding on the same line due to signal failure. Many of the 31 passenger injuries were serious.)
Remnants remain

Unlike the original railroad's tracks, much of the SDER's still lay buried beneath tar, asphalt and mud along La Jolla's streets and the bike path. (The Light found a rail protruding from the dirt on the northwest corner of the bike path's intersection with Vincente Way.)
In addition, the frontage of the San Carlos Station now forms the La Jolla Methodist Church at 6063 La Jolla Blvd. in Bird Rock. And the Arcade Depot is now the Arcade Building retail space at 7906-7910 Girard Ave.
The tracks pointed out by Edwards were last used in 1934, when Standard Oil acquired a more economical fleet of trucks for its oil deliveries.
"And they're still right here," Edwards says of the tracks. "How amazing is that?"
---
Get the La Jolla Light weekly in your inbox
News, features and sports about La Jolla, every Thursday.
You may occasionally receive promotional content from the La Jolla Light.