People in Your Neighborhood: Meet Harry Crosby, La Jolla's Renaissance Man
Harry Crosby is the longest current resident of La Jolla. At 83 years and counting, frankly, he may be the longest this town has ever had. (His parents moved here from Seattle in September 1935, when he was 9, into a house that still stands at 215 Avenida Cortez.)
But that's not nearly Crosby's greatest distinction. It isn't even on his list of Top 20.
In 1963, Crosby was a chemistry teacher at La Jolla High School, from which he graduated in 1944. It was a job he had grown bored of after five years and wanted to quit. So he did.
Crosby enjoyed taking photographs – especially on the extracurricular trips to Mexico he took with his chemistry students. So he bought some professional gear, and some books about photography, and trained himself. By 1967, he was hired to illustrate the book The Call to California by the Commission of the Californias. Retracig the route of the original Portola missionary expedition of 1769, Crosby rode 600 miles on a mule.
Being involved in compiling that book made Crosby realize he wanted to write his own books and become a historian. So he did those things, too. His four books address the missionary history and cave paintings of Baja, California. He even published a novel, 2001's Portrait of Paloma, which he said he spent three months doing in his spare time.
"Harry has the character of Abraham Lincoln and the folksy humor of Will Rogers," says his friend Dennis Willis, owner of D.G. Wills Books. "But also, we may as well throw in Lewis and Clark. He's an honest-to-goodness explorer."
We're not even close to finished mentioning the fields in which Crosby made a name for himself. In 1979, he designed and built his own house in La Jolla, on a portion of the lot on which George Webster Heald built the very first house in La Jolla in 1887.
Yes, an amateur architect designed his own house. It's the one he greets the Light out the window from on Prospect Street, where he still lives with his wife of 68 years, Joanne.
Not to mention Crosby's stint hybridizing orchids or coming within one heat of making the U.S. swim team at the 1948 Olympics, because other stories need to fit in this newspaper issue, too.
"Harry is many people," Wills says.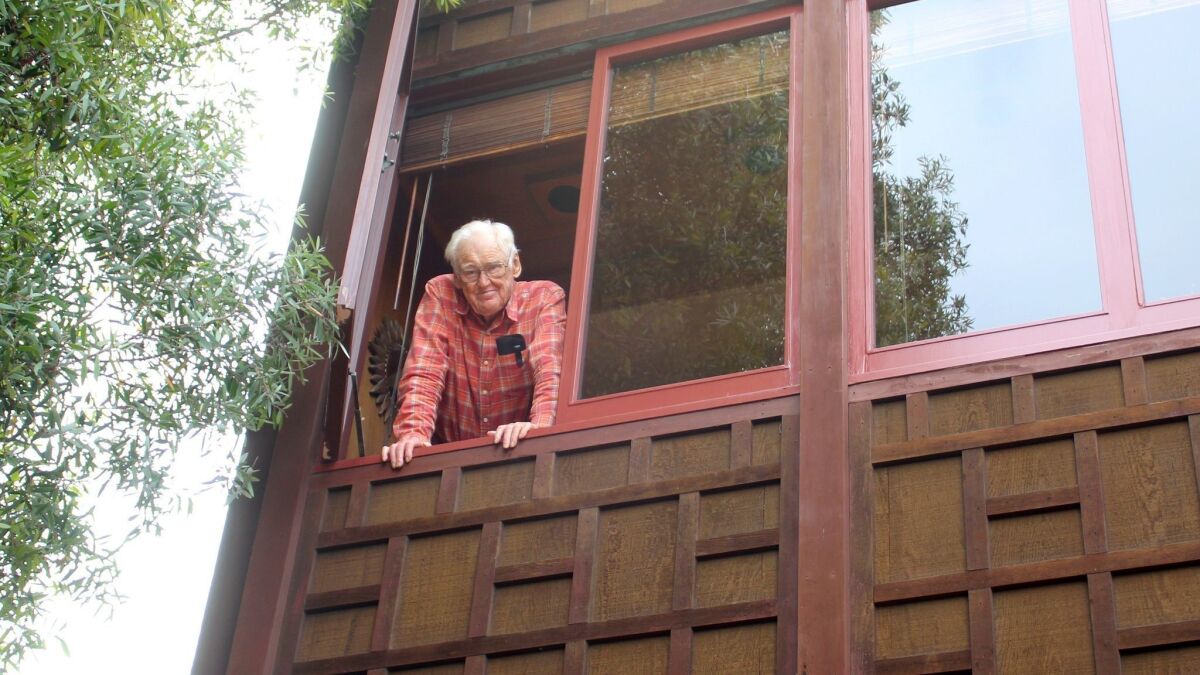 Crosby even has a place in pop culture — by blood association. He's no relation to Bing Crosby, but his only son was the late guitarist for the multiplatinum hair-metal group Ratt. (Robbin Crosby died in 2002 at age 42, from what was reported to be a heroin overdose and pneumonia with complications from AIDS.)
To get this interview, the Light had to spend the day walking all around La Jolla with Crosby — lunching at Barbarella, stopping at D.G. Wills Books (which stocks all of Crosby's books), and getting his six-week trim at Alex Salon — because, even at age 92, sitting in one place too long bores him.
"I might not look good walking," Crosby says defiantly, "but I can still walk."
How do you feel about being called a Renaissance Man?

"Whatever you wish to call me."
So you became a historian just because you just decided to become one?

"I became one not because I was thinking about it, but in order to write the captions for all the photos I was taking for the book about the expedition that founded San Diego and Monterey. Nobody else had been to those places I'd been to."
And you designed and built your house with absolutely no experience?

"Well, I have to admit that I had already designed and built a house before that, at 6996 Via Valverde, around 1970. I based it on two of those houses I'd seen in Mexico. Frankly, I don't really see what the problem is with designing a house when you have photographs and you know what you want."

It's not a problem. But it is unusual. You chose to ignore the barriers that most people see when it comes to what to dedicate their lives to. Most people say, 'I can't do that, I don't have the training or the experience.' You said, 'What's so hard about that?' and then trained yourself.
"Well ... I had help. I was lucky enough to be friends with (architects) Bob Mosher, Fred Liebhardt and Gene Weston, and I could go and look at house plans of every kind you can think of. They would encourage me. What's funny is that one of them would usually explain to me why they wouldn't do something one of the other architects I knew had suggested.

Did you know Ted Geisel (Dr. Seuss)?
"No, but my parents did, I don't remember how. But I remember going to his place several times up on Mt. Soledad in the '40s or '50s. Back then, it was the only house for blocks. He was amusing and outgoing as a host. But I wasn't very aware of his world. I mean, I had read some Dr. Seuss and thought it was kind of a kick, but I was into other things."
What do you miss most about La Jolla the way it used to be?
"Well, I don't regard some of the buildings that have been torn down as being inferior to the ones that have taken their places. I'm not saying there's anything wrong with the new buildings. The younger generations will appreciate them, but I won't. In certain ways, I liked it much better the first 20 or 30 years we were here. But you have to remember, when I moved here, La Jolla had 3,500 people, less than a tenth of the population it has now.
"But there also have been elements added that have been significant. The change is continuous. It's been changing ever since I came here. It's sort of like living in a progression of places."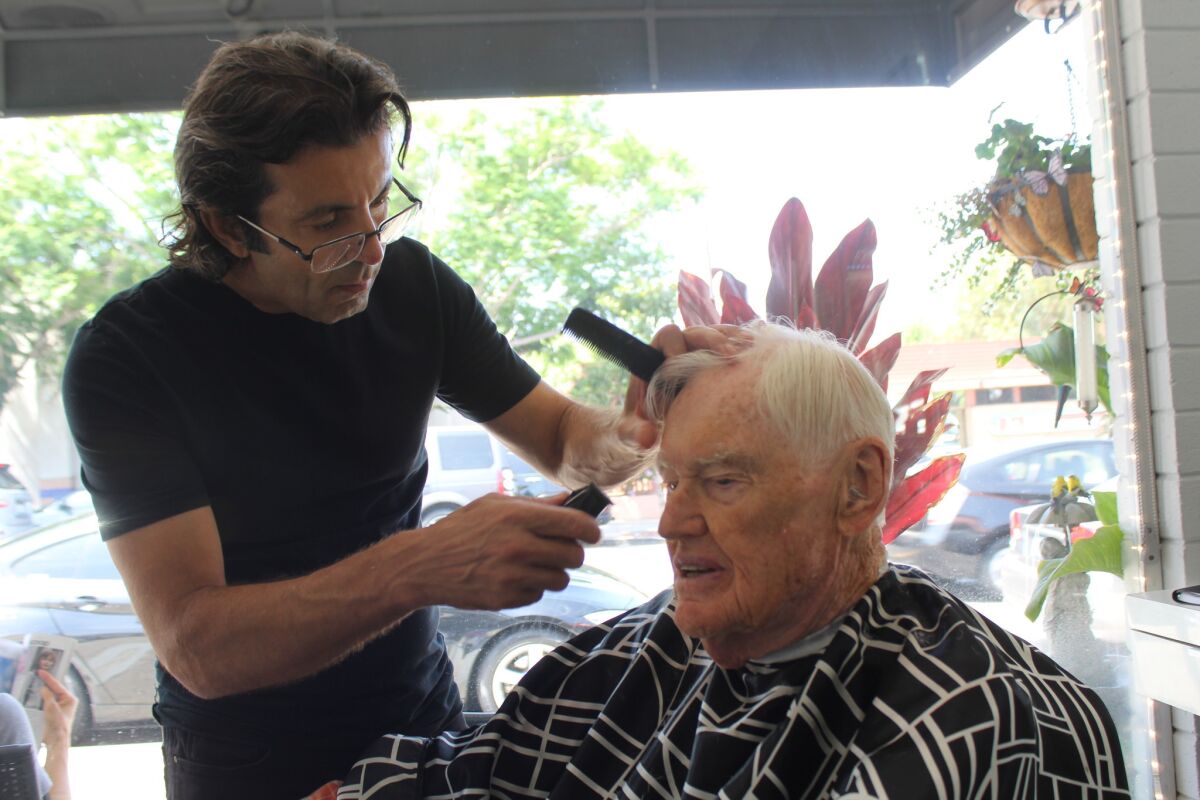 Is there anything you blame yourself for regarding Robbin's death?

"I don't know. Robbin was very complicated. He was a character and everyone always loved him at school, but he lived in his own world. He confessed to having done stupid things. It was sad but it was also rewarding to have had a family member who was so smart. He was very devoted to the idea of doing everything that he wanted to do and accomplishing what he set out to accomplish."
He got that from you, didn't he?
"Well, it would have been in an entirely different way."
How does it feel to be 92?
"I'm finding out what's it all about, this business of coming unglued. There's all kinds of things I've taken for granted that now, for all practical purposes, I can't do. I'm realizing that a huge amount of what I was able to do, I can't do anymore.
"But I've never been a pessimist. I've never thought of suicide or any other negative action. It's more like, well, if that won't work, then what will? So what I tend to concentrate on is family. I have two daughters, four grandchildren — two boys and two girls — and three great-grandchildren that I think the world of."
How would you like to be remembered?

"I guess it would be as someone who encouraged everyone to know more about where they live. What I, unfortunately, have discovered in a lot of people I've met over the years is not really knowing that much about their town, and not even caring to learn."
Editor's Note: La Jolla Light's "People in Your Neighborhood" series shines a spotlight on notable locals we all wish we knew more about! Light staff is out on the town talking to familiar, friendly faces to bring you their stories. If you know someone you'd like us to profile, send the lead via e-mail to editor@lajollalight.com or call us at (858) 875-5950.
---
Get the La Jolla Light weekly in your inbox
News, features and sports about La Jolla, every Thursday for free
You may occasionally receive promotional content from the La Jolla Light.