Remembering La Jolla's Mac Meda ... whatever it was: La Jollans share stories of antics behind the counter-culture brand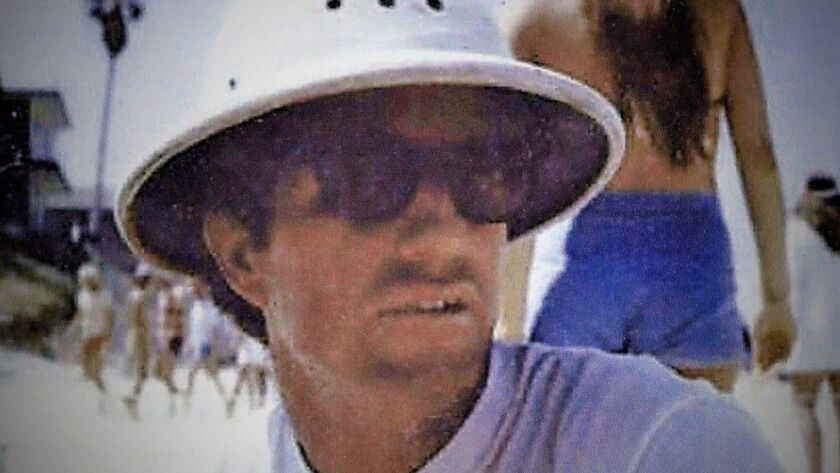 The cops thought it was a gang, a sort-of surfers' Hell's Angels. So did writer Tom Wolfe. He dubbed it the Pump House Gang in his 1968 book of the same name.
But the Mac Meda Destruction Company, La Jolla's most notorious counterculture brand, wasn't a gang. It wasn't even an organization. No one who belonged to it even knew what it was.
Bill Decker joined Mac Meda just before graduating from La Jolla High School in 1965. Only he didn't join, he says, because there was no joining.
"You got a sticker and you were in," he says.
Decker has come to the Branding Iron, at 7464 Draper Ave., to talk about the good old days with fellow Mac Meda veteran Doug Moranville. Moranville, 71, has owned the silk-screening shop — the closest thing to a Mac Meda headquarters that has ever existed — since June 1978.
"Mac Meda is a joke," Decker says. (Moranville laughs, noting that "everyone says that.")
Mac Meda began around 1960, when two 20-something La Jollans decided to channel some negative energy to their benefit. Jack "Mac" Macpherson and Bob "Meda" Rakestraw, along with some orbiting cronies, grabbed sledgehammers and axes and wrecked some of the old houses and barns that littered Sorrento Valley and Carmel Valley before everything there became a warehouse or mini-mansion. Once, they demoed five structures in one day.
"They were putting I-5 through all these old houses, and we'd go out there and knock 'em down," Macpherson told the Light in 2003. "We didn't ask for any permission. They were going to be knocked down anyway. We'd drop-kick the chimneys off the house and we'd use the water heater as a battering ram to go through the 2 x 4 studs."
Mac and Meda enjoyed doing this so much, they had business cards made up that read: "If you need to destroy, then us please employ." They also made Mac Meda T-shirts by spraying red paint on white JC Penney Towncraft T-shirts using stencils.
Moranville met Macpherson in the alley across from his childhood home on Eads Avenue, where Macpherson was making one of these shirts and invited him to join in. Little did Moranville know, that meeting would determine his life's work. (To this day, he still makes Mac Meda T-shirts and stickers — although with considerably more professionalism and, he says, a trademark.)
"Jack was the kind of person that could talk to anybody, anywhere at any time," Moranville says. "He would do anything for anybody, a real shirt-off-his-back kind of guy."
John Duncan "Jack" Macpherson III was born in La Jolla, the oldest of two children of an orthopedic surgeon. One of his sister's boyfriends taught Jack to surf at age 11 and, despite Dr. Macpherson's disapproval, he hung with the surfer crowd before, during and after attending La Jolla High School. Later, he made his living as a Bird Rock mail carrier.
"He was charismatic," Decker says. "Everybody wanted to be Jack's friend because he was cool."
Macpherson and Robert Rakestraw — who nicknamed himself "Meda" after a placeholder he used for a curse word while working on boats — shared a place on Girard Avenue. They met at a gym, then went to a bar, where Rakestraw impressed Macpherson by downing a pitcher of beer without coming up for air.
Rakestraw was the opposite of Macpherson in almost every way.
"Bob was scary," Moranville says. "He was a real rough guy. If you beat him in a game of pool, he'd take the table away from you or kick your ass. He was a mean person. He and Jack got along only because Jack got along with everyone."
Decker refers to Rakestraw simply as "a (expletive) nutcase."
Robert Norris Rakestraw was born in Nova Scotia, Canada and was adopted at 8 years old by Scripps Institution of Oceanography marine chemist Dr. Norris Rakestraw and his artist wife, Hazel.
"Either his real parents were killed or some say, he was an abused child and came from alcoholic parents," reads a bio about Rakestraw on the official www.macmedadestruction.com website. "This could have been the reason why Rakestraw had this destructiveness, an inside anger that he never got over."
Moranville says Rakestraw owned an anti-tank gun, which he used to try and kill a guy in a lobster skiff once. "It was probably someone he knew," he says.
Mostly, though, pranks and shenanigans, not murder, were the order of the Mac Meda day.
"One time, they went up to the La Jolla Beach & Tennis Club during a tournament, doused themselves in ketchup, set off fireworks and laid in the street, like they'd been shot up," says latter-day Mac Meda member Steve "Kluster" Maitland, relaying the story second-hand during a phone interview. "About a thousand people saw them before they jumped up and drove away."

As Mac Meda T-shirts grew in popularity around La Jolla along with Mac Meda lore, they drew the interest of police, who hauled in pretty much anyone wearing one.

"They asked everyone who the leader of the gang was," says Moranville.
Inside Moranville's shop sits a bust of Mac Meda's former leader, Albert. At least Albert was cited as the leader by Rakestraw to the cops. Albert was the gorilla at the San Diego Zoo. (Rakestraw even got "Albert MacMeda" his own listing in the phone book!)

Crying Tom Wolfe
Drinking was always an essential part of whatever it meant to be a Mac Meda, but by the mid-'60s, the "conventions" had started. Held throughout the year in various locales — but always on July 4 at WindanSea — these were merely overblown beach keggers.
San Diego Police loved that there was finally something so tangibly Mac Meda for them to investigate. During a 1968 convention, 10 squad cars, two paddywagons and a TV news crew lined up at WindanSea, waiting for something horrible to happen. (In the end, nothing did and they arrested one girl for drinking under age.)
This was the version of Mac Meda that Tom Wolfe parachuted into in 1965, looking for a sensational story. When he didn't find one, he largely made it up. (Wolfe's New Journalism style, shared by Hunter S. Thompson and Gay Talese, emphasized style over truth.)
Spending somewhere between a few days and a month at WindanSea — depending on who you believe — Wolfe observed some kids hanging out at La Jolla Water System Pump House 21 and dubbed them an "underground society" called the Pump House Gang.
The truth, according to almost all published accounts from La Jollans who were there, is that he approached some Mac Meda surfers in the parking lot and got run off, forcing him to hang with the younger rejects, hopefuls and junkies who claimed the pump house down the road as turf because no one else wanted it.
"He was writing a story about Mac Meda by talking to the wrong guys," Moranville says. "The people who were at the pump house at the time really had nothing to do with anything. He was interviewing the kids who were just getting their feet wet."
The results appeared in a 1966 Esquire article and as a part of Wolfe's 1968 book of collected stories called The Pump House Gang, which foisted La Jolla onto the radar of the East Coast intelligentsia for the first time. But the fact that the article and book were named after a building designed for pumping human feces was not lost on Decker and the others.
"A lot of it was bull(expletive)," Decker says. "That thing about Jackie Haddad going out in 10-foot surf or whatever? She never did that. Maybe she told him that, but he never bothered checking anything. Tom Wolfe had to make a living, so he had to make a story out of something."
In 1972, Decker met Wolfe while on assignment as a photographer to cover the Apollo 17 launch from Cape Kennedy.
"We started talking and I said I was from La Jolla," Decker says. "And he goes, 'You know the weirdest thing? My editors at Esquire sent me this picture that says, 'Tom Wolfe is a dork.'"
It was Decker himself who spray-painted that slogan on the pump house wall. He then sent a photo of his graffiti to an Esquire reporter he had recently met who was writing a Pump House Gang follow-up story.
Decker remembers his reply to Wolfe as: "Who would ever do something like that?'"

Mac Meda peters
Mac Meda continued strong through the '70s and early '80s, when Decker was in charge of the conventions. (He hired the hair-metal band Ratt — featuring his brother-in-law, the late Robbin Crosby — for one.) After that, he says, it actually "got too big, out of control, and I exited stage left."
Things kind of tapered off naturally from there, as members moved away and died.
Macpherson retired from the post office in 1991, then bartended at London's West End in Bird Rock. He had two marriages that ended in divorce and was survived by a son when he died of liver and kidney failure in November 2006 at age 69.
His death became a national news story. The Los Angeles Times ran an obit and National Public Radio called London's West End Tavern to interview people who knew him.

"That's the only thing you can give Tom Wolfe credit for," Moranville says. "He made it so we were well-known all over the world."
Rakestraw's website bio details an unhappier ending: "The inheritances of alcoholism and anger would eventually lead to his early and very lonely death in a trailer in Morongo Valley (not far from his adopted parents house and where his dad died) on September 21, 1996 at 56." He hadn't spoken to Macpherson in years.
A few small reunions were staged in the '90s, most at the VFW Post 5985 in Pacific Beach for the older folk, but the last all-inclusive one was Macpherson's wake, during which his ashes were propelled by a giant slingshot out to the Pacific at WindanSea.

"Yep, the good old days are gone," Moranville says.

But Mac Meda lives on in La Jolla's collective memory. Strangers stop by Moranville's shop nearly once a week, he says, stocking up on T-shirts and stickers and telling him what Mac Meda meant to them.

"One guy came by not too long ago with his girlfriend, almost in tears telling me his story," Moranville says. "It makes you feel good, like it meant something important."
---
Get the La Jolla Light weekly in your inbox
News, features and sports about La Jolla, every Thursday.
You may occasionally receive promotional content from the La Jolla Light.