VENDING YOUR EAR: Tales from a pair of La Jolla Farmer's Market characters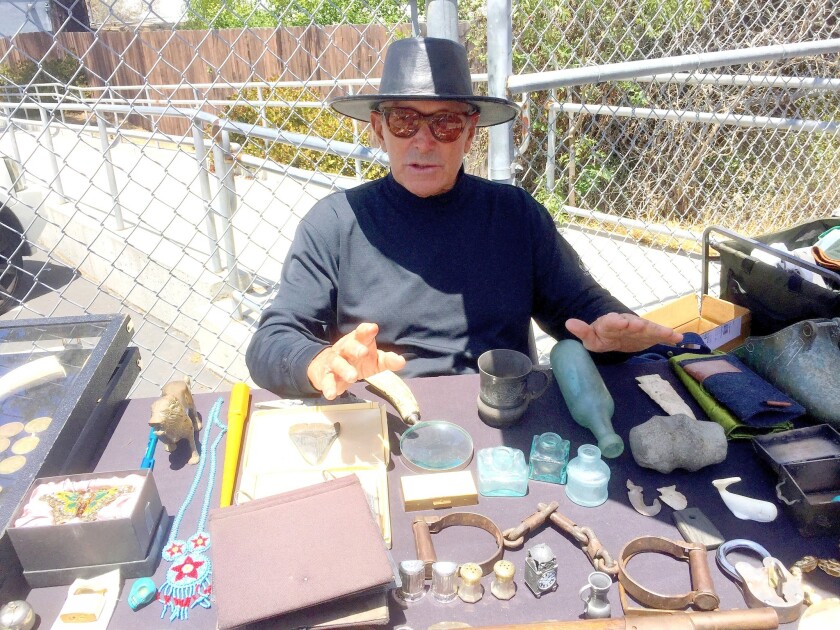 Of all the interesting characters we've come across at the La Jolla Open Aire Farmer's Market, held every Sunday at La Jolla Elementary School, two take the organic cake.Joe Barnett and George Petrou — vendors of jewelry and olive oil, respectively — are both lively conversationalists who enjoy telling stories to their customers and engaging them in friendly debates.If turned into movies — and they should be — some of these stories might seem difficult to believe. But we looked into them, and a surprising number of facts check out.

JOE BARNETT
The human metal detector
When Joe Barnett hunts treasure, he doesn't need a metal detector. He is one.
It's not really clear how, but almost every time the 74-year-old retired San Diego lifeguard enters the ocean, he walks out with jewelry. He says he's regularly hired by insurance companies, treasure hunters and wealthy individuals who have lost heirlooms.
"When a woman calls me because she's lost her wedding band, she cries," Barnett says. "Then when I find it, she cries. It's like an opera."
Typically, his finder's fee is 20 percent of the value of the recovered item.
Even when Barnett explains how, it still isn't clear. Barnett will tell you it has to do with magnetic north and things like "organic benthos versus overburden" and the "electrolysis matrix layer."
"I can go any place in the world," Barnett claims. "We can go up and down the coastline and I can say, 'OK, right here, I should find things.' What I'm going to find, I don't know, but I'm looking at variables. I'll go in, and in 10 minutes, I start to find things."
The proof is on the table in front of him every Sunday at the La Jolla Open Aire Farmer's Market, where Barnett sells some of the items he wasn't hired to find. Today, that includes Spanish escudo coins from the 1500s, and bronze and brass beam spikes from the 1600s. He claims his lifetime finds total more than 100,000 in number and he refuses to even speculate on their value."I can't even begin," he says.
Barnett started honing his abilities as a child near Lake Michigan, where he says his summers were spent with members of the Chippawa tribe.
"The Indians taught me how to find artifacts by reading the land and the movement of wind on the sand dunes," he says. "From knowing the Indians and blueprinting an attitude towards connecting to the absolute laws of nature, I transferred all that knowledge to a liquid medium."
After ending a 21-year run as a lifeguard in 1990, Barnett began conducting experiments with the Pacific. In one, he threw a rod and reel off the Children's Pool wall.
"I left it there for about a year," Barnett says, "and the ocean unscrewed every tiny part of the inside of the reel. The brass was over here, the stainless steel was over there. It separated it by size, weight and shape, and it puts it somewhere for reasons that, I think, I may know."
Harking back to his Native American training, Barnett says his mind's eye may also play a part.
"I am to a level where I can dream at night about where I'm going the next day to find gold — you see it before you find it," he says. "I've had that level for about 20 years now."
GEORGE PETROU
From dressing Jackie O. to dressing salads

Eldest vendor George Petrou has packed enough into his 85 years to fill two lives — two very distinct, complete and occasionally astonishing ones.
In the '60s, Petrou designed evening gowns for celebs including Sophia Loren, Jacqueline Kennedy Onassis and Elizabeth Taylor. Having trained under fashion icon Coco Chanel in Paris, he operated a string of boutiques in Athens, Greece.After a military junta overthrew the Greek government in 1967, Petrou — who publicly criticized the new regime — escaped to La Jolla, where he ran a dress shop on Prospect Street for two years before beginning his second career as an olive-oil manufacturer.
When asked why the shift from dressing celebrities to dressing salad, Petrou responds matter-of-factly: "Because I am from Greece and Greece has olives, and my grandfather taught me how to make olive oil."
Nowadays, Petrou grows olives in Modesto and Chino and processes them in a plant in Mira Mesa. He can be found at farmer's markets across San Diego selling their oil — along with vinegar, capers, pickled garlic and a rather difficult-to-swallow pitch.
"Drink this olive oil every day and you'll never get sick," he says, "and the garlic is for cancer. All the doctors at Scripps are upset with me because I make the garlic and nobody goes anymore."
All the doctors at Scripps could not be reached for comment. However, the Light did reach Petrou's daughter, Dr. Irene Stafford of Texas, who confirmed the details of her dad's dress-designing career.
---
Get the La Jolla Light weekly in your inbox
News, features and sports about La Jolla, every Thursday.
You may occasionally receive promotional content from the La Jolla Light.