FALLEN STARLET: The unknown La Jolla ties to early Hollywood's best-known suicide
After the Black Dahlia and Sharon Tate, she's probably Hollywood's most famous tragic cult figure. The tale of Peg Entwistle serves as the quintessential anti-Hollywood success story, a warning beacon to would-be starlets about the dark realities of heading west to seek fame and fortune.
Since Entwistle climbed to the top of the Hollywood sign's 50-foot-high letter H and jumped to her death on Sept. 16, 1932, tour bus guides approaching the site have invoked her name on a daily basis. But more than half of what gets passed off as Entwistle's story is, ironically, Hollywood-ized: that she was an unknown actress who couldn't land any roles, who had to pose for nude photos to pay rent, who had to kill herself to attain notoriety.
Author James Zeruk, Jr. spent six years investigating the true story of the fallen starlet — including a long-forgotten La Jolla connection — for his 2013 book, Peg Entwistle and the Hollywood Sign Suicide. This included interviewing Entwistle's only living relatives to remember her: her younger brother Milton and cousin Helen, both of whom have since died.

"I think it's important to set the record straight about anyone who has some historical value," Zeruk said during a phone call from his Los Angeles home.
First off, there is no evidence of nude photos. That salacious curveball was tossed by author Kenneth Anger's factually challenged 1965 book, Hollywood Babylon, which misidentified Peg in a photo of another actress.
More to the point, Peg was far from unknown. Though she was obviously not an A-list movie star, she was one of the era's premiere stage actors. Bette Davis even cited one of her performances — in a 1925 production of Henrik Ibsen's "The Wild Duck" — as her singular inspiration for entering the theater.
"Peg was written up in hundreds of magazines about her plays," Zeruk said. "And when she came to Hollywood, she got recognized. One time, she was out to dinner with her aunt and another actress and some people asked for her autograph because they saw her in a play in New York a month earlier."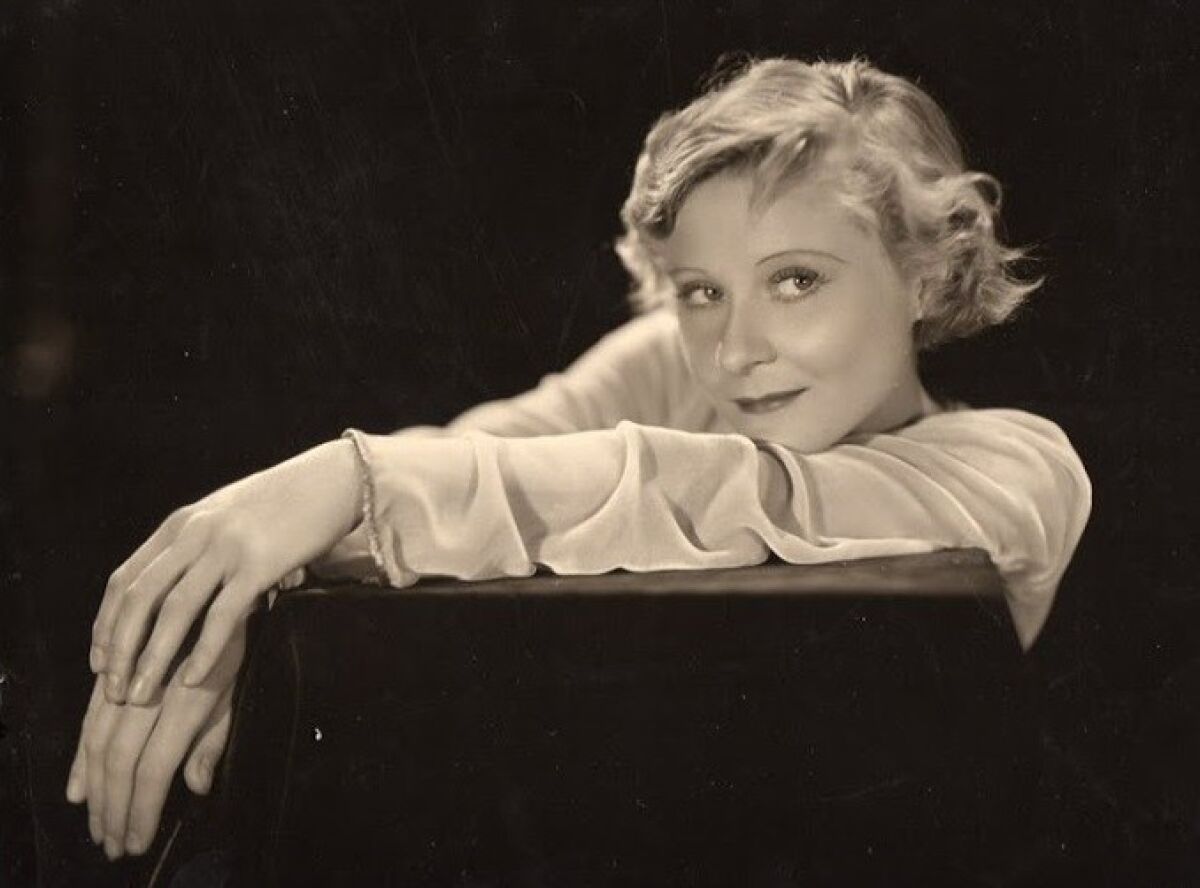 Millicent Lilian "Peg" Entwistle was born Feb. 5, 1908, in Wales, where her London-based parents were vacationing. Her father, a stage actor, divorced her mother and remarried and, by 1913, had moved Peg to America so he could star on Broadway. Robert Entwistle joined the casts of several plays and escorted Peg backstage, where she observed the craft and fell in love. At age 12, she starred in a production of "Peter Pan" at her school.
Then tragedy struck — twice. Peg's stepmother, Lauretta, succumbed to meningitis at age 35. (To Peg, she was her mother for all intents and purposes. According to Zeruk, Peg never searched for her birth mother.) Only a year later, Robert, who quit the theater and opened a gift-box store to provide a more stable living for his children, was struck down by a hit-and-run limo driver while making a delivery. He lingered for 48 days in a body cast before dying at Brooklyn's Prospect Hospital.
Peg and the boys were taken in by their Aunt Jane and Uncle Charles, who lived in Santa Monica at the time. (Both were in show business — Jane, who was Lauretta's sister, was an actress and Charles managed the career of Broadway actor Walter Hampden.)

Jolla-wood shuffle

La Jolla enters the picture because Peg attended the Bishop's School for two years, 1923 and 1924, back when it was an all-girls Episcopalian boarding academy. According to Zeruk, Peg "didn't want to go to public school because she was ashamed of not having any parents, of being an orphan." And Bishop's had a great academic reputation that her aunt and uncle approved of. It was also free. (Thanks to the financial support of Ellen Browning Scripps, there was no charge for tuition, room or board.)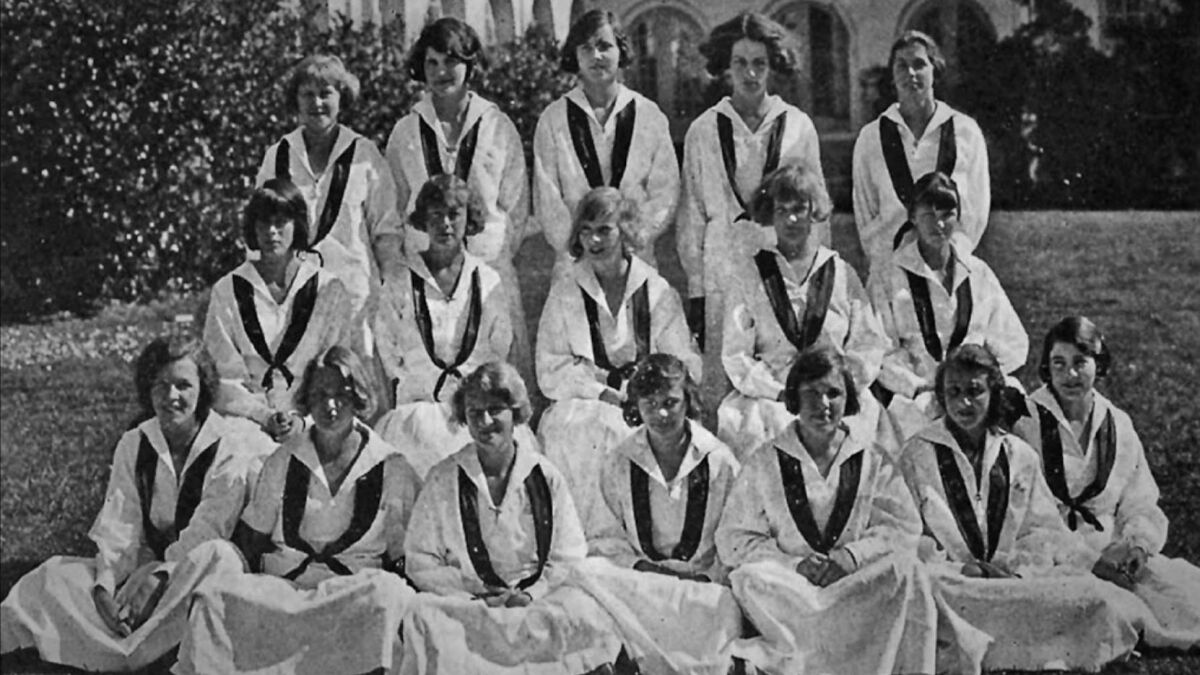 Peg rode the train with Charles and Jane down from L.A.'s Union Station for the orientation, according to Zeruk. Following an interview with head mistress Caroline Cummins, they were introduced to the principal and then probably to the Bishop (Joseph H. Johnson) and to Scripps, each of whom made a point of meeting the new students.
On weekdays during the school year, the Bishop's students who lived on campus were awakened at 6 a.m. They took cold baths, donned white uniforms and performed vigorous calisthenics. This was followed by morning prayer in the chapel, breakfast and five hours of classroom study.
When contacted by the Light, the Bishop's School could not locate Entwistle's academic record. However, according to Zeruk, Entwistle's brother told him "she always had good grades" and that "wherever Peg went, she had a book or two under her arm."
Sports and other group activities were also stressed at Bishop's, as they still are today, and Peg preferred the equestrian program.
"She was proficient as a rider," Zeruk said, "though she was too small to lift and toss a saddle onto anything much better than a Shetland pony." Zeruk said Milton told him their Aunt Jane had taught them how to ride, and that they frequently rode up Mount Lee, which is where the Hollywood sign would be erected in summer and fall of 1923.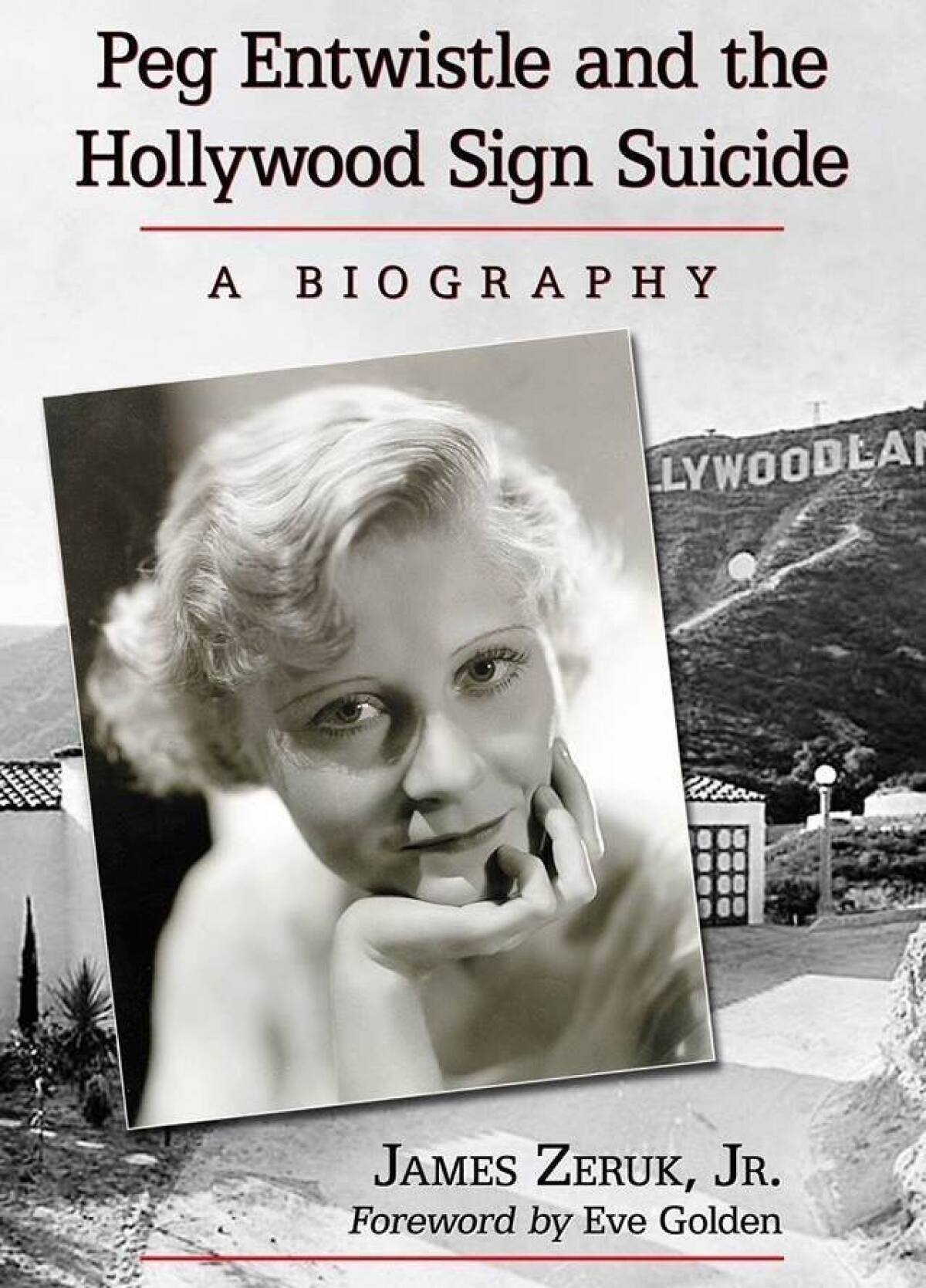 No sign of trouble yet

Originally, it read "Hollywoodland," advertising the housing development — financed by Los Angeles Times publisher Harry Chandler — in which Charles and Jane had recently purchased a home at 2428 North Beachwood Drive. The letters were anchored five feet off the brush to telephone poles and illuminated by 4,000 light bulbs. At night, they flashed in four stages: "Holly," then "Wood," then "Land" and then the entire word. (The developer went under during the Great Depression. In the mid-'40s, the Hollywood Chamber of Commerce saved the sign from being demolished, restored it and removed the last four letters.)
According to Zeruk, Peg and her brothers were fascinated by the nearby sign, climbing up the maintenance ladders in back of each individual letter frequently as children: "Peg would scamper up there like she owned it. It was a jungle gym to her."
Peg even watched the letters get driven up the hill from her house during its construction. According to Zeruk: "Helen told me that one day they were sitting on the porch, pretending they were staging a play, when all these trucks and tractors went up the hill to Mount Lee."
That same summer, Charles found work stage-managing the revival of the 18th century comedy "The School For Scandal" starring Ethel Barrymore, and Peg spent many nights backstage, observing again. She wanted to be an actress, not a scholar. So, she decided, 1924 would be her last year at Bishop's. After that, she returned to Hollywood and her tragic fate.
That included getting married at only 19, to an older stage actor named Robert Keith. The unhappy union lasted only two years. According to Zeruk, Keith drank heavily and physically abused Peg. As if that weren't enough, he neglected to tell her that he was divorced with a six-year-old son. (That son grew up to become TV actor Brian Keith, who would never publicly mention Peg during his lifetime.)
On a role

Peg's acting career flourished, including a small role in a 1925 production of "Hamlet," also starring Ethel Barrymore, and a co-starring role with Humphrey Bogart in "The Mad Hopes" at the Belasco Theater in Los Angeles. According to Zeruk, Peg and Bogey may have co-starred in real life as well.
"I couldn't tell you if they were lovers," he said. "He was married to another stage actress at the time, Mary Philips, although she was in New York. Who knows? But they dated casually. Her brother told me he would come to the house to pick her up." (Once, Zeruk said, Bogey waited outside in his car and got impatient. Uncle Charles got angry and demanded to know, "Who's honking that horn?!" It's a safe bet he didn't expect the answer he received.)
In 1926, Peg was snapped up by the New York Theatre Guild and starred in 10 of its Broadway plays — including 1927's "Tommy," a smash hit that ran for 232 performances. But her marriage was on the rocks by then. During a highly publicized national Guild tour the couple undertook together, Keith began drinking heavily and often. The Guild fired him from the tour after a few months, according to Zeruk. Peg continued on with the troupe to L.A. But there, she was stalked by Keith, who made unwelcome, drunken stage-door appearances that made the newspapers. This troubled the Guild managers in no small way, Zeruk said, and out of fear of continued bad press, they reluctantly distanced themselves from Peg. Though not fired, she was no longer a Guild headliner.

"They couldn't have one of their actresses be with this guy who made scenes and was out of control," Zeruk said.
Peg's one movie role — in 1932's "Thirteen Women" starring Myrna Loy and Irene Dunne — was a consolation prize. RKO Pictures had originally considered her for the lead in the film "Bill of Divorcement" but gave it to another promising new starlet instead: Katharine Hepburn. (If Peg had landed "Thirteen Woman," Zeruk said, "I think things would have turned out completely different, because she really had her heart set on that part.")
Peg's screen time in "Thirteen Women" was reduced from 16 to four minutes before it was even filmed. This was due to political issues about her character: Peg played a young married woman in a lesbian relationship. (In 1930, the Motion Picture Production Code was adopted by the industry, setting moral guidelines for all U.S. movies. Even though homosexuality was not specifically mentioned, the code prohibited it indirectly as "any inference of sex perversion." Under pressure from the Studio Relations Committee — the code's enforcement arm — RKO deleted all hints of the relationship from the script.)
Then, to stay afloat during the Depression, RKO lightened its payroll by cutting all non-A-listers. In August 1932, Peg was released from her contract. The loss of income forced her out of apartments she rented in both New York and Hollywood, causing her to lose all her possessions and prompting a move back in with her aunt and uncle on North Beachwood Drive. In the midst of this tumult, Peg let slip her mind a handshake commitment she had made to star in a Broadway version of "The Mad Hopes," causing powerful producer Bela Blau to blacklist her in New York.
"While all this is going on, her ex-husband is in San Francisco, married to another actress and they're working in a play together and he sells another play to a big producer," Zeruk said. "There were all these little things that were all adding up."
Sept. 16 was a Sunday evening. Peg had told her uncle she was stepping out to buy a book from a drugstore and then visit friends. Instead, she vanished. An LAPD officer at downtown L.A.'s Central Police Station took the call on Tuesday morning. Someone who wouldn't provide her name said she'd been hiking near the Hollywood sign when she saw a woman's shoes, jacket and purse. Further down the hill, the hiker reported, was what looked like a woman's body.
The cause of death listed by the coroner was "multiple fractures of the pelvis." Zeruk said he asked a modern-day coroner how a broken pelvis could be a death sentence, and was told that Peg probably bled out internally, through blood vessels punctured by the bone shards, within four minutes.
Police found a suicide note sticking out of the purse. It read: "I am afraid I'm a coward. I am sorry for everything. If I had done this a long time ago, it would have saved a lot of pain. — P.E."
"She wasn't a coward," Zeruk said. "She was the opposite. She had a lot of angst going on, a lot of things she was regretful for. She just blamed herself, and sometimes rightly so. A lot of it was her own doing. It never occurred to Peg to just try to get a job as a waitress or a secretary until something better happened to her.
"It was acting or it was nothing."
---
Get the La Jolla Light weekly in your inbox
News, features and sports about La Jolla, every Thursday for free
You may occasionally receive promotional content from the La Jolla Light.