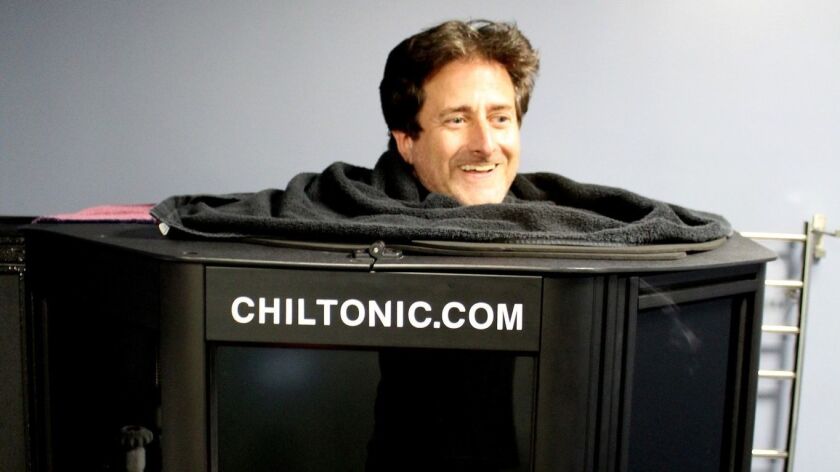 Tanner Switzer opens the door to what looks like an upended coffin enveloped in B-horror-movie fog.
"Watch your step," he tells me.
I did not ditch the sub-zero winters of New York for the West Coast because I enjoy standing around in the cold. But I wanted to sample Chiltonic, La Jolla's first cryotherapy center, because I have a left knee that occasionally objects when I try doing silly things with it — such as standing up. Traditional Western medicine has given up on it. Or at least my doctor has. (When I asked him about it, he said, "Welcome to getting old" and shrugged his shoulders.)
Anyway, I endured freezing air for three months every single year. So what's three minutes one time?
Cryotherapy is an increasingly common treatment for inflammation, pain, muscle spasms, and swelling. And Switzer is not just the millennial gatekeeper to my personal ice hell. He's a patient with seven herniated discs — three in his neck and four in his back — from a car accident four years ago.

"I was getting off the 163 at a dead stop and all of a sudden I hear the tires squeal," the 27-year-old Encinitas resident recalls. "Slam, one car hits me. Two seconds later, another car goes around him, avoids the car and comes right back into me."
Switzer flips on the machine that I am standing inside of wearing only my underwear and the gloves and socks lent me by Chiltonic. Literally freezing nitrogen gas spills into the inside the chamber, from which my head is separated by a protective sleeve. (Nitrogen isn't poisonous. In fact, it makes up 78 percent of the air we breathe. But any more than that and it would replace the oxygen in your bloodstream, which can suffocate you.)

Switzer reports that the temperature in the machine is slowly dropping from 45 degrees below Farenheit to 112 degrees below. He jokes: "But it's a dry 112 degrees below Farenheit."
The machine, manufactured by Impact Cryotherapy of Atlanta, has three settings: "cold, colder and wow." If 112 degrees below Farenheit is not the "wow" setting, I can't even imagine. Within 30 seconds, I begin shivering and heaving in short, involuntary breaths. Switzer tells me this is a phase called "shivering thermogenesis."
"That's normal, we want that," he says.
According to Switzer, what we're doing is tricking my body into thinking it's in a potentially dangerous situation to trigger the fight-or-flight response.

"That's where we start to achieve all these systemic benefits," he says. And, if by systemic benefits, he means pins and needles piercing my legs and hands like knitting needles, then I am already experiencing them.
Switzer asks me to spin around, a quarter of a turn at a time, to insure that I am equally exposed to the nitrogen on all sides like a negative rotisserie chicken.
"It's what you ordered, man," he says. "It's good stuff."

Earlier, Switzer said he's done everything to avoid spinal fusion surgery, including three back-to-back epidurals and burning his nerve roots, but "cryo's been the only thing to give me any sort of quality of life back."
The third location in San Diego, La Jolla's Chiltonic opened in the courtyard of the Merrill Lynch building in November 2016. Prices range $65 for single sessions to $295 a month for unlimited sessions.The first time he tried it, at Chiltonic's Encinitas location, Switzer said he "got out and could actually touch my toes. My mom started crying, it was a whole thing."
There is some research to back up his claims. An updated review of the scientific literature published in Frontiers of Physiology in May 2017 found that "the majority of evidence supports effectiveness of whole-body cryotherapy in relieving symptomatology of the whole set of inflammatory conditions that could affect an athlete." It added, however, that "the small number of studies that did not report any positive effects should, however, not be neglected."
Something I didn't anticipate happens during my session at the two-minute mark, when the nitrogen stops entering and the temperature holds at 112 below. My body actually acclimates. For my final freeze-dried minute, the shivering stops, as do the pins and needles. I actually feel good.
Better than good, actually, because of the endorphin rush that Switzer predicted, a "cryo high" that feels like drinking three Rockstar energy drinks without the urgent necessity for a restroom.

Once I'm released from the machine, I'm fine walking around the clinic in my underwear (although I'm pretty sure the other clients are happy when I change back into my Dockers). Switzer explains that, because the cold only permeates half a millimeter into your skin, it doesn't take long to warm back up.
Switzer touches a thermometer to my leg that measures my skin temperature as 51 degrees, 40 below where I started. He says 42 degrees is the sweet spot and, if I were a regular client, that's what he would shoot for.Initially, I can't tell if my left knee feels better because everything below my neck feels numb. But it gives me no trouble for the next three days. That's way better than an ice pack but, unfortunately, also way less affordable for a journalist.
---