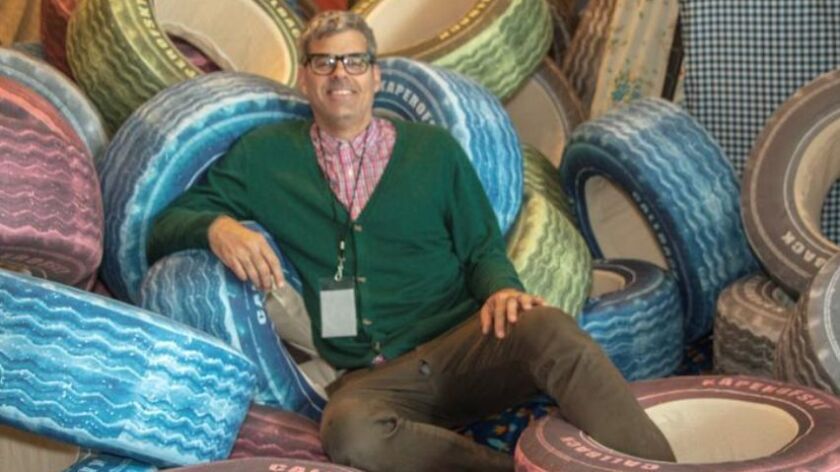 If you and your kids (or grandkids or neighbor's kids) have never been to the New Children's Museum (NCM) in downtown San Diego — and even if you have — now is a fine time to go. Now, in celebration of its 10th year downtown and 35th year in existence, staff has brought back a new iteration of one of their most popular installations, artist Brian Dick's "No Rules Except ..."
Originally commissioned in 2008 for the grand opening of the Rob Quigley-designed building and the inaugural 18-artist exhibition called "Childsplay," "No Rules Except ..." is all about the usually forbidden joy of jumping up and down on beds. Here the beds are actually 40 mattresses, covered with colorful vintage sheets, propped against the walls to be leaned against or climbed on, along with 165 silk-screened foam tires to toss around, crawl through, or jump in and out of.
And of course, there are no rules except: use your imagination to have yourself a really great time.
In fact, the installation is really a conflation of two pieces by Allan Kaprow (1927-2006), one of the founders of UC San Diego's Visual Arts Department who was Dick's mentor there. Best known as the creator of the 1960s pop-up performance art events, aka Happenings, Kaprow had done a 1961 installation called "Yard" that involved covering the sculpture garden of a Manhattan gallery with tarpaper and filling the space with piles of used tires that visitors were invited to walk around, climb over or rearrange.
And in 2000, he collaborated with his 12-year-old son, Bram, to create "No Rules Except ..." a kid-friendly, pillow-filled room that encouraged pillow fights and other high-energy interactions at an LA art exhibition.
Kaprow encouraged "reinventions" of his work, and Dick's original 2008 "No Rules Except ..." was a homage to his former professor, who had died two years earlier. "Allan is the reason I went to UCSD for my master's," Dick said. "I spent a lot of time with him during his last years, and I was in charge of his memorial. This is a collaboration with his ghost."
Dick's reinvention toned things down to suit NCM's younger demographic, and this newer version encourages even cozier activities, adding a toddler zone and ADA accessibility, without taking away any of the fun.
"Kids will absolutely love it," said Tomoko Kuta, the museum's new Deputy Director, who was previously Director of Education & Exhibitions. Her 10-year-old son is very excited about the mattresses, she added, noting that he doesn't remember her taking him to the original installation as an infant. "He's the age of the New Children's Museum," she said. "That's how I mark time."
With many other interactive installations and DIY art-making opportunities to experience, and the Bean Sprouts Café for a lunch break, isn't it time to think-play-create at the New Children's Museum? Maybe you'll be inspired to jump in yourself.
FUN FACT: Check the fine print around each silkscreened tire: It's a Kaparofsky family bagel recipe, referencing the tire's bagel shape and the artist's collaborator. Kaparofsky was Kaprow's original family name.
IF YOU GO: The New Children's Museum is at 200 West Island Ave., downtown San Diego. Hours: 9:30 a.m. to 4 p.m. Monday-Saturday; 11 a.m. to 4 p.m. Sunday. Admission: Free-$10. (619) 233-8792. thinkplaycreate.org
---