CAN'T BURST HIS BUBBLE: Eric Elam conceals sad secret with soapy smiles in La Jolla
Eric Elam walks from his 2006 Hyundai Sonata to Scripps Park, as he has almost every morning for the past two-and-a-half years — carrying a five-gallon jug of soapy water and two fishing rods attached by a rope.
As usual, nobody notices he's there until the first bubble forms. It's giant — about six feet long and a foot wide — and reflects the bright sunlight back with a changing rainbow color pattern. It floats across Coast Boulevard and up to the second floor of La Jolla Cove Hotel & Suites, where it pops on a balcony railing.
Within three minutes, five elementary-age kids seem to emerge from nowhere, some apparently before their parents know where they are. They scream and jump up and down, desperately attempting to defy gravity and pop the next soapy masterpiece. Within 20 minutes, their number doubles.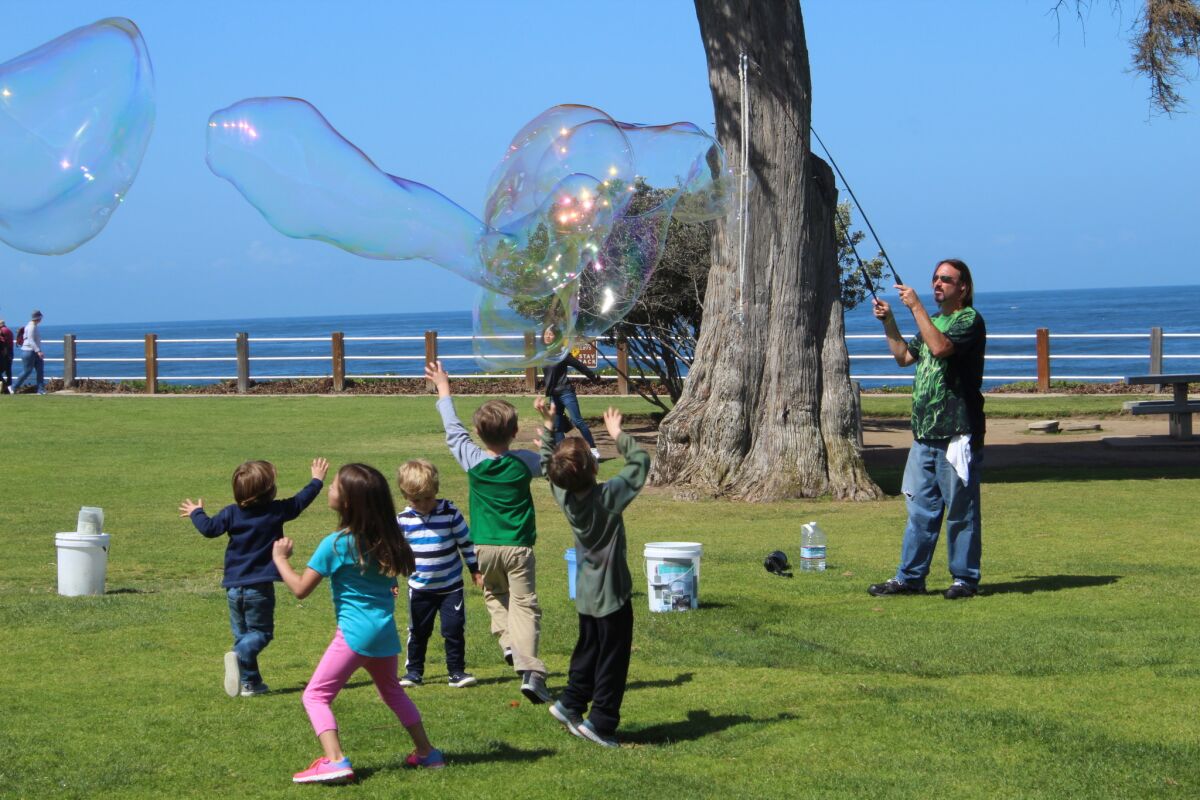 "I love doing this," Elam, 41, says, smiling. "I just love it. When I hear from the distance, 'BUBBLES!' and I hear feet running down."
Two women approach Elam. One of them asks if she can buy bubbles like these in a store.
Elam tells her no, that his contain "a secret ingredient" that's "classified information." When the other woman asks if he performs at birthday parties, Elam directs her to his Facebook site. (He charges $125 an hour for parties, doing about one a month.)
Elam's secret

Elam is homeless. That's probably the kind of bomb you expect dropped earlier in an article like this. But Elam's is not a stereotypical homeless story. For three years, he has lived mostly in his car as he tools from La Jolla to Pacific Beach, where he makes bubbles at sunset on the boardwalk, and then to the safest parking lot he can find to crash for the night. Last night, it was outside the Nite Owl in Pacific Beach.
"I just push the clothes in the back over, put the seat back and grab my pillow," he explains later, while showing this reporter his car.
Homelessness does not define Elam. He's embarrassed by it, and hopes to rectify the situation shortly.
"I don't like to think about it, to be honest," he says. "It's draining."
Elam earns between nothing and $185 (the most he ever received) in tips for each approximately four-hour bubble session. (This morning, the tip jar will collect only $8.)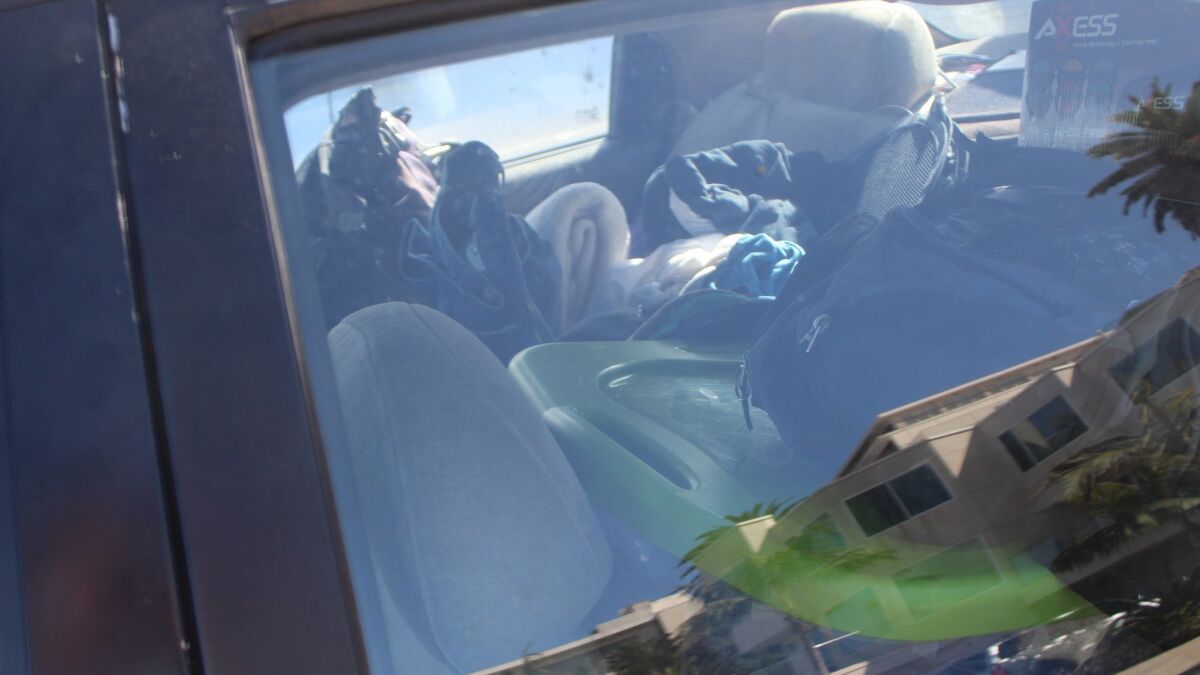 Teresa Smith, chief executive officer of Dreams for Change, a San Diego-based homeless nonprofit, sees thousands of people like Elam on a regular basis. They are the homeless people you don't see because they don't want you to. They're not standing on traffic islands with cardboard signs suffering from mental illness and substance abuse. They're single people, moms with children, young and old, struggling. Smith estimates that close to 1,500 of them live in their cars or RVs in San Diego County.
"It's a common theme," Smith says. "There is a whole range of reasons people live in their cars, but the main reason we see is economic. The cost of housing is just way too high."
To Elam, making bubbles is a zen experience that takes his mind off of his housing situation.
"It helps me think about life," he explains, "how I can make something so beautiful and so wonderful and then it's gone in a few seconds."
Ira Brown, a 59-year-old recording studio owner who lives in L.A., drops a quilt and plops down with his wife Shelly and daughter Rachel. They're visiting for the day.
"I love the bubbles, man!" Brown enthuses. "It reminds me of that old movie, 'Fantastic Voyage,' where they shrunk and took a submarine through the bloodstream with white corpuscles."
Elam's dream is to travel up the coast and make a documentary of how watching bubbles can affect people like Brown who, later, tells this reporter that he is battling brain cancer.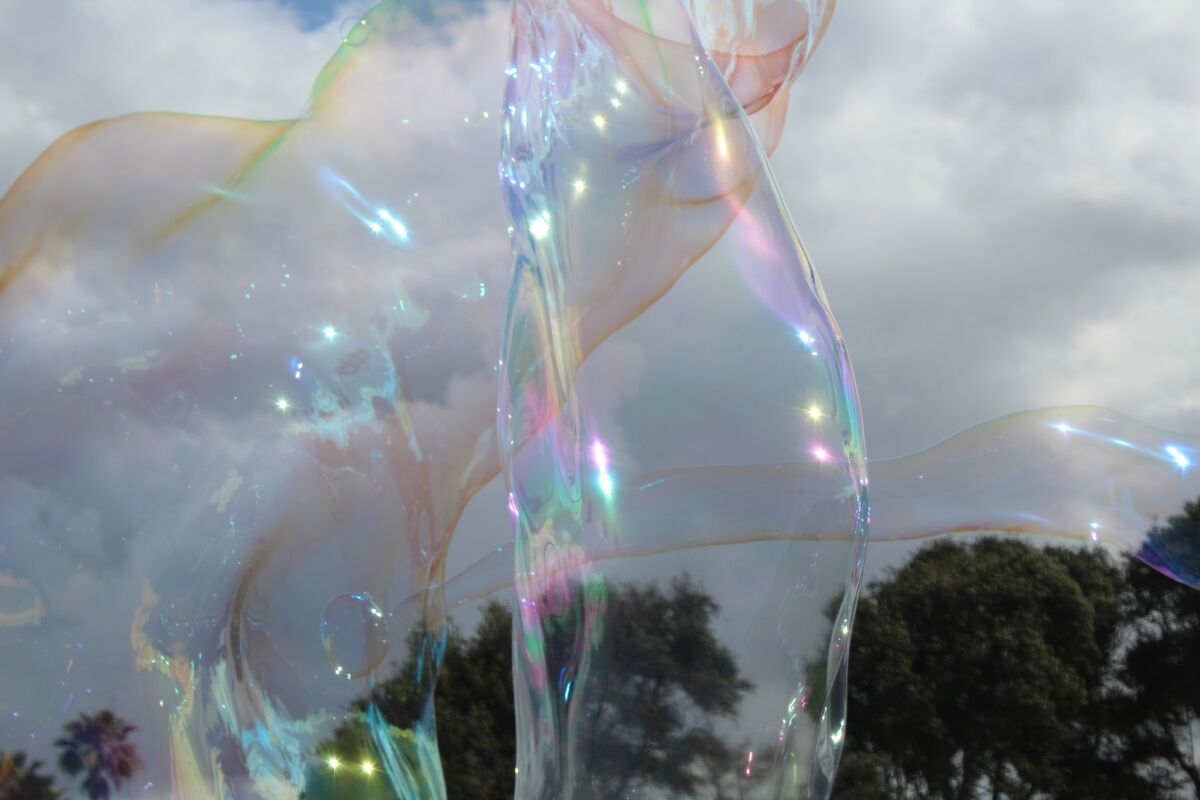 "Bubbles can change people's lives," Elam says. "People tell me all the time, 'We love you, bubble guy!' I've had so many people come up to me and tell me it just made their day, it helped them in some way."

On March 12, Elam started a GoFundMe campaign, at www.gofundme.com/58w72vs, that has raised $100 of its $20,000 goal."Look at that one!" Brown screams as he points to a bubble that pops on a palm tree. "Wow!"
As part of its Safe Parking Program, Dreams for Change operates three San Diego parking lots of about 150 spaces each — two in Kearny Mesa and one on the outskirts of downtown — for people to safely sleep in their cars.
"Most of these people are first-time homeless and there's that whole kind of pride and shame that comes with it," Smith says. "If someone still has their vehicle, it's usually their last asset before they hit the street. But our clients will tell you they're not homeless. They're just in-between. They just haven't found the right place yet."
Elam doesn't always sleep in his car anymore. Since last November, he's crashed on and off with a female friend who has an apartment in Clairemont. He says he's headed there tonight.
"But she has kids, and sometimes I feel like I need to give them space," Elam says.
Elam grew up in Clairemont, where his mother moved him when he was 2 after divorcing his father. They had been living in Fontana, California, where Elam's father grew up a friend of singer Sammy Hagar's.
"I really have no complaints about my childhood," Elam says. "My mom did the best she could raising me."
In 2010, Elam was working overnights at Walmart, stocking shelves, which paid for an apartment in Clairemont. One night, he placed a box of merchandise on the floor. When he stood up, he says, "a horrible pain shot through my whole back."
It was degenerative disc disease. He lived on worker's comp for five years. But that has run out. Last September, he had to have back surgery.
He says it's a blessing "in a way" that he lost his job at Walmart. "Otherwise, I probably wouldn't be doing this," he says. "Then again, I wouldn't be sleeping in my car, either."
Elam opens a Tupperware container of guar gum. It's a white powder. This is the secret ingredient that thickens the bubbles. It's the next morning, Monday, and Elam has enjoyed a good night's sleep, and a shower, at his friend's place.
He shakes the powder into the water, then adds dish soap (Seventh Generation brand, which is biodegradable and plant-based) and stirs with the mixer attachment for a battery-operated drill.
"It saves a lot of time doing this," he says. "You have to mix it well, so the consistency's all the same."
Elam learned the bubble ropes from another female friend three-and-a-half years ago, after a girlfriend left him. The fishing rods are his own invention. He was shown how to do it with bamboo sticks. But fishing rods work better, since they bend more with the wind and break down to fit into his trunk.
"She comes to me now and asks for pointers," he says.
Elam describes a bubble as "like a sandwich." "You've got soap-water-soap," he says. "The water's attracted between the dish liquid, which holds it."
"The moisture helps hold the bubbles together and make them longer," he says. "On a high-pressure day, 60 percent humidity or above is good. Of course, the higher it is, the more ideal."
He carries one of the jugs to Scripps Park. They weigh about 15 lbs. each but he says his doctor gave him permission to carry them one at a time.
"I do one at a time," he says. "My doctor knows."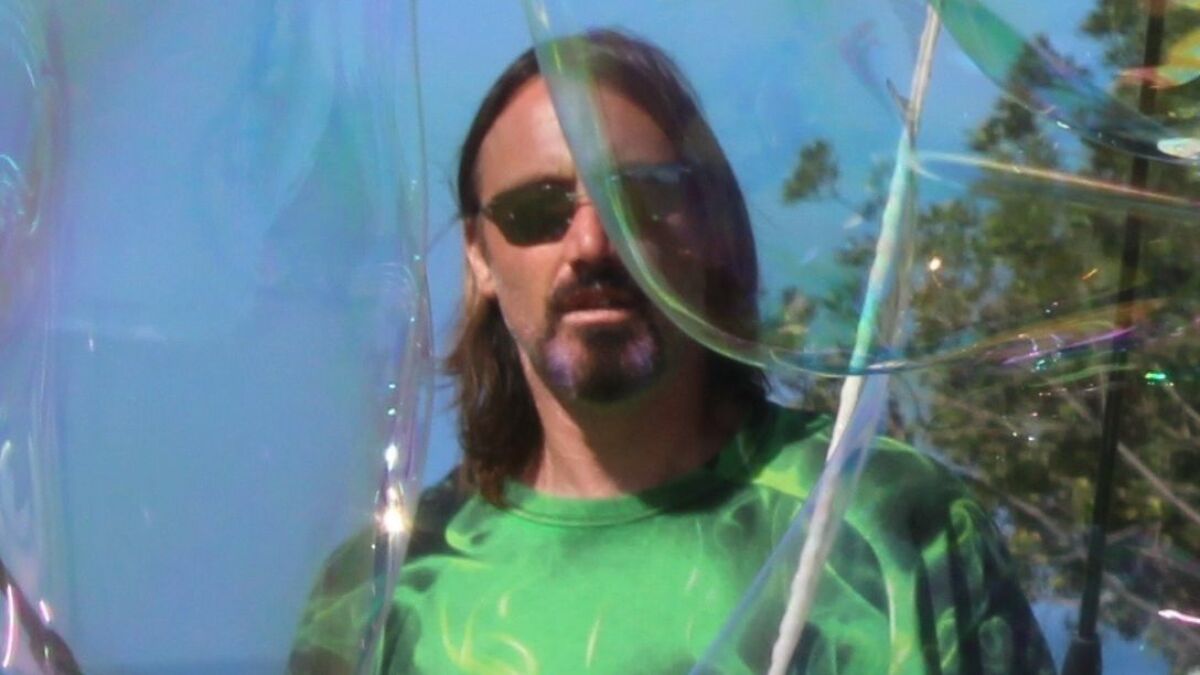 Elam married in 2004. The relationship lasted 10 years and produced a son and daughter.

"She's one in a million, she's definitely awesome," he says of his ex-wife. He also characterizes his relationship with his kids as "good." (He says he also has a two-year-old daughter with another woman.)
When asked whether his kids know of his housing situation, he replies: "I don't really talk about it and they don't really ask. If they would ask, I'd tell them. I'd be straight up about it."
Elam says that his ex-wife declined to allow their children to be interviewed for this article. However, Elam put the Light in touch with his mother.
"It breaks my heart that he's struggling so much," says Maura O'Bryan, an accountant who lives in Provo, Utah. "He's such a good person. He's so giving. He tries to help other people and brings such joy with his bubbles and somehow, bad things keep happening to him."
O'Bryan says she believes her son could and should collect Supplemental Security Income (SSI) from the federal government and doesn't know why he won't apply. (The Light asked Elam, who said he didn't think he could get it.)
"I just don't know why it hasn't happened yet," O'Bryan says, adding that her son "has an attorney who has set up doctor appointments and he's not able to get to them because he has no gas money."
O'Bryan says she thinks her son needs help "but doesn't know how to ask for it." She adds: "I try to give him some money when I can, but I'm on disability, too. I can't help him as much as I want to."
O'Bryan says she has faith that "something will happen that will help him get out of this."
"He's had so much bad luck, he has a hard time believing in himself and having that faith," she says.
Elam would much rather talk about bubbles than his personal struggles. He recalls the biggest bubble he ever created: "It was the size of two City buses. It wasn't as wide, but the conditions were great, the wind was steady and not blowing too hard."

"It was amazing," he says.
Get the La Jolla Light weekly in your inbox
News, features and sports about La Jolla, every Thursday for free
You may occasionally receive promotional content from the La Jolla Light.