Bell Captain: Chiming in with Walter DuMelle of St. James by-the-Sea Church in La Jolla
As he ascends a three-story wrought-iron staircase up the northwest corner of the tower, Walter DuMelle points out the empty square holes in the center of each of the three floors he passes.
"I've always wondered what those are for," he says.
The Quasimodo comparison is irresistible not to apply to the person who climbs to the belfry whenever the bells stop chiming at St. James by-the-Sea Episcopal Church at 743 Prospect St. DuMelle, 52, smiles at the reference, hunches over and proclaims, in a big, booming voice: "Walk this way!"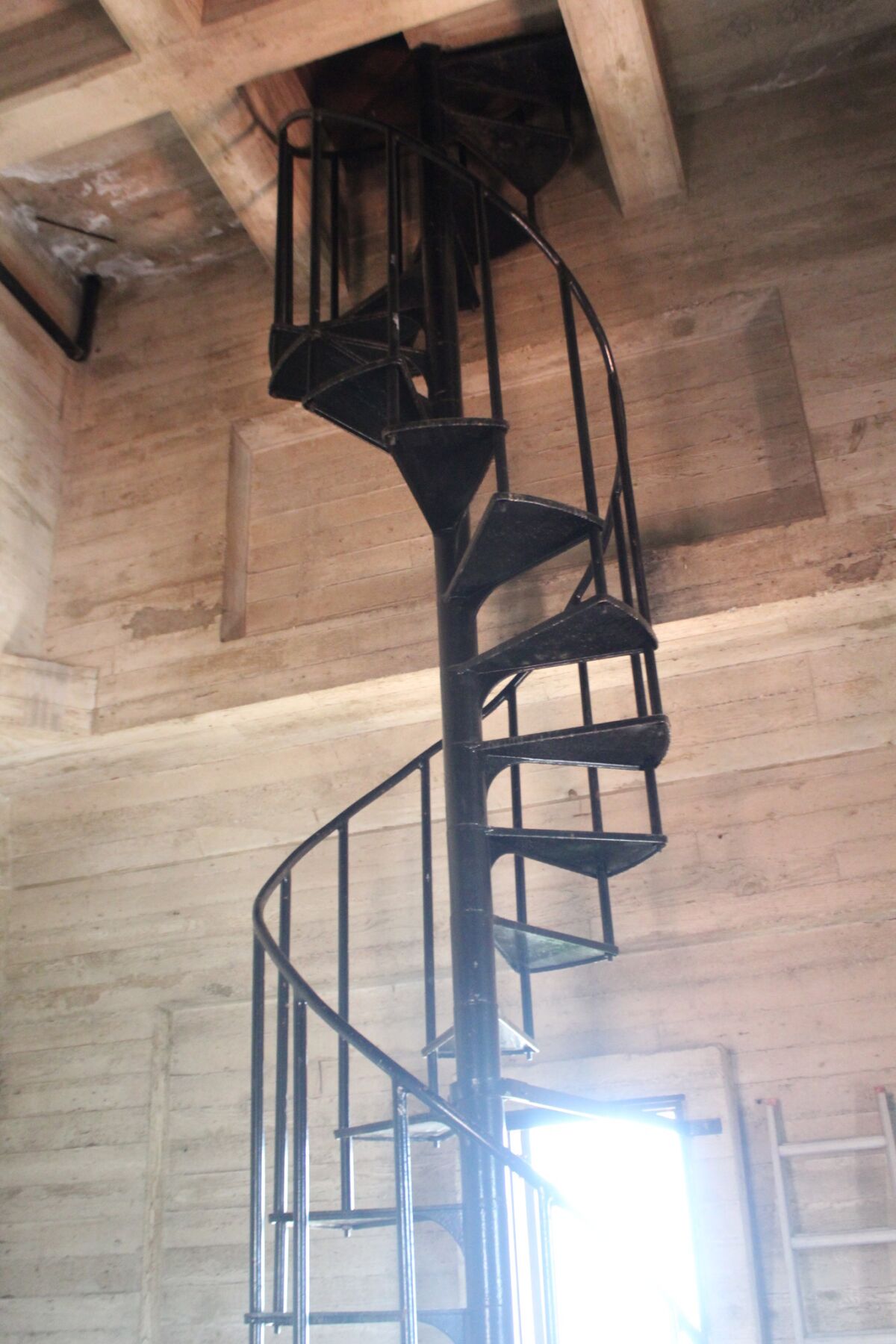 The staircase is gorgeous, and relatively easy to climb. But it doesn't start until three stories up. The initial ascent must be made 90 degrees up a dusty, greasy fire ladder bolted to a hidden wall at the back of the church.
"And here we are," DuMelle announces as we arrive, 73 feet above ground, at the octave-and-a-third set of 16 tubular J.C. Deagan bells. These 8,800-lb. babies have chimed out nearly every half hour for the past 90 years from 9 a.m.-5 p.m. — with a hymn, either generic or seasonally relevant, preceding the noon and 5 p.m. tollings.
"Everybody in La Jolla either loves or hates them," DuMelle says.
The technology — pistons electronically signaled by an unspooling, oversized piano roll — was brand new when the tower was constructed in 1928 by Louis Gill, nephew of Irving Gill, architect of Ellen Browning Scripps' house across the street. (Scripps dedicated the tower and its bells to her late sister, Virginia.) And the mechanism still works remarkably well.

However, once every year or two, the salt air wreaks havoc with the relay electronics and the pistons fail to strike properly. So up DuMelle goes to, as he says, "Dr. Frankenstein the old wiring." He estimates he is one of fewer than 100 people to inhabit the tower since its completion.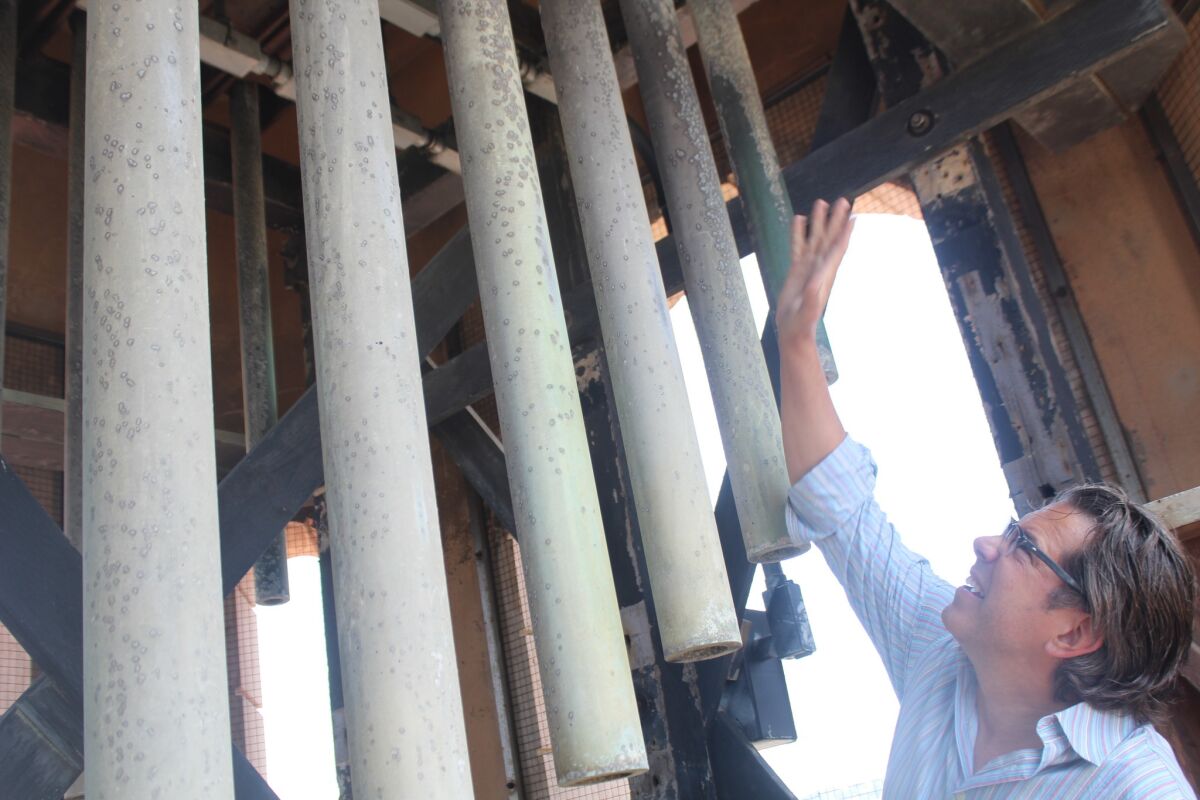 "You really feel the history in here," he says as he looks around the bare concrete walls and floors storing a hodgepodge of miscellanea including roof tiles from last year and boxes from God-knows-when.
It's fitting that song-chiming bells are part of DuMelle's duties as director of administration for the church, because his first passion is music. In fact, he's still a working opera singer.
"It was my calling to be a performer," he says. "It's always been part of what I was doing – to not only make money but to survive, from the inside out."
The Chicago native, who holds a master's in music from the Eastman School of Music, remembers singing in an Anglo-Catholic institution called the Church of the Atonement at 18 years old.
"I grew up Catholic," DuMelle says. "But as I was starting out on a career in music, the Episcopal Church was one of the few denominations that actually paid their singers. So, I have been an Episcopalian ever since."
Next came a stint at the National Opera Company in Raleigh, South Carolina in the early '90s, after which DuMelle relocated to San Diego to sing bass with the Comic Opera of San Diego. Here, he met his wife, Diana, who worked as a stage manager. The couple then spent nearly a decade chasing their dreams in New York City, where DuMelle landed gigs with the NY G&S Players, Dicapo Opera and Liederkranz Opera, among others.

"I gave it a good shot," DuMelle says. "But, along the way, unless you've got a collegiate job or you're working at the Metropolitan Opera, it's hard to make a fulltime career of it."
He returned to San Diego and the church where he was originally hired in 1995 as the section leader in the choir
"God has always been my steadiest employer," DuMelle says.
But he still performs in occasional roles with the San Diego opera, has a regular gig with Opera de Tijuana and last summer, performed a one-man show with the San Diego Fringe Festival.
He also heads up a non-profit music production company with his wife, Bodhi Tree Concerts, that's concluding its eighth season.
"Our mission is two-fold — to use only San Diego artists and to support other non-profits by guaranteeing them the profits from the concerts and giving them an opportunity to come and talk about their good work," DuMelle says.
The company has three La Jolla dates scheduled for 2019. (For details, visit www.bodhitreeconcerts.org).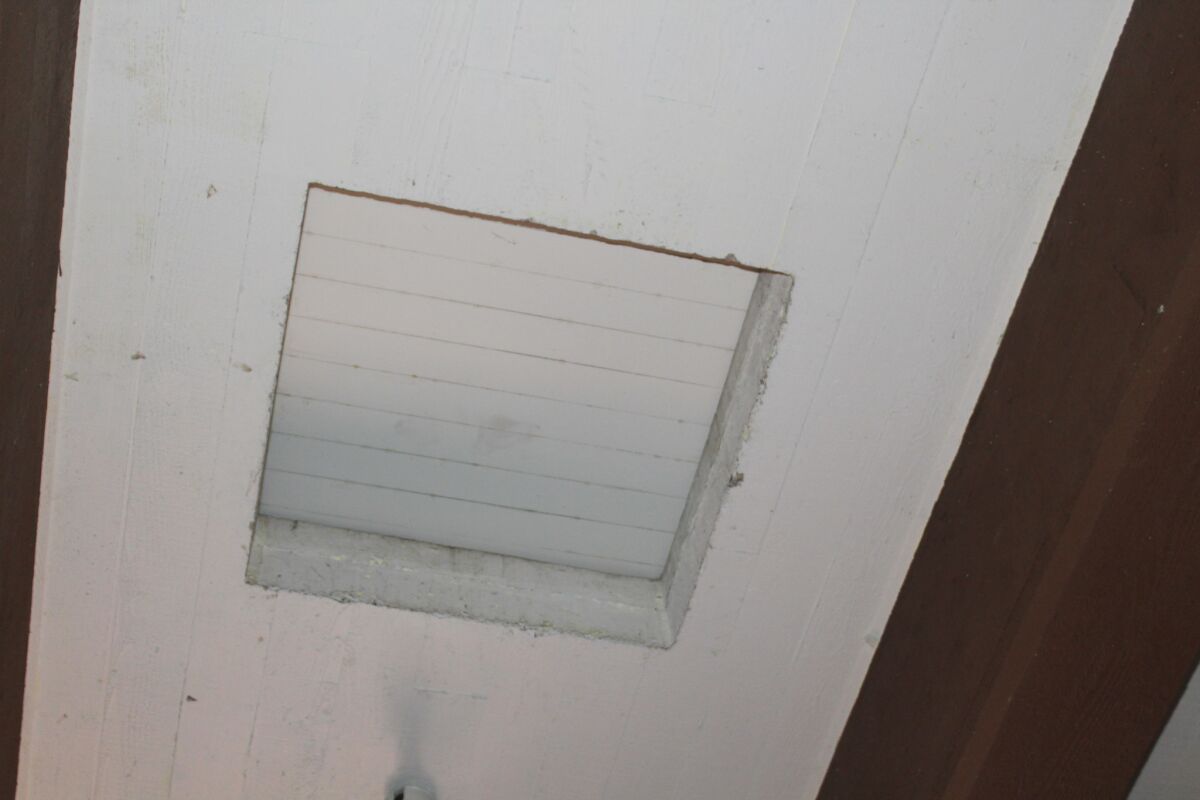 "Oh wow!" DuMelle says.

He has suddenly realized what the square holes are probably for.
Gill must have designed the tower with a fallback, in case the church wanted to revert to old-fashioned technology of a manual bell. The holes would accommodate a thick rope falling to the ground, from which the bell could be rung.
DuMelle's thoughts are interrupted by chiming bells.
"I guess that's a confirmation," he says.
---
Get the La Jolla Light weekly in your inbox
News, features and sports about La Jolla, every Thursday for free
You may occasionally receive promotional content from the La Jolla Light.