When most people say they have a "well-traveled" car, it means a lot of miles on the odometer. But for La Jolla resident Phillip Hawley, his creamy white 1936 Ford Cabriolet and copper brown 1951 Jaguar XK120 have had to cross multiple countries and international waters to get home in La Jolla.
Hawley said he moved around the world through his work at an international oil company. Starting in Texas, he was sent to London to open an office there, and then to Argentina for a large project involving the government. When that project was done, Hawley and his wife Bridgette moved to France (from where Bridgette hails) and then to Italy. Through it all, the nameless cars have followed the couple internationally.
"The 1936 Ford Cabriolet was originally assembled in Long Beach and shipped to Argentina where it ran for many years. Apparently it caught on fire at some point and was dumped in a junkyard. But a man bought it and completely restored it … and I bought it from him. So the car has been from Long Beach to La Jolla by way of South America and Europe," Hawley explained.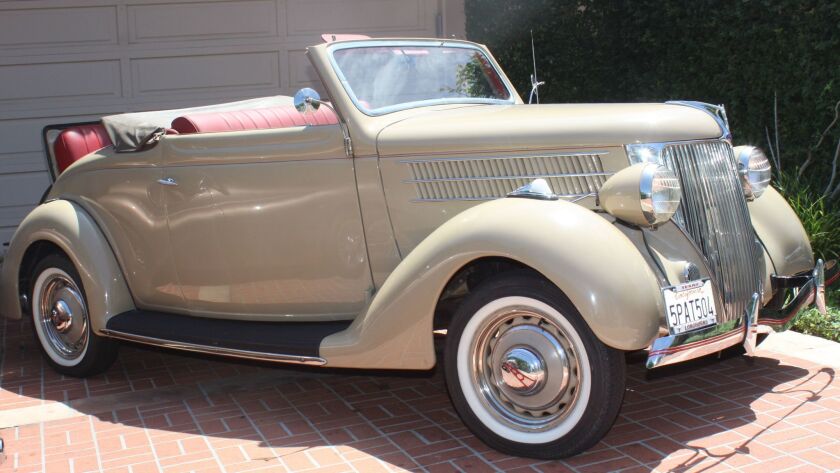 The 1951 Jaguar was built in England, shipped to America, and then sent back to England, where Hawley acquired and completely restored it. "I did everything mechanically, but didn't paint it. So this car has been in America, England and Italy," he said.
"I've always been interested in older cars and dreamed of owning these two models. I know it's a subjective view, but I think these two cars are the most attractive for their age and time. I just love their appearance.
"When I got out of high school, I got a car similar to the Ford, but not nearly as attractive. It had mechanical problems and I learned to fix it, and I'm an engineer by education, so mechanical things are interesting to me," Hawley said. "I'm an amateur mechanic, so I enjoy working on both cars. Secretly, I like it when something little goes wrong so I have something to challenge me and occupy my time."
When he had the opportunity to own a Ford Cabriolet, he took advantage of it. He said his model year in particular was special in that it had a Dickey Seat (an additional back-row seat created when the back window is lifted and the trunk folded back, complete with three steps for the rider to climb up and into the seat) and a more fluid design.
When it came to getting the Jaguar XK120 to its now glorious state, the work was a little more hands-on. "When I retired back in Italy, I had more free time and I restored the Jaguar," he said. "This model is one of the first ones made after World War II. The original prototype was shown in 1948 at a motor show in this color. Then the first ones were produced in late 1950. The color is unusual, it was a factory color, but it was only used in 1950 and 1951, and then it was discontinued.
"It was a metallic paint and at the time, they didn't have the technology to do the paint well. So after a year or so the paint would go bad and so they discontinued the metallic paint in that color. But I tracked it down and found the exact color."
Other slight modifications include mechanical replacements, changing the seats to more comfortably accommodate Hawley's 6-foot frame, and adding turn signals. "Otherwise, it's as it was when it came out of the factory in England," he said. The attention to historical detail is partly why the cars do "OK" when entered in the La Jolla Concourse d'Elegance show.
Without any computerized mechanisms in the car, Hawley said they are simple to maintain and surprisingly, simple to ship internationally. "To get the cars around the world and to La Jolla, they were shipped on a vessel like a ferry. It's actually inexpensive to ship a car. I only paid $300 to ship it from England to Los Angeles. The hassle is when you move to a new country is to get them registered to the legal standards," he explained.
When it came to moving to the United States, Hawley said, "My wife had never lived in America, and I hadn't lived in America for 40 years, so we decided to buy a vacation home and traveled around to find where we wanted to buy. When we came to visit here, we knew this was the place. We bought a condo and came over for a month or two, but soon decided to move here full time. The cars came with us."
And while he acknowledges that keeping the car running mechanically is a "challenge," Hawley said he feels proud when he can do it successfully. "I drive them both and they both run beautifully well. They attract a lot of attention. I drive them around once every couple of days in La Jolla, and people seem to like them. I know I love them."
Editor's Note: This story concludes La Jolla Light's classic car series, which was inspired by the Concours d'Elegance, held here in April. We thank all those who reached out to share the stories behind their treasured "toys." To read the entire series, visit lajollalight.com and search "One for the Road."
---