Meet 'Sir Raleigh': The 1967 Rolls-Royce owned by Ed Parrish
ONE FOR THE ROAD — Editor's Note: In response to an invitation to classic car owners to share their vehicle love stories, more than a dozen car buffs contacted La Jolla Light to be interviewed about their prize possessions. In this new series, we present their delightful roadster experiences.
"There is no other ride, even in a modern car, like one in an old Rolls-Royce," claims Ed Parrish of La Jolla, the proud owner of a 1967 silver and black Rolls-Royce named Sir Raleigh.
Synonymous with luxury and coolness, the same model was driven by Steve McQueen in the 1968 sexy thriller "The Thomas Crowne Affair," and was featured in the 1980s commercial for Grey Poupon mustard, in which a Rolls-Royce pulls up alongside another Rolls-Royce, and a passenger in one asks "Pardon me, would you have any Grey Poupon?" The other responds, "But of course!" and the closing shot is of the Grey Poupon jar being passed between the vehicles.
The car has both extinct features — like cigarette lighters and serving trays in the back "for your Champagne, of course" — and modern standards, like an automatic transmission and 6.5 liter V8 engine.
Rare for its time, the car's German-built body has lightweight aluminum and steel, whereas only race cars would have aluminum on the body. It was one of the early Rolls-Royce models to include disc brakes and other safety improvements, such as across-the-shoulder belts, while in the United States, cars only featured across-the-lap belts.
An aerospace engineer by training, Ed purchased the car in 2011 after he and his wife Carolyn retired in La Jolla.
"We lived in Arizona before we moved here in 2004, and one day we were driving through Coronado and my wife saw an old Rolls parked on the side of the road and said, 'We ought to get one of those someday.' In 2011, this car was parked down the street with a 'For Sale' sign on it. So I bought it," he said. "I took a chance and it's worked out pretty well."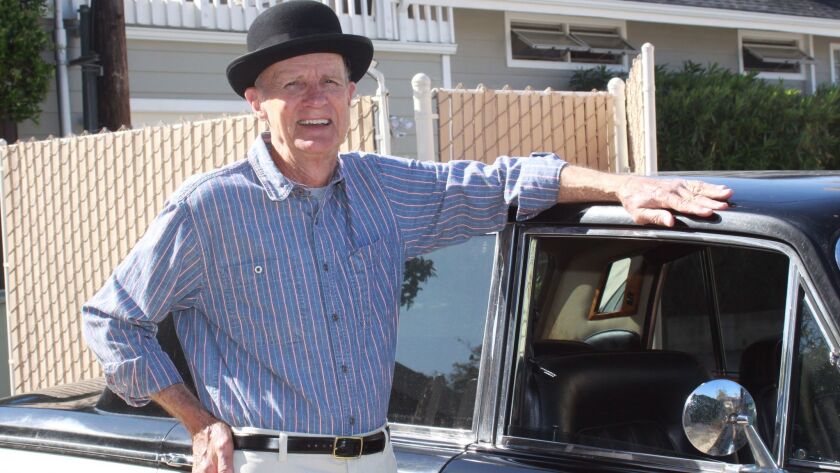 The name Sir Raleigh came soon after, in honor of English writer/poet Sir Walter Raleigh.
In researching the car's history, Ed learned the car spent some time in West Palm Beach Florida, was once owned by a woman in Beverly Hills, and for an unknown reason, was confiscated and auctioned-off by the Federal Bureau of Investigation. "How it got from Beverly Hills to a Federal auction, I don't know and I don't want to know," Ed joked.
When he brought it home, the car was in less-than-perfect condition. Or, as wife Carolyn puts it, "It was a sloppy mess! He did a lot of work on it to get it how it is today."
But because older cars are not as reliant on technology as modern cars (and because of Ed's know-how), restoring the car to its current condition and fixing any problems that arise, aren't an issue for the most part.
"I grew up with cars you could work on. My dad would change the oil and make repairs, so I learned how to do that," Ed explained. "As an engineer, I enjoy designing and making things, and when they break, I get to go back in and fix them. That was my career.
"I also like to understand how things work, so I like working on this car. Most modern cars are computer-controlled and hard for most people to fix without special training. There are some things I need to take Sir Raleigh into a shop for, but other things I can do myself."
To collect information and resources, Ed said he turns to the "invaluable" Internet, to find digital car forums specific to his car, and international car clubs that post electronic versions of service manuals. He shops online to purchase parts and watches repair videos on youtube.com
That's not to say that getting the work done isn't expensive due to the rarity of parts. One of the first repairs Sir Raleigh needed was brake work, which cost $2,500. When it came time to replace the hub caps, they rang in at $150 apiece. "But that's what it costs to do it right," Ed insisted.
"You have to be careful with these old cars because they can be money pits. With this car, it would be worth more in parts than the car itself," he added. "But I like it, it rides like nothing else."
To take advantage of the upscale feeling and smooth ride, Ed often donates "A ride around La Jolla in a Rolls-Royce" to auctions for organizations he supports.
Earlier this month, he took a group of ladies who won the item on a drive around Mount Soledad.
But that's about as seriously as the Parrishes take having an old restored car.
"This is not a show car, or a parade car, it's just a nice old car that is fun to drive," Ed said. "Some of the cars in car shows are driven off the trailer, onto the grass and then back onto the trailer, but that's all the driving they get. This is fun to drive around and it has some blemishes. And that's OK."
Added Carolyn, "People with pristine cars live in mortal fear of scraping or denting them, but we got a mark on Sir Raleigh early on, and after that it wasn't a big deal. Life happens. We don't take it too seriously and it shows that we aren't snobby about it."
She added that people feel comfortable approaching them with questions about the car. Ed said the most common are where he got it? How much it costs to maintain? And how many miles are on it? Surprisingly, he said there are only around 50,000 miles on Sir Raleigh, to date.
"Whether it's up close or through a window, it makes people smile, and that's what I really like about it," Ed said.
Editor's Note: In response to an invitation to classic car owners to share their vehicle love stories, more than a dozen car buffs contacted La Jolla Light to be interviewed about their prize possessions. In this new series, we present their delightful roadster experiences.
Next week: Taylor Miller talks about her "mermaid" car; a pink 1956 T-Bird.
---
Get the La Jolla Light weekly in your inbox
News, features and sports about La Jolla, every Thursday for free
You may occasionally receive promotional content from the La Jolla Light.