Walking the Path: Church decorates Muirlands labyrinth for Easter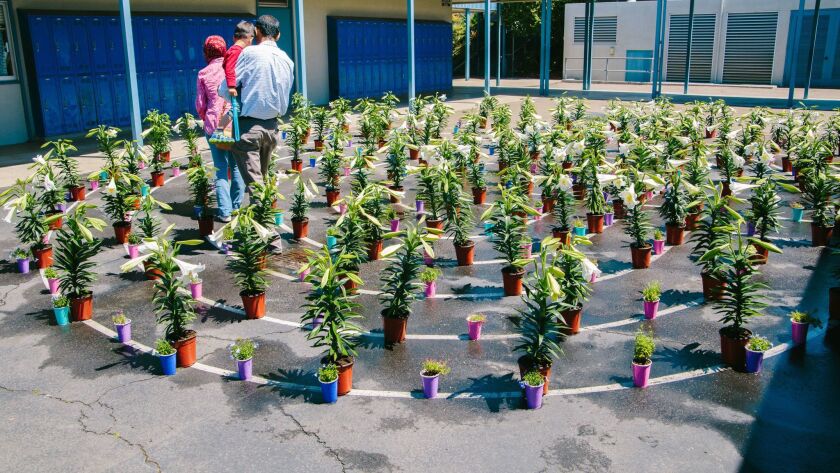 Cornerstone Church of San Diego Coastal Campus embellished the existing labyrinth at Muirlands Middle School as part of its Easter festivities, April 16. Cornerstone Church uses the school's auditorium at 1056 Nautilus St. for its Sunday Services.
The church lined the circular labyrinth with 140 Easter Lilies and encouraged attendees and visitors of all faiths to walk the path, in addition to participating in an egg hunt and other activities.
"A labyrinth is often viewed as a metaphor for a path of life," said Robert Wertz, director of art ministry at Cornerstone. "The way people walk through a labyrinth often reflects how they walk through life — some people hop over the lines and try to get ahead, others walk it all through slowly. But walking a labyrinth can also be a form of active, contemplative meditation."
For Church purposes, the labyrinth also represents "the path that Jesus Christ walked for humankind's salvation," Wertz added.
Throughout the day, 250 people visited the church, he said, and while many just viewed the labyrinth, at least 75 people walked it.
The labyrinth is designed for middle school students, so the lane is only 18 inches wide and 30 feet in diameter. Nevertheless, Wertz said, "We got many positive responses, and for some, this was the first time they walked a labyrinth." He said the church may decorate the labyrinth again in the future, but in a way that does not narrow the lane.
He reported people of multiple faiths came to visit, including a Muslim family and District 1 City Council member Barbara Bry, who later told La Jolla Light, "I enjoyed visiting the Easter Labyrinth and thank Robert Wertz for the work that he is doing to bring people of different faiths together."
The labyrinth was painted onto the Muirlands blacktop in 2012 as part of a campus beautification project.
---
Get the La Jolla Light weekly in your inbox
News, features and sports about La Jolla, every Thursday for free
You may occasionally receive promotional content from the La Jolla Light.