Boxing Ballerina: La Jolla dancer wins a 'Title Belt'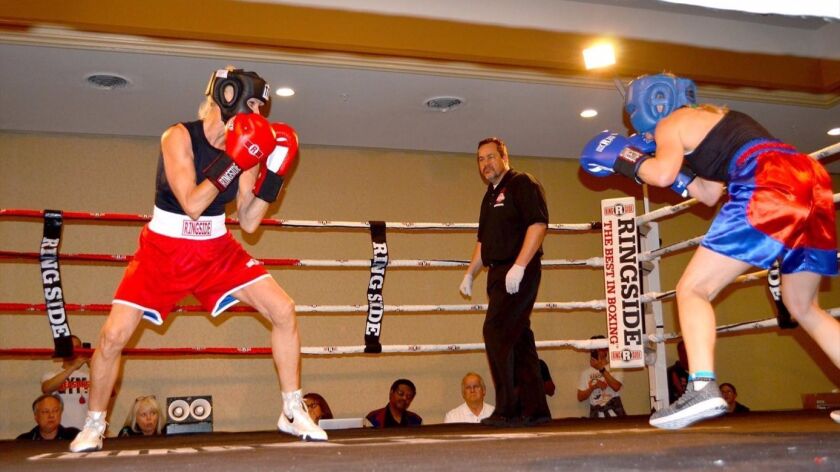 After a career as a professional ballet dancer, La Jolla resident and vice-president of the City Ballet of San Diego board of directors, Janelle Freiman ventured into the world of the fighting arts. She said she was immediately captivated, so much so that she went on to win both bouts (matches) in the March 23-24 Ringside Masters Championship in Kansas City, Missouri; claiming the Title Belt in her first competitive event.
"Ballet is footwork and choreography, and fighting is also footwork and choreography. In some ways they're very different, but in some ways they each complement the other very much," Freiman told La Jolla Light.
She said she was really proud of her first victory, adding that "it was a pretty stiff competition. My opponents were really good fighters who had been fighting for a while, so I came in and did what I learned how to do with my boxing coach, Basheer Abdhullah, and got myself in the zone."
Next, she will fight at the International Fight Showdown, May 20 in Anaheim, and then at the Ringside World Championships, July 24-29, in Independence, Missouri.
At age 56, Freiman competes in the "Golden Globe" women's division, comprised of ages 35-99. She said her younger daughter, who is in medical school, didn't want her mother practicing fighting arts at first, fearing she could get hurt. "And then she came to one of my practices and she said, 'Oh you're really good!' My older daughter just loved it, in her words she said, 'My mom is badass!' "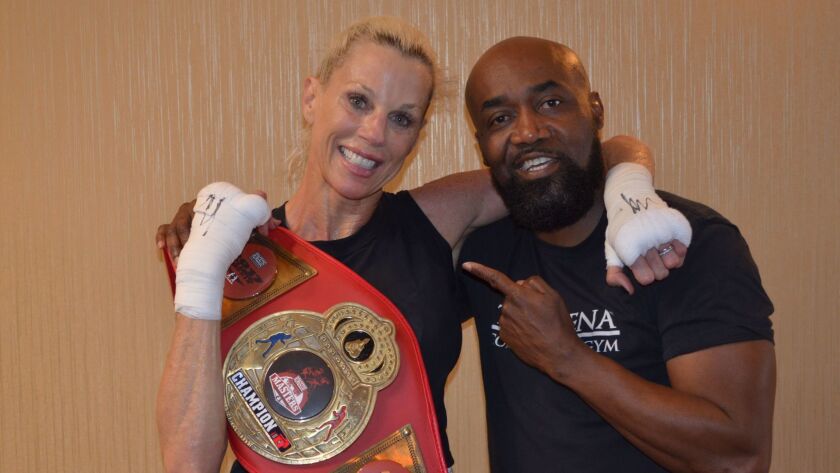 Freiman said she first started fighting when she signed up for a Krav Maga class at the Jewish Community Center (JCC). Krav Maga is military self-protection system developed for the Israel Defense Forces. "Freiman's dedicated," said her coach Dana Kaplan, "she trains in several styles of sports fighting and she's a competitor; she's fierce."
After her first contact with Krav Maga in March 2015, Freiman started traveling the world to train with the best coaches in several disciplines. "I wanted to learn how to really have some real skills," she said, adding she trains in boxing with Abdhullah in San Diego, Muay Tai with Melchor Menor in Spain, and regularly practices at the Arena Mixed Martial Arts gym in San Diego.
As her husband, Robert Orsi, explained it, "Janelle doesn't do anything halfway, so immediately she was full-on there, taking lessons in boxing and Muay Tai." He added she was "very prepared" for her first fight, but he was "really surprised (at her win), because the four women in her division were the most capable in any division of men or women, they had no flakes. She had to dig deep, emotionally, to win."
Freiman said she's lived in La Jolla for 14 years, and used to run a Pilates studio in The Village for 10 years. "I first came to La Jolla when I was in high school, and I always wanted to move here, so finally in 2002, I made the arrangements," she said. "It's the place I love most in the world. I love the community and the beauty of La Jolla. It's just home."
Women and self-defense
Freiman's first contact with the fighting arts happened because she wanted to improve her self-defense capabilities. "As a woman," she explained, "it's very important to be equipped to defend yourself. If you are attacked by a man, you're going to have to know (and use) other techniques because they're always going to have more power."
The JCC in La Jolla organizes a yearly Krav Maga Women's Seminar, where teachers show women how to best use their intuitions to avoid danger. "(We teach them) how not to look like a victim, how to be aware of their surroundings, prevent a strike, and how to escape from the most likely attacks," Kaplan said.
WANT TO KNOW MORE? The next Krav Maga Women's Seminar will take place Sunday, April 23 at Jewish Community Center, 4126 Executive Drive, La Jolla, and although registration is about to close, Kaplan said those interested can enter their e-mail addresses at kravmagasd.com to be contacted when a date is set for the next event. Besides the seminar, the JCC offers a Krav Maga 8-week program (five days a week), where students train to be able to defend themselves in a street fight. (858) 848-5728.
---
Get the La Jolla Light weekly in your inbox
News, features and sports about La Jolla, every Thursday for free
You may occasionally receive promotional content from the La Jolla Light.