LET'S REVIEW: Art Alive 2017 is a grand event with La Jolla connections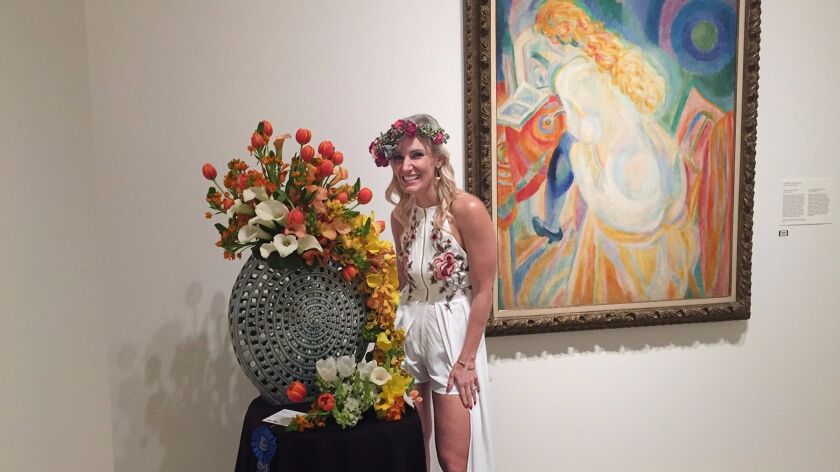 On April 28, San Diego Museum of Art kicked off its 36th annual weekend-long Art Alive fundraiser with the traditional Bloom Bash celebration, featuring eye-popping installations, tasty food and drinks, live music and dancing, along with flowery interpretations of artworks from the museum's collection by 95 floral designers.
This year, with some of the recently-renovated galleries showing pieces that had been in storage for years, there were new opportunities for designers and viewers. And one of the delights was Gallery 18, which was given a surrealist's dream makeover for the April 27 Premiere Patrons dinner — a full-gallery homage to a painting by Rene Magritte, complete with a supersized four-season tree installation by Carlsbad-based Nature Maker, creators of steel art trees.
First prize went to Kate Law, for her graceful interpretation of "Female Nude Reading," a 1915 painting by Robert Delaunay. Law, an accomplished floral designer who is director of merchandising for the online delivery service Pro Flowers, said her arrangement was inspired by the way the woman's hair draped down, and she managed to find all the colors she wanted at her company's flower farm.
Law has strong La Jolla connections: she used to work at Red Floral Design in Bird Rock, and she and her husband, Ken, were married at La Jolla Lutheran Church, with a wedding reception at the Museum of Contemporary in La Jolla.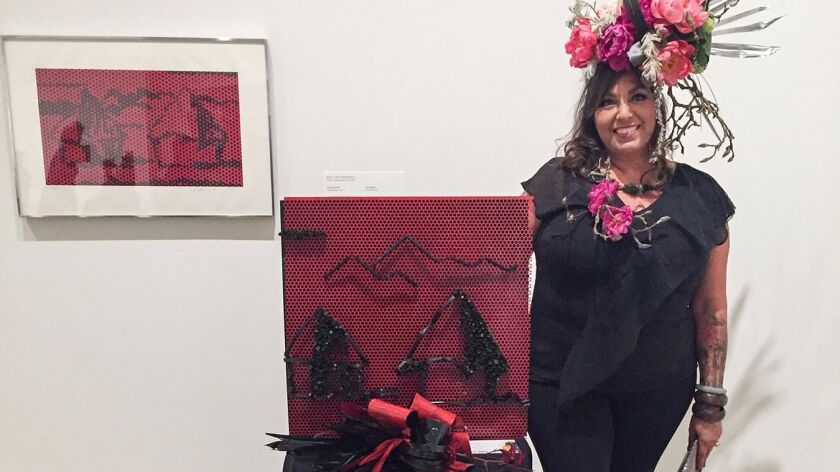 One of the most inventive arrangements was by Michelle Frost, who won her first award for floral design at the Del Mar Fair about 25 years ago and who used to sell wholesale lilacs to Adelaide's La Jolla.
Though she normally favors a more Asian style, Frost thought she'd try something completely different this time, and chose a painting by pop artist Roy Lichtenstein. "I thought about it a lot, and decided to use expanded metal, which I finally found at a building supply store," she said. "And it took me forever to cut all the little holes and glue in the stems."
Another interesting arrangement was Nancy Hagen Baldwin's interpretation of a cubist head by an unknown sculptor. A month before Art Alive, Baldwin was one of five floral designers asked to do an outdoor preview, creating a floral portrayal of a favorite San Diego destination — she chose the sea lions at La Jolla Cove.
For Baldwin, Art Alive is a family affair. For years, her late mother, Elaine Hagen, came in from Minnesota to be part of the exhibition, and this year, her daughter, Elena Rose Baldwin, had a piece on view, although she couldn't be at the opening: it was her prom night.
About 1,200 people attended the Bloom Bash, with almost 12,000 counted at Art Alive all weekend long. If you weren't among them, you can still find plenty to see in the renovated galleries, and consider what flowers you'd use to interpret the art.
— San Diego Museum of Art is at 1450 El Prado in Balboa Park, San Diego. Closed Wednesdays; open 10 a.m. to 5 p.m. daily; noon to 5 p.m. Sundays. sdmart.org
---
Get the La Jolla Light weekly in your inbox
News, features and sports about La Jolla, every Thursday for free
You may occasionally receive promotional content from the La Jolla Light.