People in You Neighborhood: Meet La Jolla children's librarian Angie Stava
La Jolla Riford Library children's librarian Angie Stava grew up in Northville, Minnesota, moved to San Diego in 2011 after a short period living abroad, and landed at Riford Library in 2016. She's a combination of Peter Pan's Tinkerbell and Beauty and the Beast's Belle. Her eyes shine when she talks children and books, and she gets so excited all her sentences come out with exclamation marks at the end. Her unique attire has bought her a (good) reputation at the Riford Library.
What makes La Jolla Riford library special?
"It's the sense of community. I've worked at libraries all across the country, and there's nothing quite like the small town feeling of La Jolla, which I love (laughs). It's something that, for me, coming from a small town in the Midwest is really special."
What's your job like on a daily basis?
"I'm in charge of planning all the children's and teen's programs, so I do a lot of work with outreach. I reach out to our community partners to see how the library can help with student success, and of course, I get to order books, which makes me very happy. My favorite part of my job is that I get to recommend a lot of great books for the right reader."
How do you match books, kids?
"That can be a little bit of magic and mystery (laughs). It's interesting trying to figure out what a kid likes to read, what they're looking for and what they've read in the past, so that sometimes can give me clues. And then, we look into the shelves together. I make some recommendations, give a little preview about the different books and then, hopefully, there will be something there that catches their eye. So it's always really rewarding when they come back and say, 'I loved it! I need more!' "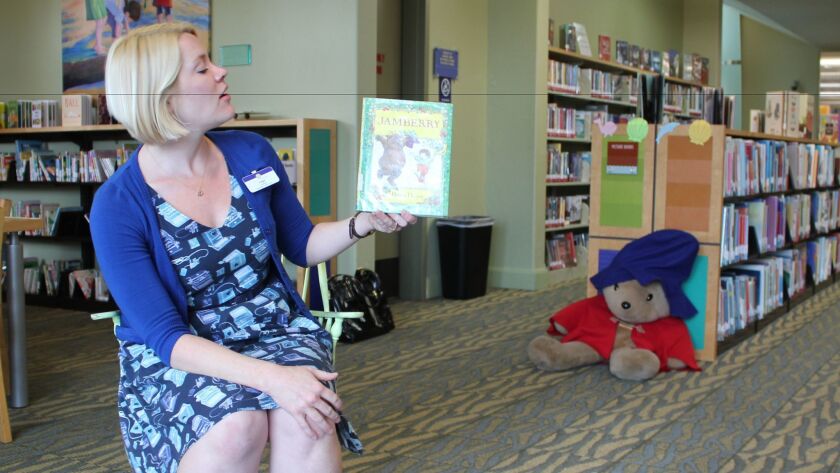 What do you do for fun?
"I love to visit National Parks. My husband and I hike a lot, as often as we can. Since I work inside with books all day, on the weekends, I love to be outside (laughs). I grew up going to all the different National Parks; my parents were big on taking us on educational vacations. Most recently, I went to the Channel Islands National Park, where we went snorkeling, and it was fabulous!"
How do you chose your attire?
"I love anything with animals on it, or anything that will make a kid come up to me and say 'Wow!' Today I don't have any animals 'on,' I have computers and typewriters. My favorite dress is a newspaper print with articles about cats on it. I wear it all the time."
Do you plan on having children of your own?
"I love children so much, so of course, I'd love to have kids in the future, but right now, when I host storytime, it kind of feels like I have 25 children of my own, so it's really nice! (laughs)"
When you were a kid, what did you want to be as a grown-up?
"I told people I wanted to be an opera singer, not because I can sing, I can't sing, but because I knew that opera singers got to dress up in really cool costumes (laughs). I think my mom was a little confused at first, but when it came to light that what I really wanted to do was dress up, she understood that better."
What's your favorite book?
"It changes every day! (laughs) My favorite book that recently came out, is "The Girl Who Drank the Moon," by Kelly Barnhill. It's about a girl who is abandoned as a baby and gets saved by a good witch, and the witch feeds her moonlight and magic, so she has all this bubbled up magic inside of her. It's really cool!"
Please describe your upbringing.
"I have an older sister, and we grew up in the middle of nowhere, kind of in the woods, so we spent hours and hours exploring outside. I think that's where I got my original curiosity. And then we didn't have a television, so I grew up loving going to the library.
I went to the library with my sister almost every day for 18 years. We loved it! I was the kind of kid who would hide a flashlight in my sheets and start reading after 'lights out' (laughs). My sister did, too! And my sister is a children's librarian, too."
What's your relationship with technology?
"I try to keep my life simple, but I do a lot of work with the library's Instagram and Facebook accounts and that kind of thing. I'm not in social media myself that much. However, I'm obsessed with all public radio podcasts. 'Serial' was amazing, also 'Invisibilia,' 'TED radio hour' — all of those, and their original 'This American Life.' "
Do you like music?
"I play the ukulele at storytime, so I love campy tunes and children's songs, acoustic music and a capella."
What's your favorite color?
"My favorite color is yellow! I love yellow. The color of sunshine. In Harry Potter, one of the characters, Luna Lovegood, described it as 'the sun color, the color of joy.' "
Who's your favorite Harry Potter character?
"Of course, Hermione. She should have been The Chosen One! She would have had Voldemort figured out at Year 1."
Do you like to cook?
"Yes, I love it! I like to bake sweets, scones, cookies … the Midwest is known for unhealthy sweets. (I say) everything in moderation, except for books."
What was your college major?
"For my undergrad degree, I was a history major because I love stories, and sometimes you just can't beat the stories from history. And then I got my Master's degree in library studies, with a concentration in children's librarianship.
I knew I had to make money. My parents had never gone to college, so they told my sister and I, 'When you go to college, you have to pick some career that you can get a job in.' I knew I wasn't going to be a doctor or a scientist, and one of my sister's friends, who was a librarian said, 'You girls, this is crazy! Why don't you just become librarians? You love the library, people, children … there you go!' I said, 'You're right!' "
What do you love best about the library?
"I love that there's always something here waiting to be discovered. You can go in a library and find the thing you're looking for, but you can end up walking out with 40 other things you never even knew you needed. My favorite part of the library is encouraging the love of reading in children and their families. I have a love of reading, but some kids maybe not, they struggle, or families don't have that tradition. So I love to get kids excited about reading."
What's the most boring part of your job?
"When you have to take care of the building, like there's no hot water, or there's a leak … and that's something you don't learn in library school (laughs)."
---
Get the La Jolla Light weekly in your inbox
News, features and sports about La Jolla, every Thursday for free
You may occasionally receive promotional content from the La Jolla Light.