PEOPLE IN YOUR NEIGHBORHOOD: Denise Jackson revs up Prince Chapel
"People in Your Neighborhood" shines a spotlight on notable locals we all wish we knew more about! If you know someone you'd like us to profile, send the lead via e-mail to editor@lajollalight.com or call us at (858) 875-5950.

When Rev. Denise Jackson entered Prince Chapel by the Sea African Methodist Episcopal (AME) Church to deliver her first Sunday sermon in October, the parish's new pastor found that a pipe had recently burst in the bathroom sink. The cathedral was flooded and the carpets ruined. Her spirit, however, was not dampened.

The church, adjacent to the Bishop's School field at 7517 Cuvier St., was founded in 1943 and has spiritual roots dating back to 1926, when the Presbyterian Church bankrolled Prince Chapel's predecessor, La Jolla Union Mission Church, on the same plot because — Prince Chapel congregant and historian Lorenza Pace told the Light last year — "they didn't want the blacks to come to their church."

The parents and grandparents of many of today's Prince Chapel congregants were raised in La Jolla. Most settled here to work as domestic employees of white hillside residents and were only allowed to purchase houses in the former ghetto around Draper Avenue. Now, instead of the center of their community, Prince Chapel represents a small pocket of the past surrounded by a very different community.

Jackson is only the second female pastor in Prince Chapel's history. The first was her mom, Annie Watson, who preached on the same pulpit 20 years ago.
So, God makes a flood your first Sunday? Was that a sign or a test or something?

"That's what He did! (laughs) I don't know why He did it, but He did."
The last pastor Light readers met was Chuck Norris. Why did he leave?
"Pastor Norris had been here for around seven years, but he's been gone for two or three. There have been, I think two other pastors here since Pastor Norris. In our denomination, our appointments are only for a year at a time. And though somebody might be at a church for longer than a year, it's at the discretion of our bishop. So Reverend Norris got moved to another church. I got moved from where I was. We have an annual conference where the pastors are reappointed or reassigned. Usually, you get three months prior notice. Well, I got about two weeks."
What does the congregation think of having pastors switched on them so often?
"Sometimes, it's not a good marriage between the pastor and the congregation and they're wishing the pastor gets sent somewhere else. But more often than not, the church is put into nail-biter status because they don't know if they're going to get their pastor back. That's a thing that is a known fact for the AME Church. The congregation bonds to the pastor and it's up to the leadership."
"All over because my dad was in the Air Force. I was born in South Dakota. From there, we lived in Northern California, Southern California, Texas, Pennsylvania, Ohio, Spain. When he got orders, we had to go wherever he went. We never got a chance to sink our roots into the ground. When our roots started to sink, it was time to go."
Your church sounds a lot like the Air Force!
"Everywhere you go, you have to rebuild. That's the part that's kind of a drawback. But the good part is that I've been able to experience a lot of different places and a lot of different people and I like doing that. And my home is in San Diego. This is where my family is. I left two years ago because I was sent by our church to pastor my first church in El Centro."
What do you remember about your mom pastoring at Prince Chapel?
"When she pastored here, I was living in Los Angeles. But almost everybody here knows my mom. And when I came here, they were like, 'Oh, here comes the daughter.' A lot of the members who still come here are connected. They're related. Some, like Miss Lorenza Pace, are still here. They come here and it's like a big family reunion."
How much of a rarity is a female pastor in your denomination?
"It's not a rarity but there are not a lot of female pastors — probably 10 percent. But the AME Church over the years have been one of the denominations that have kind of taken the forefront as far as ordaining women. I'm pretty sure we were the first denomination to ordain woman bishops. We've had about four women bishops in our 200-year history — not very many in comparison to the men, but still."
Do the congregants like it?
"There are people who sincerely don't believe that women are called to be pastors, so there are some times when there's friction about that. Some voice their dissent right to you (laughs). And that's fine. You have to take on the mantle of understanding and compassion. It's all part of being a pastor — accepting people for where they're at. But we took in nine new members in the couple of weeks since I've been here, and I'm anticipating more."
How many members does the church have in total?
"About 30 that come on a regular basis. As far as the actual membership, we have about 50. We've had upwards of 100, so, when I say we're rebuilding, we are rebuilding."
What do you remember about your calling?
"I was on 4th and Broadway. I was in high school, standing on the corner getting ready to cross the street and catch the bus. The way I can describe it is like this sun ray hit me. And when I looked up in the sky, I could hear God calling me. And I remember my response was, 'Not me!' At 16? And I didn't come into that calling for a number of years, because I went the other way."
So you pressed the snooze button on God?
"I did. But you can only press it so many times."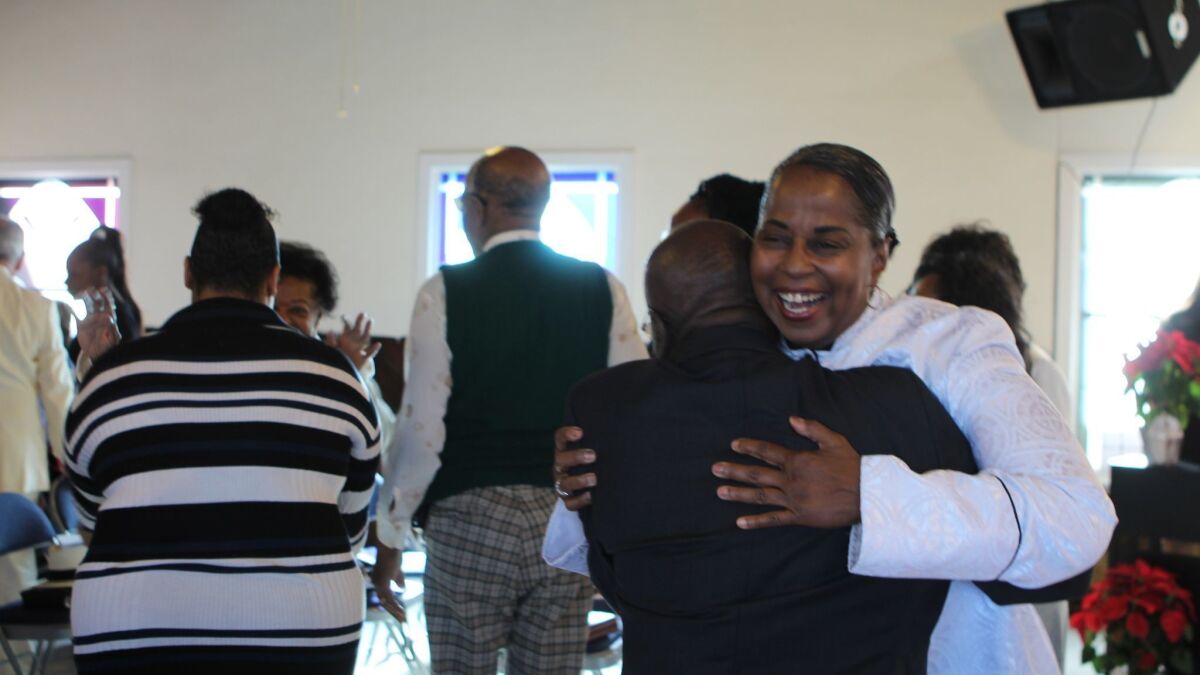 What are your goals for your year — or hopefully longer — in La Jolla?
"To build a strong congregation, and for us to impact this community in a positive manner. That means that we do outreach, which we're working out now. We want to be the best we can be and see what we can do to make the right kind of impact on the community — to make La Jolla better."
Are there mixed emotions about your congregation's relationship to La Jolla — considering the reason most of their ancestors came here and the limitations La Jolla forced on them? Add in having their community destroyed by skyrocketing housing costs, and La Jolla has not been great to African-Americans.
"Well, you know, I don't think people take the time to even think about what you're saying. The people here don't think of themselves as a segregated group in the middle of La Jolla. We have AME churches in other areas in the same kind of situation, and those things don't impact you negatively. Any kind of animosity, resentment, there's none of that. People here realize they're here to serve God, and that is what the spirit should be. Also, as African-Americans, you experience the same thing almost anywhere you go. You encounter those situations everywhere and all throughout life, so you have to travel with a different spirit."

Rev. Denise Jackson conducts services at Prince Chapel by the Sea African Methodist Episcopal Church, 7517 Cuvier St., at 9 a.m. on Sundays. (858)-459-0271.

Get the La Jolla Light weekly in your inbox
News, features and sports about La Jolla, every Thursday for free
You may occasionally receive promotional content from the La Jolla Light.