BRAIN WAVE: La Jolla High surfer narrowly dodges death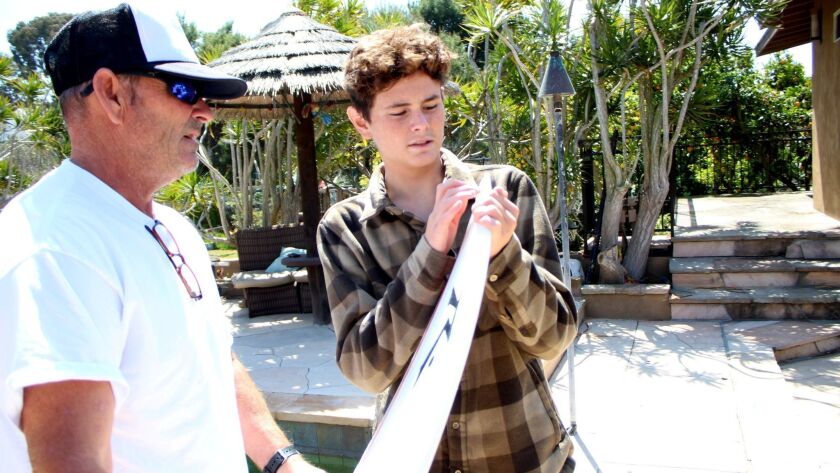 Chuck Davey enters the front door of his beautiful Mount Soledad home carrying the surfboard — the one that very nearly killed his son. It was stored at a friend's house while Mick, 15, spent seven touch-and-go days at Scripps Memorial.
"Oh wow," Mick says, fingering the millimeter of the short board's fiberglass tip that sank into his brain like a knife. This is his first day back home. The back of his head has a Frankenstein-like zipper scar.
"There's the blood," he says.

Mick is among La Jolla's best junior surfers — finishing first out of 120 San Diego County children in the Scholastic Surf series and reaching the highest level in the Surfing America Inc. competitions. He first hit the ocean at age 3 or 4 on a boogie board.
"I can't even remember my first wave," he says.
On Wednesday, April 18, Mick was at WindanSea, training for the final event of five in the High School State Championships, to be held three days later in Oceanside. His team, La Jolla High School, was already leading the California division.
Chuck was shooting photos of his son from the shore when he noticed something weird.
"He kind of did this little thing, pointing," Chuck says. A shard of the board's fiberglass tip jutted out of the back of his head.
"I thought his fin got stuck in his head," Chuck says, "because sometimes they'll do that." Fortunately, Mick was well enough to paddle back in by himself. He ran up to his dad, screaming: "Is it OK? Is it OK?!"Avoiding panic
Chuck was a City of San Diego Lifeguard for 36 years. He retired last April. His training and experience taught him to remain calm so as not to incite a panic that could lead more readily to shock. In truth, however, he was freaking out as much as Mick.
"I've seen lots of major trauma," Chuck says. "I've seen a guy cut in half by a propeller and bleed out right in front of his family. But when it's somebody you know, somebody you love, it's 10 times worse."
A couple of days earlier, father and son were in Fiji, surfing double- and triple-overhead tubes on a shallow reef — really dangerous exercises. "Then we come back and he surfs a little short break and this happens," Chuck says.
There were no lifeguards on duty, but some of Mick's buddies retrieved a medical kit from the lifeguard station. Chuck knew never to pull anything out of a penetrating wound. He called 911 and, within minutes, medics were on hand.
Mick's recall of the incident is interesting: "It kind of felt like I was in that situation before — although I actually hadn't. It felt like I had a dream about it, but I don't know if I actually did or not. I was kind of tripping on that."
Scripps surgeons had to cut the fiberglass down to the base of his skull just to fit Mick into the MRI machine and assess the damage. And the news was not good. The tip sliced into a major vein, and the only thing keeping that vein closed was the pressure the tip placed on it. If it went a millimeter further — or if it had been pulled out before they got to the hospital — Chuck said the surgeon told him that Mick would not have survived.
A circle of Mick's skull, which they called "a manhole cover," was removed and bone fragments and sea water sucked out of the brain. Then the shard was carefully removed. But the gash it left in the vein couldn't be sewn shut, Chuck says, because the area was too delicate, so they "packed it with fibrous stuff." Then they replaced the skull and stapled in titanium plates to reinforce it.
To perform all this, they medically induced a coma for 12 hours.
"They were like, 'OK, we're going to put you to sleep and then you're going to wake up," Mick says. (They did not use the word "coma.")
After he awoke in the ICU, Mick was visited by local surfing legends Skip McCullough and Jacob Szekely. "That was really cool of them," Mick says.
The first three days of recovery were the scariest, with gazillions of tests for infection and brain damage. But there was none of either.
Out of hospital, not woods

"It's good to be home," Mick says, as his Yorkie, Ewok, chases a red ball around the pool deck.Although Mick's out of the hospital, he's not out of the woods yet. He must remain on medication for three months and return for weekly CAT scans to check for blood clots that could dislodge and cause a stroke.
"I feel good, really good, actually," Mick says. "Every once in a while, there's a little pain, but it's not bad. I'm really lucky just to be here right now."
The only thing he says he's happy about is being home from school for a couple weeks. Some of his teachers want him to make up the work, others are willing to let it slide.
"I'm going to have to hang this up," Mick says while still examining the board.
He doesn't mean he's hanging up surfing, he clarifies, just the board — as a battle memento. He guesses he'll be back on the water in about two months. (By the way, without Mick, La Jolla High took second place in the State Championships to San Clemente.)
But the experience did have one life-changing impact. Before it, Mick says, his career goal was to become a professional surfer.
"I was going to try and get on the tour, " he says. "But now, I think maybe I'll surf just for fun and become a lifeguard, like my dad."
---
Get the La Jolla Light weekly in your inbox
News, features and sports about La Jolla, every Thursday.
You may occasionally receive promotional content from the La Jolla Light.