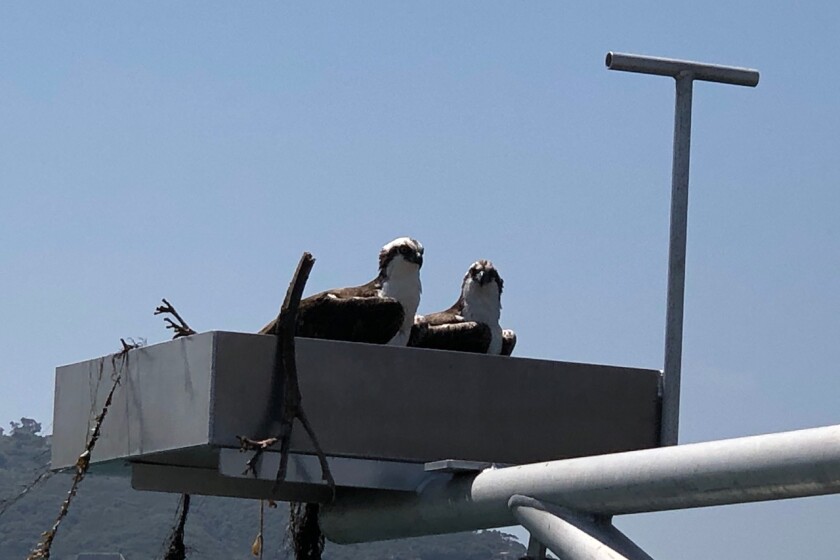 A pair of ospreys has taken up residence in La Jolla after efforts by two local environmentalists and a professor resulted in a safe place for the birds to nest.
One hour after the 6:04 a.m. sunrise Monday, the beach at La Jolla Shores was freckled with surfers and walkers appreciative that ocean access was once again allowed after more than a month of being shut down due to efforts to stem the spread of the coronavirus.

It's been a month since La Jolla's parks and beaches were closed to the public in the wake of the coronavirus pandemic, part of a citywide edict that went into effect March 23.

Storm water is not a friend to Coast Walk Trail. Luckily, Brenda Fake is. The La Jollan, who lives adjacent to the trail, is attempting to raise $18,000 to $20,000 to repair major erosion that has occurred due to rains and pedestrian use. So far, she's got $4,500. Friends of Coast Walk Trail — which Fake founded in 2011 with Paul Teirstein and residents north of Coast Walk Bridge — wants to resurface the trail, level the walking path and remove invasive vegetation along the trail, which runs west of Torrey Pines Road between Coast Walk and Cave Street.

It's not just because she's the president of La Jolla Parks & Beaches (LJP&B) that Ann Dynes has a unique perspective on La Jolla's parks and beaches. From the balcony of the condo she shares with her husband (former University of California president and UC San Diego chancellor Bob Dynes), she overlooks the park and the beach at Whale View Point. Dynes also helped found the San Diego Parks Foundation; worked with La Jolla Conservancy; and with the LJP&B board, advises the City Parks & Rec Department on improvements needed for La Jolla's parks and beaches.
Crews were on site in Scripps Park early Tuesday morning, Oct. 29 to replace the rumored "Lorax Tree" with three new Monterey cypress trees.