Sweet dreams at Everett Stunz; bed-and-linen store moves to new La Jolla location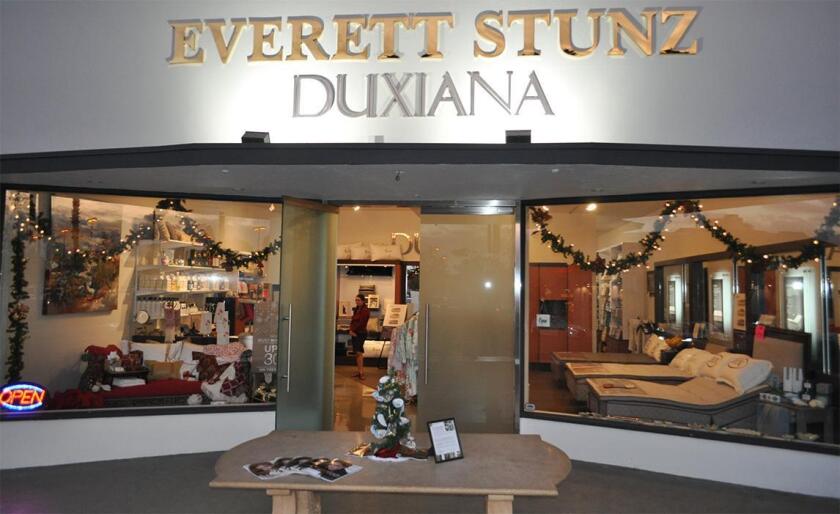 BUSINESS SPOTLIGHT:
Who was Everett Stunz?
Has anybody ever wondered who this man was that named a bed-and-linen store after himself in La Jolla? Well, Everett was of German decent and started the very first adjustable bed store in San Diego on Prospect Street in La Jolla in 1963. His wife began importing beautiful sheets from Germany and Europe and sold them in the store. Since then, Everett Stunz has maintained that high standard of fine quality lines and beds.
Just like in the old days, Everett Stunz still offers the best in customer service and knowledge about their products. Like everything else in life, time has changed the look and style of the products, but what has not changed is the high quality and standards that they have always offered.
For over 53 years, homeowners and designers have relied on Everett Stunz for their exclusive collections of top brands. Whether it is custom bedding, unusual designs or just the best in luxury bands available, their team of professionals will help you bring the vision of your new bedroom or bathroom to life.
Make your bedroom uniquely yours by creating a special sanctuary that can only be called one thing: You. It is not only the wall color or the window treatments that make a bedroom, but also the personal touch you add with soft, luxurious bedding and cozy down pillows and comforters from Everett Stunz. There are various choices in style and price point to create that special bedroom of your dreams.
Your bed is not just a piece of furniture — it's your 'soul mate.' You have to love your bed. Your bed serves as more that just a mattress that you sleep on. Your mattress must fit your body and caress you into deep, peaceful sleep. Since we all know that we spend at least one third of our lives in bed, shouldn't that be the one piece of furniture that we pay the most attention to? Why settle for just an ordinary bed that leaves you tossing and turning all night, trying to find a comfortable position and avoid pinched nerves, only to get up the morning feeling more tired than you did when you went to bed?
At Everett Stunz we carry the DUX High Performance Sleep System beds that have been perfected after 90 years of research and testing to give you the utmost comfort and Deepest Sleep. The DUX Bed is designed to make sure your body is in the Correct Sleep Posture, a position where the spine is aligned to the hips so that the muscles in the lower back can completely and fully relax. It is a proven fact and sleep studies show that DUX users not only fall asleep faster, but also enjoy at least an extra hour of Deep Sleep — the only sleep stage where the body's immune system and muscle groups heal and repair themselves.
In addition to the DUX beds, Everett Stunz also carries the Savvy Rest all Organic all Latex mattresses and the Sleep Response mattresses made by Southerland.
Come visit Everett Stunz at 7547 Girard Ave., La Jolla, in our new location and let us help you to create sweet dreams! (858) 459-3305. (800) 883-3305. everettstunz.com
— Business Spotlight features commercial enterprises that support La Jolla Light.
---
Get the La Jolla Light weekly in your inbox
News, features and sports about La Jolla, every Thursday for free
You may occasionally receive promotional content from the La Jolla Light.